Your jnAccount:
Login
or
Register
| New to Jellyneo?
Click here!
News Archives
This page shows the available archives of our Neopets news. To start browsing, select a month below.
« Return to month listing

Tonu Day Roundup
Posted by Nynex
Posted on February 17, 2011, 4:39 pm NST
Frontpage: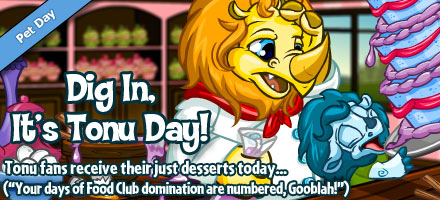 Colours: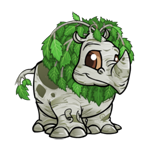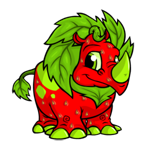 Woodland | Strawberry

Plushies:




Magma | Shadow

Clothes: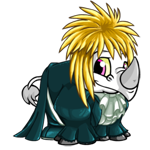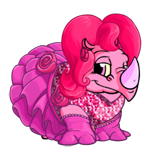 Mynci Day
Posted by Nynex
Posted on February 22, 2011, 2:48 pm NST
Marquee: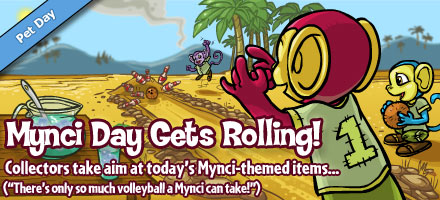 Colours: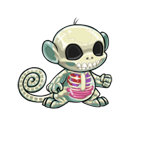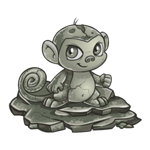 Transparent | Relic

Clothes: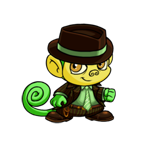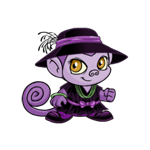 Caption: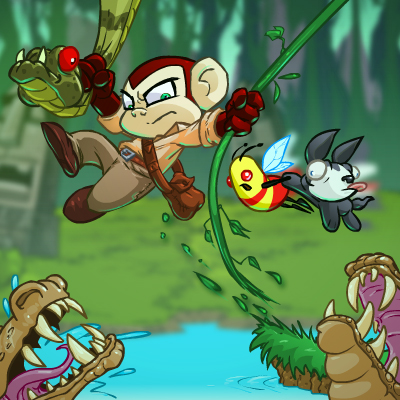 New Petpet Colours
Posted by Nynex
Posted on February 23, 2011, 12:54 pm NST





Purple Carmariller | Darigan Mazzew | Maractite Noil | Checkered Zebba

Uni Day Goodies
Posted by Nynex
Posted on February 23, 2011, 1:01 pm NST
Plushies:



Faerie | White

New MiniMME - Previews
Posted by Nynex
Posted on February 23, 2011, 1:10 pm NST
A new Mini Morphing Experiment is being sold in the NC Mall. We have some previews of the upcoming stages.


MiniMME5-S1: Sparkling Magic Rainbow Wand

Stage Previews:
Rainbow Wings | Rainbow Tutu | Rainbow Contacts
Possible Stages:
Rainbow Wings, Rainbow Tutu, Rainbow Contacts and Rainbow Dress

Faerie Quest Event - Bonus Prize
Posted by Nynex
Posted on February 24, 2011, 12:00 am NST
Today is the last day of the
Faerie Quest Event
. If you visited each day, you will be awarded the bonus prize. After today, normal Faerie Quests will return! Thanks to everyone who has helped with the rebuilding of Faerieland.

Sassy Fire Faerie Wig
"Marvelous!" Fyora adds. "You've visited us every day! For being so loyal, here is a special gift."

Caption Contest 1189
Posted by Nynex
Posted on February 24, 2011, 11:49 am NST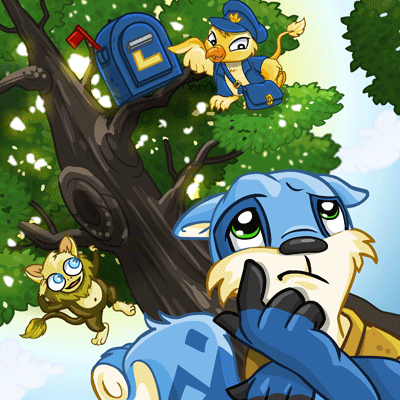 You've got mail!
Jubjub Power Bounce:
The last batch of winter prizes has been released. View all the items on our
Jubjub Power Bounce Guide
. The
Spring
theme will be coming soon!

Neopets Facebook Connect
Posted by Nynex
Posted on February 24, 2011, 7:43 pm NST

As stated in the New Features a few days ago, Neopets has implemented the Facebook connect in some areas of the site. If you would like to remove this feature, visit your
Site Preferences
and add a checkmark to
Remove Social Networking Buttons
.
New feature on the way! - In the next few days, we'll be adding Facebook "Like" functionality to parts of Neopets. (Specifically, the homepage, the Games Room, and a few other games.) What this means is that, whenever you see the Facebook "thumbs up" button, you can click on it to like the content on that page. There will also be a link to the Neopets Facebook page in the footer so you can join our shenanigans if you want.

I see that Facebook is now being integrated into Neopets. Does that mean I can talk about Facebook on the message boards?
Yes, you can reference Facebook on the message boards as well as talk about content that is posted on the Neopets Facebook page. Hooray! However, you still can't post your personal Facebook account information or any links to offsite content.

Will everyone be able to "Like" Neopets and Neopets content on Facebook?
Only players 13 years and older are allowed to use the Facebook features.

What if I don't want to see the Facebook "Like" and other buttons on my Neopets pages?
If you visit your User Preferences, you can choose to remove all social networking content from appearing on your Neopets account.

Official Neopets Facebook Page:
Even if you wish to remove the Facebook buttons on Neopets, you can still visit the
Official Neopets Page
. You can even view the page if you are not signed up for a Facebook account. This can be beneficial for those who are not allowed to create a Facebook page of their own (:
If you would like to discuss this site change with fellow users, there is an ongoing discussion on our
Forums
, or comment below!

Daily Dare 2011 - Prize Previews
Posted by Nynex
Posted on February 26, 2011, 11:34 pm NST
March is just around the corner, and it's nearly time for the annual Daily Dare Challenge. We have stumbled upon a few possible game prizes for you to earn this year.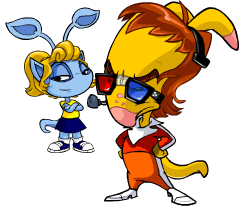 Game on!
Possible Game Prizes:


Daily Dare Stats | Past AAA Challenges

Monkey Quest - Free NC
Posted by Nynex
Posted on February 28, 2011, 11:19 am NST
Monkey Quest is in beta testing until early April. Currently,
Monkey Quest
is offering 25NC for free to test some features in the game. You can log in with your current Neopets account. (Keep checking back for the release of our Monkey Quest Guide!)
The wait is finally over! For a limited time, you can get a sneak peek of all the areas around Ook! We have granted you 25NC for free and we have temporarily priced all NC items and trail passes at 1NC during this beta period. Here are some of the new features you can experience with NC:
Purchase trail passes to unlock new trails
Complete unfinished quests and get access to all-new quests
Explore new areas of Ook such as Ootu Mystics
Gain access to new weapons and abilities as your monkey levels up
Shop for new items, potions, food and more!
As always, please let us know what you think of the changes and additions by taking our new survey.
Thank you again for all your help. Now it's time to shop! Remember you only have 25NC to spend, so use it wisely. See you in the World of Ook!
-The Monkey Quest Team
P.S. As a reminder, we will wipe your account at the end of closed beta - this includes the NC items you purchased with free NC. You will have to create a new Monkey and explore the new Ook to experience all of the improvements and additions!

Note: During this beta test you will be able to spend a maximum of 25NC only regardless of the NC balance you may have in your other Nickelodeon Virtual World accounts.