Your jnAccount:
Login
or
Register
| New to Jellyneo?
Click here!
News Archives
This page shows the available archives of our Neopets news. To start browsing, select a month below.
« Return to month listing

Elephante Day Goodies
Posted by Nynex
Posted on December 12, 2011, 3:26 pm NST
Plushies:



Island | Maraquan

Christmas Gift Box Mystery Capsule
Posted by Nynex
Posted on December 12, 2011, 3:26 pm NST
A new Christmas Gift Box Mystery Capsule is coming to the NC Mall soon. A great way to send holiday gifts to all your Neofriends!


Jubjub Power Bounce:
The winter themed Jubjub Power Bounce has returned to the NC Mall. Check out our
guide
for a list of prizes.

Treasure Keepers Closing
Posted by Nynex
Posted on December 12, 2011, 10:20 pm NST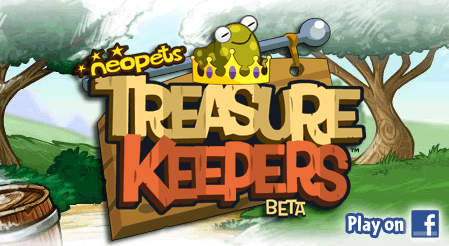 We're posting to let you all know that, unfortunately, Neopets: Treasure Keepers will be closing on Wednesday, December 14th, 2011. We apologise for the very short notice.

Important information regarding the closure:

- We do not have an exact time for the closure yet but as soon as we know we'll pass along the information to you.

- If you have unspent Facebook Credits, we're assured these are still good on other Facebook applications. You will not lose them.

- If you have any unclaimed achievement codes, the NTK redemption page here on Neopets.com will remain open so you can claim your prizes. Be sure to write down your codes ASAP so you have them before the game comes down.

We will also be sending out a virtual item code to all Neopets: Treasure Keepers players that can be redeemed at Grundo's Warehouse for a set of items and Neopoints. We know it doesn't make up for the closure, but we want to say thank you for all the support you've shown NTK over the past few months. Please look for this code in your inbox in the coming days.

Again, we apologise for the short notice and thanks very much for playing NTK.

- The Neopets & Meteor Games Teams
Update:
Hello, again. We have some updates for you.

- We're told the game will come down around 11 PM NST, roughly 16.5 hours from the time of this post. The date is still the same: December, 14th, 2011. Tomorrow.

- If you have any codes you've yet to redeem, we suggest redeeming them as soon as possible so you don't lose them. To find your codes, click on the blue and yellow award ribbon in the bottom right of the game to load your achievements log. Achievements you have earned are green and have a checkmark, and you can look through these for any codes you may have been awarded. (It will say 'Neopets Code: TK-ACHXXXX-XXXXXXXXXXXXXXXXXXXX' at the bottom of the achievement box if that achievement granted a code.) Then simply click on the code to be taken to the redemption page here on Neopets. If you've already redeemed the code, you'll be notified with an error when trying to redeem it again.

- Also, to clarify, the thank you code we'll be sending out to Treasure Keepers players will be sent to the email address you used when giving permissions to the game on Facebook. We're looking to send that email out on Thursday, after the game closes.

Should anything change or we have any more information to share, we'll post here to update you again.

Thanks.

- The Neopets Team

Caption Contest 1236
Posted by Nynex
Posted on December 13, 2011, 1:53 pm NST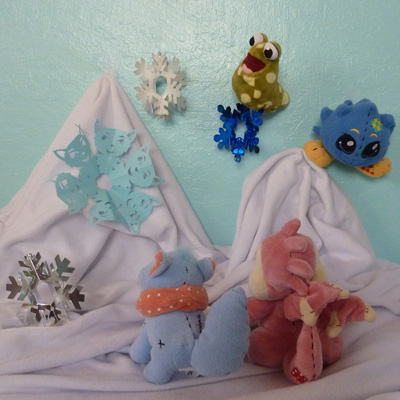 it's snowing slorgs and jubjubs!

New Christmas Petpets
Posted by Nynex
Posted on December 13, 2011, 2:19 pm NST
Christmas Petpets:



Tyrowbee | Blobagus

NC Mall Holiday Grams
Posted by Nynex
Posted on December 14, 2011, 12:07 am NST
Holiday Cracker Grams will be available in the NC Mall soon.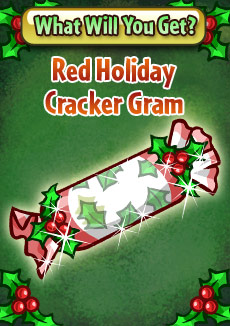 Winter Key Quest Prizes Live!
Posted by Dave
Posted on December 14, 2011, 1:30 pm NST
The set of winter prizes has finally been unleashed at the Key Vault! Time to go redeem all those keys you've been hogging up. ;)
And in the process,
let us know
if you come across any new winter prizes that we do not already have listed on our
KQ Seasonal Prizes
guide.

Gimme winter prizes!
Keep an eye out for any good books being given out, too. Makes for cheap(er) reading to your pet!

Sick Gelerts Are Sad :(
Posted by Dave
Posted on December 14, 2011, 2:15 pm NST
Our Neopets sometimes get a little sick. Whether it's a case of Blurred Vision, or a bout of Bloaty Belly, we all feel bad and try to acquire a
cure
as soon as we can. However, Gelerts suffer more than the average Neopet. Not only do they come down with the usual symptoms, but most of them lose their mouths!
Something tells me this is an inappropriate time for a game of "Pin the Mouth on the Gelert".
We must band together and get TNT to help these poor Gelerts!
How can you help?
If you own a Gelert, especially a sick Gelert,
submit a bug report
. (Click "Submit New Ticket", select "Bug Reports" for Issue Type, and "Customisation" for Bug Topic.) Please be as concise as possible and let TNT know that your Gelert is missing its sick mouth and it needs to be uploaded. Feel free to refer to this news post in your report if TNT needs more details.
If you do not own a Gelert, you're better off
submitting an Editorial question
so you avoid a "You don't own a Gelert!" bug response. Please only submit
one
question. Write "Missing Sick Gelert Mouths" as your subject, and select "Pets" as the submission type. Then, briefly mention the plight of the poor Gelerts in Neopia. Feel free to mention this news post for whoever is sorting out questions to refer to.
What colours are affected?
The following is a list of colours that are missing a sick mouth:
Biscuit
Blue
Brown
Camouflage
Checkered
Christmas
Cloud
Desert
Disco
Electric
Faerie
Fire
Ghost
Glowing
Green
Island
Orange
Pink
Pirate
Purple
Rainbow
Red
Shadow
Skunk
Speckled
Split
Spotted
Starry
Strawberry
Striped
White
Yellow
So many! :( We've been able to band together and get TNT to fix Customisation problems
before
, so there's hope yet for Gelerts!

Zafara And Jhudora Day Goodies
Posted by Nynex
Posted on December 14, 2011, 11:13 pm NST
Some new items coming up in February!
Zafara Plushies:



Royal Boy | Royal Girl

Jhudora Items:




Christmas Xweetok
Posted by Nynex
Posted on December 15, 2011, 9:52 am NST
The Xweetok will be receiving the Christmas gift of a new color this year!
Christmas Xweetok Paint Brush Clothing: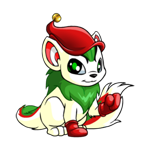 Don't forget to enter the
Holiday dream pet giveaway
. You have until Wednesday, December 21st!