Your jnAccount:
Login
or
Register
| New to Jellyneo?
Click here!
News Archives
This page shows the available archives of our Neopets news. To start browsing, select a month below.
« Return to month listing

New Game: Habitarium - Premium Beta
Posted by Nynex
Posted on November 8, 2010, 4:19 pm NST
Habitarium
is now open for Premium Beta testing. We have a number of screen shots for those without the beta testing option. You can read the official game FAQ
here
.


Gameplay Screen Shots
Choosing a Habitat | Introduction | Introduction Cont'd
Picking Up Petpetpets | Earning Gems | Building Resources | Shopping | Buying
Item Bag | Placing an Item | Building | Buying Food | Gathering Resources
Invite Your Neofriends | View Your Neofriend's Habitat | Raid Your Neofriend's Habitat
Help Your Neofriends | Item Gifting | Taking Screen Shots

Habitat with NC items

Game Items

Notable Comments:
snarkie_tnt, 11/8/2010, 6:34 pm NST
I'm looking for volunteers to help me test the Neofriend stuff. Check out the board on Charter titled "Habitarium Friends Needed!" if you're interested.
Update:
Charter topic is now locked.

The Faeries' Ruin - Chapter 11
Posted by Nynex
Posted on November 10, 2010, 4:37 pm NST
Chapter 11
has been released. The whole gang is reunited, but uh oh, it looks like all of Neopia might be in danger! *flails arms wildly*
There is no new step at this time, so take this chance to keep training your pets for the next battle!


Caption Contest 1163
Posted by Nynex
Posted on November 11, 2010, 5:18 pm NST
Neopets' 11th birthday is on Monday, November 15th.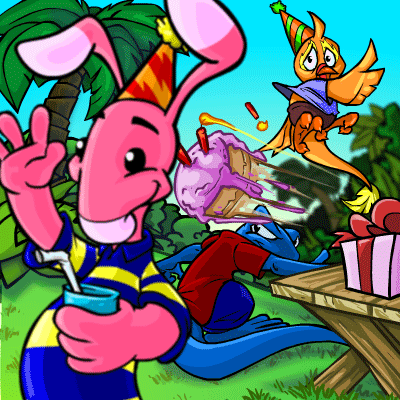 Petpetpet Habitarium Update:
Habitarium Beta Reset Forthcoming! (Premium Neoboard: Main Hall)
snarkie 11 Nov 2010 - 10:19 am
Heya, Habiteers.

We've gotten a lot of really good feedback from you guys (thanks!), so we have a new build of Habitarium coming for you to test.

Hab will be coming down soon for maintenance while we replace it. This will take a few hours. Once it comes back online_ you'll start again from level one. Please continue testing and sending us your thoughts!

I know what the next question is. Your NC items will NOT be cleared. Any NC items in your Item Bag will still be there once you go through the Tutorial again after the reset. Also, if you have any partially-used NC consumable items in your Item Bag - for example, you used four drops out of ten of your Mootix Pirate Ink Dropper - we'll fill them back up for you during the reset.

I think that's it. Thanks again for all your help. Your feedback has been awesome.
Always fresh, and ready to start again!

Jubjub Power Bounce: New Winter Theme
Posted by Nynex
Posted on November 12, 2010, 8:39 am NST
Jubjub Power Bounce will be getting a new winter theme, and with it, a new set of prizes to earn. Here is a sneak peek of the new theme! Make sure to collect all the haunted themed items before they retire. Check out our
Jubjub Power Bounce Guide
for a listing of all the prizes.
Tokens:

Happy Birthday Neopets!!
Posted by Nynex
Posted on November 15, 2010, 12:08 am NST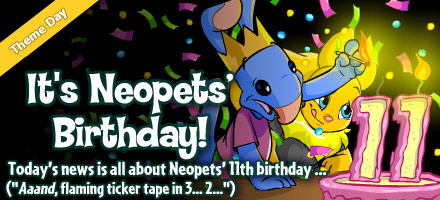 Celebrate eleven great years on Neopets with the
Happy Birthday
site theme! Increased chances of random events all day long.



If you haven't obtained the Happy Birthday! secret avatar, visit the New Features page today to unlock it.
For the next week (15th to 21st), game scores can be sent up to 5 times.
Brain Tree rewards are increased by 25% for today!
Increased chances for something good to happen at Coltzan's Shrine today!
Treasure of the Black Pawkeet is free today and 150NP for the rest of the month.
The Swashbuckling Academy will be offering free training to pets today!
Ticket sales at the Ticket Booth are increased!
Make sure you grab a Neopets 11th Birthday Goodie Bag from the
Toy Shop
.

Special Rare Item Code:
The Neopets Facebook has released a special code that you can redeem at
Grundo's Warehouse
for a free item! Claim the code below now before the offer expires!
11FB2010BDAY11


Sonic Colors Sponsor: Free Item
Posted by Nynex
Posted on November 16, 2010, 10:57 am NST
The
Sonic Colors
sponsor area is awarding 3 free virtual items from now until December 9th. The first item is available to collect today. This sponsor area is only open to US residents. (Today's trivia answer is: A Tropical Resort)


December Premium Card and Goodies
Posted by Nynex
Posted on November 16, 2010, 3:40 pm NST
December Premium Collectible Card: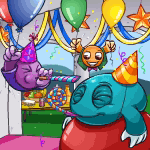 Plushies:



Starry Korbat | Jelly Blumaroo

Gold Mauket:


New Neoboard Emotes:

*slorg*

*weewoo*
Important Gamers Notice:
The Annual Games Master Challenge will be starting soon, so brush up on your gaming skills for another round!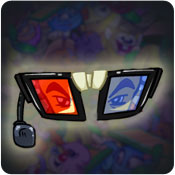 I want to be the very best, like no one ever was

Caption Contest 1164
Posted by Nynex
Posted on November 18, 2010, 11:36 am NST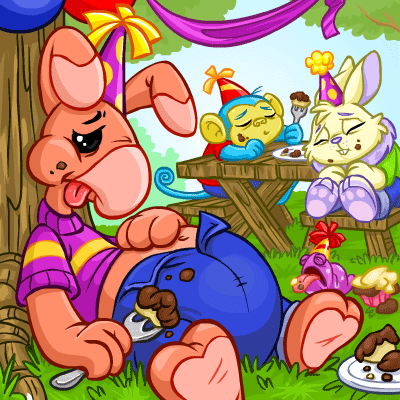 Got room for just...one...more...bite.

The Faeries' Ruin - Chapter 12
Posted by Illusioniste
Posted on November 18, 2010, 4:37 pm NST
Chapter 12 is out! And it's off to the Battledome! Can you defeat the Shadow Phantoms?
Our guide is
here
. Meanwhile, Xandra tries to stir up some animosity between Hanso and Brynn and begins the ritual...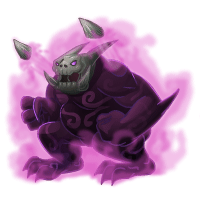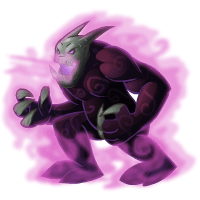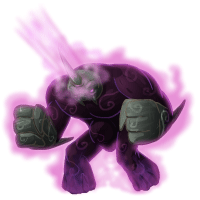 'Cause love is a battlefield...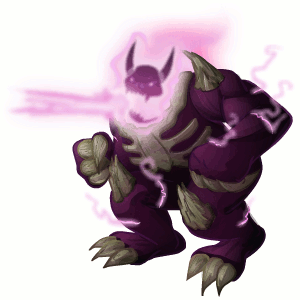 Step by step, heart to heart, left, right, left, we all fall down... into Oblivion.
Another step is available for the same chapter. You can help Xandra find the next spell to cast in the ritual or reinforce the protective barrier. To start, head over to the
ritual page
. Our guide is
here
.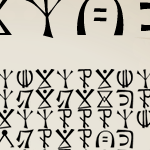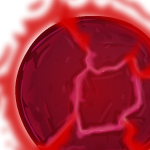 Habitarium: Open Beta Reset
Posted by Nynex
Posted on November 18, 2010, 5:19 pm NST
The beta testing for premium users has ended, but once the game has been updated, it will return for open beta.
Update:
Open beta has started! *whew, that was quick* To start your Habitat, go
here
.
Update:
More updates have been posted about the open beta.
Hello, Neopians! We wanted to let you know that we're going to be launching Habitarium again soon. We'll be opening up to small groups of players at a time until we get to everyone. No reason. We're not afraid of a server exploding or anything. *shifty eyes*

We'll start by releasing to the Premium beta testers tonight and, if all goes well, we'll add groups in the morning and continue throughout the day. So if you can't access the game but your friends can, don't panic! Everyone will be able to play soon.

If anything changes, we'll let you know. Thanks for your patience!
Premium: Main Hall
Hey! Wanted to let you know that we're going to open Habitarium back up in a bit and roll it out slowly, starting with you guys. This should happen within the next few hours. Once that looks good, we'll continue opening it up in small batches to everyone else (probably in the morning).
I believe they're going to reset, also. It's been a few days since anyone was able to get in and likely everything will have deteriorated in that time, which is lame. So you'll be getting the NC stuff back and start from level one next time you log in... same deal as before.

I'll mention this again, too: assuming everything goes properly, this will be open beta launch. (Attempt #3, I think, but we'll get it eventually.

) Anything you consume in-game from here on out is PERMANENT. We do not plan to reset again since the game is launching to everyone.
I think that's it. We'll post on the official TNT board in a few minutes, but I wanted to let you guys know what's up in case they open the game before then.
Thanks, guys!
Gameroom Marquee: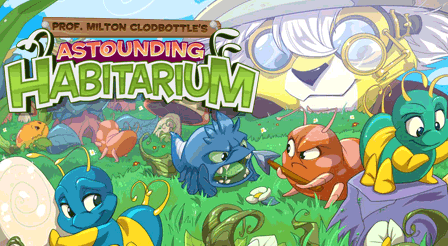 Buttons:


NC Items:
Hey! I know I mentioned another reset and we've been late on it. Turns out, the reset is for OPEN beta, so they were doing some more verification on the build before we made it available to everyone.
What this means is that, unless there's a HUGE bug, this reset is the FINAL RESET. When the game comes back up, it will be available to *everyone* in open beta. You guys will be back at level one, and ALL your NC items should be restored, including ones you've consumed completely. Anything you do from then on out will be for real. Items you consume will not be returned, etc. Just want to make that very clear so you don't waste anything!
If any of you are still having NP or "invisible" Hab issues when the game comes back up, please let me know and I'll have them look at it ASAP.
Thanks again for helping us test these past couple weeks. It's been helpful and fun. I hope we can do it again some time.

Erm, you may have noticed that the Habitarium beta was available for about an hour and then went into maintenance mode. Durp.
We're having a database issue that's preventing most people from loading the game. The techs are working on it overnight, and we'll hopefully have the game back up in the morning for you to start/continue testing.
That's it. Just wanted to post and let you guys know what was going on.

Welcome to beta! /snark