Your jnAccount:
Login
or
Register
| New to Jellyneo?
Click here!
News Archives
This page shows the available archives of our Neopets news. To start browsing, select a month below.
« Return to month listing

Petpet Park Play Test!
Posted by Nynex
Posted on April 29, 2009, 10:44 pm NST
Petpet Park
will be having another load test on Thursday, April 30th from 2-5pm NST (PDT). Unlike the past tests, this will be a
play test
for beta testers to test specific features in the park for bugs. There are no more beta spots open, so only those who have gotten a beta spot from previous test will be able to participate in this test. You can read more details about this test below.
It's time for another test!
However, instead of another load test, we'll be holding a play test on Thursday, April 30th from 2-5pm NST (PDT). For those who have never been in a play test, it simply means we ask you to test a specific feature of the Park to find any bugs. We'd then also like you to tell us what you think of that feature overall. Play tests are more fun than load tests, but don't tell the load tests we said that.
For this particular play test, we'd like to test Park Points. We've gone though and evened out the PP ratios for the mini-games and updated all the prices in the shops. So, please play the mini-games to earn Park Points and then go on a shopping spree! If you notice anything weird, like Park Points not updating or prices not matching up, please report it using the Bug Report Form. Then, once you're finished testing, we'd like to know what you think of the game payouts and shop prices overall. You can let us know using the Feedback Form.
While you're in the Park, here's a list of a few other things that will be updated in the build:
Jobs & Rewards - The jobs have been updated again! Each job should now display the correct rewards instead of the ever-present black apple. You should now also be able to complete all three jobs without any problems and receive the promised reward(s) at the end of the job. *fingers crossed* If you see anything out of the ordinary or something doesn't work, please submit a bug!

Sound Updates - Many sounds throughout the Park have been updated. We like these new sounds! What do you think?

Server Selection Fix - Selecting a server should now take you to that server and not a random one.

Mini-Game Leaderboard Fix - Mini-game experts should now see their name in more than one game list if they have multiple high scores. The leaderboard is located in the Northeast corner of Park Pointe Square, and while it won't show your high score immediately after you achieve it, it does update regularly.

Inventory - Items will now "stack" in your inventory, meaning that if you have more than one item, you will only see one image when looking at your inventory. All the items are still yours, but only one shows up to save space!

Abuse Report Form - The abuse report submit button should now be fixed and you can send reports.

Standard Chat - Let's try this again. ;) To switch between Easy and Standard Chat, click the toggle button to the left of the chat box. Standard Chat let's you type in your chat instead of selecting from phrases like with Easy Chat, so type in what you'd like to say and hit send (or the enter key on your keyboard). Words that aren't allowed will be red. If you have any problems with chat, be sure to report them using the Bug Report form.

Clear Your Cache - As always, it's a good idea to clear your cache before you begin testing so you are sure to have the latest version of the Park! If you need information on how to clear your cache, check out http://www.clearyourcache.com/.
We're working hard to get all these things in and more, but this list may change before the test. ;) If so, we'll update you here!
Please also note that once the test is over at 5pm NST, the Park will again come down for maintenance while we continue to work. This is intentional! We'll let you know then when we plan to bring it back up.
That's it! Thanks again for all your help during these tests. You guys rule.
See you in the Park!
Alternately, there will also be a
Key Quest
Load test held tomorrow between 4pm and 5pm NST (Pacific Time). If you want a chance to get the 3 virtual prizes given for the Key Quest event, you will need to play for the entire hour. (this will interrupt the Petpet Park Play test hour).

New Game - Top Chop
Posted by Nynex
Posted on April 30, 2009, 1:50 pm NST
Marquee: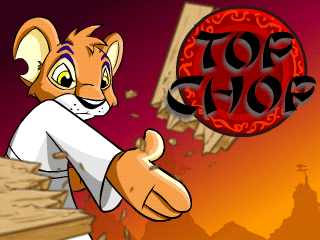 Homepage Marquee: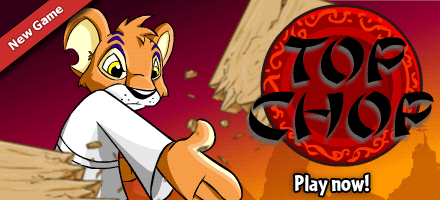 News Banner:

Buttons: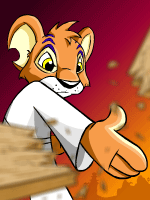 Trophies:





Description:
A young Kougra named Katsuo dreams of becoming a Shenkuu Palace Guard. Does he have the physical strength, fighting skills, and mental concentration for the job? He'll be tested to find out! Help Katsuo rise through the ranks of the Palace Guard. Who knows? Maybe one day he'll be showing off his martial arts skills for the Emperor himself!

Gameroom

Game awards the following items:









Hissi Day Caption
Posted by Nynex
Posted on April 30, 2009, 3:07 pm NST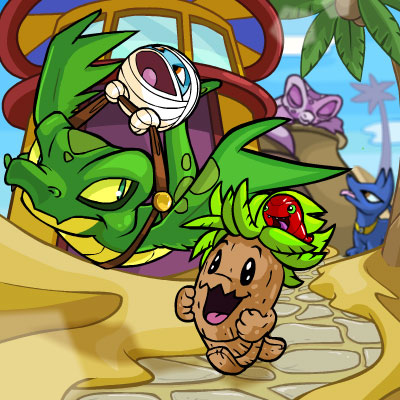 Key Quest Double Key & Virtual Item Load Test Update:
As today's load test was unsuccessful, no prizes will be awarded from this test. Keep an eye out for a rescheduled Load test coming soon.