Your jnAccount:
Login
or
Register
| New to Jellyneo?
Click here!
News Archives
This page shows the available archives of our Neopets news. To start browsing, select a month below.
« Return to month listing

Poogle Day Goodies
Posted by Nynex
Posted on September 16, 2008, 5:43 pm NST

Twin Skies: Under 13?
Posted by Terry
Posted on September 17, 2008, 4:49 pm NST
NOTE:
This news post is for those users who are under 13 and wish to sign up for Twin Skies. Sorry for a "false" post! Below is the newspost that was posted on
Twin Skies Help
, Jellyneo's sister site.
If you are under 13 and wish to sign up for Twin Skies, well, you're in luck. According to Daizy in the Twin Skies Forums, you will be allowed to get an account this weekend once the Under 13 controls are built in.
This is for those of you with younger siblings or children that are eager to play Twin Skies. We will be working on the under 13's access and controls over this coming weekend. If all goes according to plan, sign ups will be open to everyone towards the end of next week.

We will keep you updated if anything changes.

New Shields - 6 Years To 9.5 Years!
Posted by Terry
Posted on September 22, 2008, 5:15 pm NST
Good news for NeoVeterans -- You now have a spiffy new shield to go on your user lookup! :D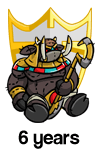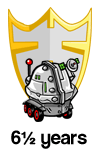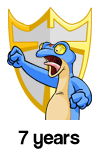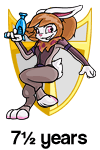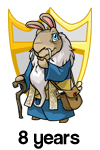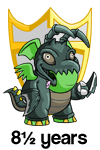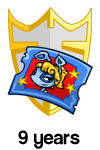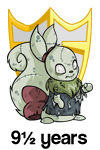 Thanks to SciFi for telling us! :)
Notable Comments:
thyassa, 09/23/2008, 9:50 am NST
The 1969 thing is a bug that happened a long time ago. The database was all screwy. That date is the epoch date for Unix.
Glad they added new shields, guess someone at Neo read my interview hehe
I am sad as they appear to be totally random images. I tried to make the images progressively cooler and rarer the older your account got. If anyone from Neo is reading this - do that! (Oh and they should be monthly, every 6 months is a long time to wait for something as important as a new user lookup shield)

Neopet Exchange Beta!
Posted by Suzuka
Posted on September 24, 2008, 5:04 pm NST
Premium members now have the opporunity to beta-test "Neopet Exchange". It appears to have been developed to combat pet-trading scams. Now when you select to transfer a pet to another owner, you'll have the option of selecting to trade pets. This way, neither owner will be able to grab both pets at once.

(Click for a larger screenshot)
Exchanging counts as the user-to-user transfer for both of you for the month, so both members must have their transfer available.
In order to access the 'Exchange', you must first select a user to transfer to. On the confirm page, you'll be given the option to select a pet to offer to exchange yours for.

Petpet Park Mini-Plot: Mission 4 Now Live
Posted by Dave
Posted on September 25, 2008, 5:05 pm NST
You may now complete mission 4 of the
Petpet Park Mini-Plot
! For a complete walkthrough, check out our
plot guide
. (This mission is pretty funny, actually. :P)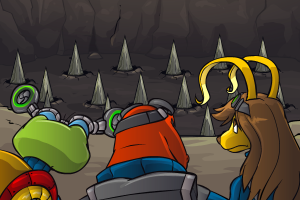 Click here for a complete walkthrough!