Your jnAccount:
Login
or
Register
| New to Jellyneo?
Click here!
News Archives
This page shows the available archives of our Neopets news. To start browsing, select a month below.
« Return to month listing

NeoHomes 2.0: Image Marking & More NCMall Furniture
Posted by Terry
Posted on July 30, 2008, 12:27 am NST
NCMall Furniture Shop Header:

Thanks to hoeiva, one of our IDBers (and a jnForums member) and his friend for tipping us off!
There are two things that we have found about NeoHomes 2.0. The first thing is the new image marking on NeoHome 2.0-able items. If you have had furniture in your inventory today, most likely, you will have seen the NeoHomes 2.0 logo in the bottom-right corner of the item image. (If you haven't, look at the image below... and read the caption, just to make me happy. :D)
EDIT:
You can now view the
NCmall
furniture shop, and view the prices.

Come on over to my NeoHome! I'd love to teach them about Randy Pausch's Last Lecture!
Currently, all the items that are NeoHomes 2.0-able are tagged with this image.

Click For Larger Image
Next up is... the super NCMall Furniture items! There are furniture items for every land. But... we do have a problem. There are too many images for this small, tiny newspost.
So, we've decided to throw up a NCMall NeoHomes 2.0 Preview page
. It's not the prettiest thing, but it'll do. ;D (Thanks to Nynex and Mike for helping out! :D)
To make it easier for everyone to see ALL the NeoHome 2.0 exclusive items, we've created a
NeoHomes 2.0 Special Category
. (I love our ItemDB team. <3)
Well, that's it. Have a great morning. Or evening. Dr. Horrible FTW!

New Caption - Caption 931
Posted by Nynex
Posted on July 30, 2008, 2:31 pm NST
When is it my turn? ;-;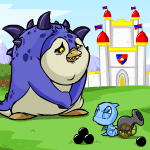 Key Quest: New Config, New Chance For Testing!
Posted by Terry
Posted on July 31, 2008, 11:27 am NST

August Freebies
Posted by Nynex
Posted on July 31, 2008, 11:57 pm NST

August is here, and it is time to head on over and grab yourself some
free foods and NP
. The high score tables have also been reset with the first of the month, so go earn yourself a shiny new game trophy.
Our Modeling Coordinators are currently looking for some talented pets to show off items. Head on over to the
We Need You
forum to sign your pet up for a modeling career. (You need a forum account, so sign up for one today!)
Have questions or comments about the latest Key Quest Beta? Join in the
Key Quest
discussion on the forums and let others know what you think, or organize a group to play a few games with. Thanks to Snarkie for dropping by to check up on some of our members bugs and questions regarding the beta testing.
Also check out
Twin Skies Help
and keep up to date with the games progress and development, and hear from the developers in their video blogs.
EDIT:
We've put up some more newsposts on
TwinSkiesHelp.net
! You should take a look at them... and also
join the tshForums
!
Now I'm going to head back to finishing up this weeks editorial. If you have questions,
send
them in. (:
EDIT 2:
Sorry to all our Neopets visitors, but here's another Twin Skies Help update. It appears as if the Twin Skies Forums (on the Twin Skies site) will open today!
Click here to check out the news story!