Your jnAccount:
Login
or
Register
| New to Jellyneo?
Click here!
News Archives
This page shows the available archives of our Neopets news. To start browsing, select a month below.
« Return to month listing

New NCMall Item - NeoHome Mystery Capsule
Posted by Terry
Posted on July 24, 2008, 9:32 am NST
Sorry, no long write-up today. I'm too tired to think of something boring to write about. ;o

Um... Shrunken Furniture, anyone?
Thanks to hoeiva in our
forums
for tipping us off!
For a preview of some of the VERY pretty
NCMall Furniture
, head on over
here
!

Ruki Day Goodies!
Posted by Nynex
Posted on July 24, 2008, 2:29 pm NST
Marquee: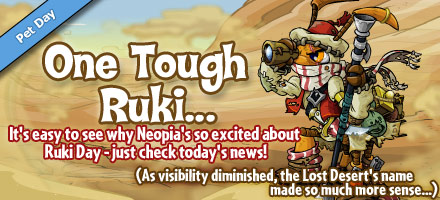 Clothes: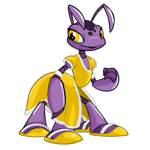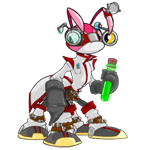 Caption: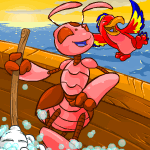 Shopkeepers: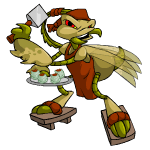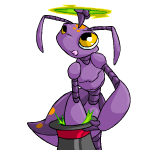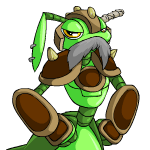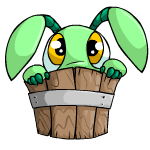 Items:
Plushies:





Starry | Checkered | Desert | Speckled

Colors: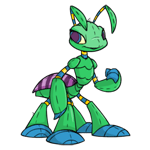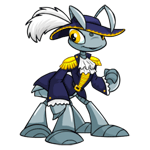 Thanks to Neocolours.de for this top quality image of the upcoming Plushie and Pirate Ruki!


The Book of Ages Mini-Article: The Gelert
Posted by Terry
Posted on July 27, 2008, 7:25 pm NST
If you ever wondered why the Gelert is named that way, well, take a look at
this page
first.
Wow, that's such a cool story!
Well, the Gelert was named after the dog named Gelert in the story. According to Donna, "our Gelert was named after the hero of one of my favourite celtic legends. When we launched the Gelert we linked to the story from the Gelert's homepage, so everybody could read it."
Remember to check out our
Book of Ages
for more information on Neopian Characters, and check out our sister site,
TwinSkiesHelp.net
for the latest information on Adam and Donna's newest venture!
(By the way, this just might turn into a weekly segment if I don't get lazy. :P)

Key Quest - Rewards Now Live!
Posted by Terry
Posted on July 28, 2008, 1:52 pm NST
Thanks to Herdy (and... well, I guess also Nynex xD) for this. As the title says, it appears as if Key Quest Rewards now work! (Of course, this only applies to those of you with access to Key Quest. :P For those of you who don't, like me, just read on and be happy for those who do. :P) NeoPoints have been given out for something like a week, and Key Quest Keys are now being given out.
EDIT:
Apparently you can win paintbrushes from Key Quest!
Premium NeoBoard Topic - On Prizes (by snarkie)
"I think there should be an EXTREMELY SMALL chance of winning a paint brush from a gold key, though."

How do you know there isn't? *cackle*

Click For Larger Image
With the release of the Key Quest Keys also comes... the release of the Key Quest Vault! You can get many super fun items, including stamps, books, neggs, codestones, wearable items and furniture!
For those of you not lucky enough to be in the premium beta of Keyquest, the rewards system has now been made live.

Keyqest has been giving out NP rewards for about a week now (averaging around 1-2K per game). But it's also giving out key rewards.

Today, the prize redemption area known as the Vault has been opened, where you can redeem your keys.

Good news: Prizes are amazifying!

They include stamps, books, neggs, codestones, wearables and furniture.
There's a 10 key per day limit on redemption, but provided you get the right combo of items from the gold (highest level) keys, that could easily net you over 100K a day



According to our staff testers, the better keys you have, the more prizes you get. If you get a gold key, you get four prizes. If you get a silver key, three prizes for you. If you get bronze, you get two prizes, and if you get a... grey key, you get one.

Want to discuss the prizes? Head over to our Neopets: Key Quest Forum in the jnForums! (You'll need a jnForums account in order to post though. ;o)

Key Quest - Open Beta!
Posted by Terry
Posted on July 28, 2008, 5:29 pm NST
Earlier today, we told you that the Key Quest Vault went live. Well, that's not the only thing that's going live today. Key Quest (yes, the whole thing), is now open for all of you to play!
Click here to go right on and play Key Quest
(and skip my rambling!)
As usual, you can redeem your codes
here
, along with some other new features. You can now view a Key Quest tutorial (
click here
), redeem some prizes with the keys you will be collecting (
click here
), and... when The Neopets Team gives us access to the NeoBoard, chat about
Neopets Key Quest here
.
If you've kept reading, read this: You will get a
FREE KEYQUEST TOKEN
to play Key Quest with.

Click For Larger Image
Currently, the Key Quest server(s) is/are not up, which is why we are not able to get past the "Connecting" screen. Stay tuned for updates on the server situation! By the way, below is a list of Key Quest FAQs that Snarkie wrote on the Key Quest Beta Testing NeoBoard.
Snarkie's Key Quest FAQs

I can't get my free token!
They're not available to choose yet. If you have no tokens, a random free token will be provided for you in game. You can choose which one to keep when the game goes live.)

How do I turn sound off?
Click on the "S" button (or your portrait when in game) in your chat window, scroll to the bottom, and turn the sound all the way down.

You should be able to type in your own chat OMG!
This is planned but, as you can imagine, will require a LOT of testing on the monitoring side before we even think about putting it live! Check the About page (from the Key Quest hub ) to see what else is planned.



--------------------



If you're stuck on the blue screen while it says "Connecting..." that means the server is down for reboot. Wait 5 or 10 minutes and come back to try again.

If you get passed the blue loading screen to the lobby, and are met with a white screen when you try to click on anything, you may need to update to the latest version of Flash. 9.0.124.0. (You may have 9, but not the correct version of 9.)

"Oops! The game ended abnormally..." means something unusual happened that caused the game to end prematurely. All players left, the server was disconnected, etc.

2, 3, and 4 key games will not be available at launch, so we turned them off for now.

If checking the Quicklist box in your Collector's Case doesn't add the token, check your Quicklist. Once you hit 8 tokens, it's full, and you have to remove one to add another.

You get no points for circling a Petpetpet unless it says "Perfect Loop" after you make the circle and the Petpetpet disappears. Keep in mind that someone else can get to the Petpetpet first, also.
Remember that we have a
Neopets: Key Quest
forum in our super fun jnForums! (In order to post, you need to have a jnForums Account. You can get one by
clicking here
!)
By the way... it's
Ruki Day
! :P (And mad props to Snarkie and the Key Quest team for getting this out. :D)
Notable Comments:
snarkie_tnt, 07/28/2008, 6:22 pm NST
I think we found a bug and fixed it. If you're non-premium, try again and let me know what happens (http://www.jellyneoforums.net/index.php?showtopic=20252). Server loads will still be high and it may still take a while to get in, but you shouldn't be blocked anymore!
Sorry to hijack your post, Terry.

Petpetpet Habitats - Release Imminent?
Posted by Terry
Posted on July 28, 2008, 5:37 pm NST
We have discovered this little tiny comment in the source of (really, any) Neopets page. What does it tell us? Well, take a look. ;)

Click For Larger Image
Yes, that's a link to Petpetpet Habitats, the game that we have (kind of) forgotten now due to the
many
Key Quest
posts
we've made. (The first link is the most recent. :P)
With the comment in the source, that leaves us to wonder, "Is Petpetpet Habitats going to come out soon for all users?" Well, we shall see. My bet is next week. :)
You can view all the images we have found of Petpetpet Habitats by
clicking here
! (Expect more images when we get closer to release. :P) You can also view our
Petpetpet Habitats (Beta) screenshots
by
clicking here
! Oh, and there's also an
Item DB Special Category
we have set up for P3 Habitats. ;)

jnSafety Team Alert - Duplicate Items and Cookie Grabbers!
Posted by Terry
Posted on July 29, 2008, 10:51 am NST
Today is obviously going to be a
great
day. xD First up, duplicate items. Unlike last Dupe Day, this appears to be smaller in scale. Why? People aren't mass donating the duplicate items. :P Instead, they're trading them to users by bidding on users' trades. You should also watch out for people sending you items high in value that you haven't asked for. If you get a bid on your trade or get sent some expensive item (such as a Faerie Slingshot) that wasn't solicited, reject the trade. That is currently the safest method.

Please don't steal me!
Now, onto cookie grabbers. This is the same scam that has been going around Neopets (and other fan sites) for a month or so now. Essentially, they tell users that the link goes to a Item Duplicator, NP Generator, or something that is illegal (and promises you great things if you use it). When you visit the page, the site steals your Neopets cookies and gains access into your account. You should be wary about links that you have never seen before, links that use a free host, links with hosts that sound suspicious, as well as links that jnStaff haven't posted on JN. (Jeesh, that's a long list.)
I suggest hovering over a link and looking at the status bar to see what you're going to be going to regardless of what the link text says.
Hover over this. What do you see in the status bar?
I would also suggest for you to
add a PIN number
or make sure that
it is enabled
for all locations possible. You should also make sure that the email linked to your Neopets account does not share the same password. (That essentially defeats the purpose of the PIN number, as they can just request it. :P)
If you find that you have fallen for a cookie grabber site, do the following things in order:
Change the password to your email account.
If you have been frozen after falling for a cookie grabber, do the following:
Submit an Account Access form. Explain that you fell for a cookie grabber scam, and give the page URL to them. You should fill in as many details as you possibly can.
Questions? Comments? You know where to post them. In the comments section!

Key Quest - Can't Get In? Here's Why.
Posted by Terry
Posted on July 29, 2008, 11:37 am NST
Have you been wondering why you aren't able to get into
Key Quest
? Here's your answer! (Super thanks to snarkie for posting!
)
The servers are going up and down from the load. Frustrating for y'all, I know, so I'm sorry it's making you tear your hair out! But it's good for us because the techs are getting a lot of information from the server logs and changing configurations here and there to try different things. Load testing is all about crashing the servers now to make them stable for launch.
I'd say don't bother waiting longer than three to four minutes at the "connecting..." screen. If you're not passed it after that, the server is likely down or being rebooted.
I think all the other questions were already answered by other folks. *nod*
jnNews - Key Quest Open Beta | jnNews - Key Quest Prizes Released
jnForums - Key Quest Forum
Sorry for filling up your RSS reader. I'll go hide in my cave now.
EDIT:
Horribly unprofessional, but
Dr. Horrible's Sing-Along Blog
is back up for free! :D
EDIT 2:
Apparently there is a chance at getting a paint brush if you get a gold key!
Click here to read more!
EDIT 3:
The server load has been the cause of the game server crashing, but the techs are working on the situation. Thanks to a post by
Snarkie
we have an update on the situation, and she would also like to remind everyone to be patient during the load testing.
EDIT 4:
More news about a configuration change and server stability can be found
here

Discovery of Meridell Day
Posted by Nynex
Posted on July 29, 2008, 2:39 pm NST
Today we are celebrating the discovery of Meridell!
Header: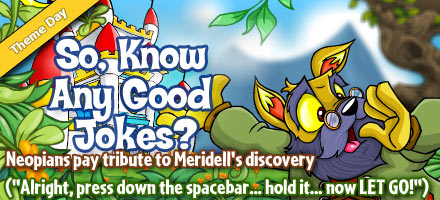 Petpets:





Pink Drackonack | Blue Gallion | Yellow Kareen | Rainbow Turmac

Neogreetings:





Faerie's Folly - Premium Beta Testing
Posted by Nynex
Posted on July 29, 2008, 4:52 pm NST
Premium members can now beta test Faerie's Folly
Game Buttons: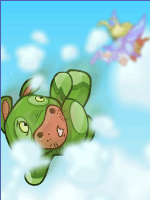 Description:
Casandia is a kindly if clumsy air faerie. While trying to transport a giant load of Petpets, she accidentally tips them over and drops all of them off the clouds of Faerieland. The PPL, hearing a distress call, sets up a floating raft beneath Faerieland in an attempt to catch all the Petpets. The rescued Petpets are then transferred to a park and put up for adoption, in the hopes that someone with some of Casandia's benevolence (but none of her dreadful absentmindedness and carelessness) will adopt them.

Screenshots:
Menu
Instructions | Instructions | Instructions
Game | Game | Game

Gameroom