Your jnAccount:
Login
or
Register
| New to Jellyneo?
Click here!
News Archives
This page shows the available archives of our Neopets news. To start browsing, select a month below.
« Return to month listing
Altador Cup II Prizes
Posted by Dave
Posted on September 18, 2007, 6:12 pm NST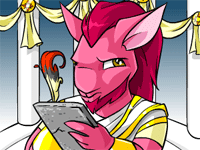 They're finally here. It seems so... anticlimatic, though. :P That darn Altador Cup Coordinating Committee's Prize Shop Subcommittee has kept up the suspense way too long.
Anywho, GO SPEND YOUR POINTS!
Click here for the prize shop!
On the Altador Cup news page, it mentions that "
the Prize Shop will not be open forever, so it is in your best interest to head there sooner rather than later, or else you might find the shop closed until next year!
" So get going now before it closes up again.
For a complete list of prizes and a peek at all of the different trophies,
click here for JN's page.

AAARGH!
Posted by Terry
Posted on September 19, 2007, 5:06 am NST





AAARGH! Happy Talk Like A Pirate Day from everyone at the JN Staff!


Faerie Festival - Petpets
Posted by Terry
Posted on September 19, 2007, 4:06 pm NST
Here are some Faerie Festival (TODAY!) petpets!




Catamara | Crabula | Eizzil | Geb

New Captions - Captions 844 and 845
Posted by Terry
Posted on September 19, 2007, 7:10 pm NST

Skeith Day - Foods
Posted by Terry
Posted on September 19, 2007, 7:28 pm NST
Here are some foods for Skeith Day!



Maths Nightmare II
Posted by Dave
Posted on September 20, 2007, 2:41 pm NST
A remake of the old Maths Nightmare is in the works!
Buttons: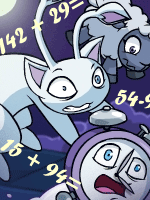 Trophies:



Game Center
Summary of Games Coming Soon:
Virtuventure Supreme
Korbat's Lab 2
Dar-BLAT!
Carnival of Terror 2
Ultimate Bullseye 2
Mop 'N' Bop
Tug-o-War 2
NC Mall Games

NeoGreetings - Friends
Posted by Terry
Posted on September 20, 2007, 2:47 pm NST

Qasalan Expellibox - Information + NC Mall News
Posted by Terry
Posted on September 20, 2007, 4:40 pm NST
So it turns out that you CAN get some NeoCash from Qasalan Expellibox. This game is a new daily. It's like those sponsor games with the baskets. You know, you drop a ball and it lands in those baskets? Yeah. But now you have to drop Scarabs. :P It's a new daily, so remember to get your NC every day! (Or land on the Red X. :P)
Want to help us write a guide (as in submit information)? Check out the forums for more info!
Help the Qasalan officials get rid of those pesky Scarabs in our latest game Qasalan Expellibox. Oh and you might win some NeoCash in the process!
Buttons: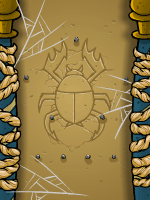 Game Center | Click To Play!
More NC Mall News:
Starting this October, Neocash cards will be sold in Target stores across the US! According to the page on the NC Mall, they will come in denominations of 1,000 and 2,500 NC, which equates to $10 and $25 respectively.


If you would like to find a store near you,
click here
. But, unless you want a cool card with Dr. Sloth or Illusen on it, it's more practical and cheaper (gas!) to purchase your NC online through Paypal. ;) The cards will most likely be located in their Movie/Music/Video Game section right on the shelves with the Habbo Hotel, Maple Story, and various other online game cards that Nexon runs.

New Caption - Caption 846
Posted by Nynex
Posted on September 24, 2007, 1:51 pm NST
Legendary Petpets are making things harder for our poor janitor. (Look out for
Mop 'n' Bop
to be released soon!)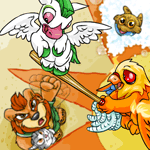 Skeith Day - Roundup
Posted by Terry
Posted on September 24, 2007, 1:53 pm NST