Your jnAccount:
Login
or
Register
| New to Jellyneo?
Click here!
News Archives
This page shows the available archives of our Neopets news. To start browsing, select a month below.
« Return to month listing

Game Release - The Search for Princess Lunara
Posted by Terry
Posted on September 13, 2007, 2:27 pm NST
The Search For Princess Lunara is RELEASED! (Maybe a Princess Lurana game-related background?)
Buttons: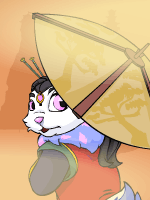 Trophies:



Oh no! Princess Lunara has been kidnapped! The Emperor has ordered all the bridges that lead to Shenkuu's docks be secured to prevent the kidnapper from escaping with the princess, and the Palace guards are scrambling to close them off.
You fancy yourself a bit of an amateur sleuth, and you arrive on the scene, all ready to save the princess! Unfortunately, the Palace guards aren't allowing anyone who can't answer their questions to cross the bridges. Hopefully, your knowledge of Neopia and its inhabitants is enough to help you find the princess. You can also bring up to two of your friends along for help.
There are three guards, each an expert in their subject matter: All About Neopia, Neopian Culture, and Notable Neopians. Pick a guard and you will be asked a question from that category. To answer, simply buzz in using your keyboard. If you can answer the guards' questions, you'll be one step closer to solving this mystery in the mist and winning the generous reward. If you can't, you might end up having to pay out a few bribes to get past the guards…or you might be mistaken for the kidnapper and taken to prison!
Game Center

Chocolate Day - Petpets and Buddy Icons
Posted by Terry
Posted on September 13, 2007, 7:05 pm NST
Here's some Chocolate Day stuff, to be released tomorrow! (Or Monday. :P)
Petpets




Buddy Icons





Poogle Day - Plushies
Posted by Terry
Posted on September 13, 2007, 7:08 pm NST
Here's some Poogle Day plushies!





New Game - Tug O' War
Posted by Terry
Posted on September 14, 2007, 1:13 pm NST
Another revamp. *nod*
Buttons: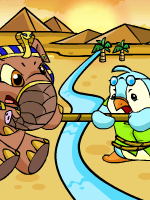 Trophies:



Game Center

New Game - Neocash Card Shopping Spree 2007
Posted by Terry
Posted on September 14, 2007, 1:14 pm NST
Hmm. Perhaps free NC through playing this game?
Buttons: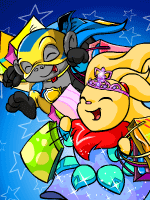 Game Center

New Game - Carnival of Terror 2
Posted by Terry
Posted on September 14, 2007, 1:15 pm NST
Yikes, another revamp!
Trophies:



News Banner:

Game Center
Note:
We apologize for skipping over the editorial for last week. (We here at JN were all busy with school, work, etc.) You can expect the next one by
Monday
Wednesday! (And if I don't procrastinate, even earlier! :P) Day changed because of schedule woes. (And also because I can work on it and stuff during my Free Periods/Lunches to get it out. Just giving myself more room to work with.)
More Apologizing:
jnAccounts. Yes, we have not forgotten about them! Recently, a beast has been attacking JN staffers, rendering them completey immobile and unable to work on the site. Unfortunately, the beast is not able to be stopped, despite all of the traps a few brave souls have tried setting up. If you can do anything to stop this beast, let us know! For now, we've given it the name of "School", as it isn't any species of animal we know.

New Caption - Caption #843
Posted by Terry
Posted on September 17, 2007, 12:47 pm NST

Wearables - Aluminum Foil Hat
Posted by Terry
Posted on September 17, 2007, 2:34 pm NST
Here are the next two pets to be able to wear the Aluminum Foil Hat! (Obviously split in sets. :P)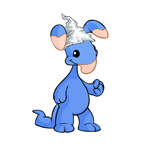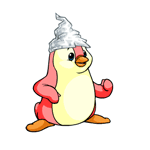 New Game - Mop 'n' Bop
Posted by Terry
Posted on September 18, 2007, 12:57 pm NST
Another Altador game. o-o
Buttons: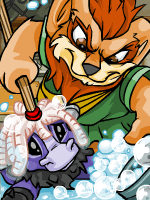 Trophies:





Game Center

Description:
Petpets keep wandering into the Hall of Heroes, leaving trails of mud from their dirty feet behind them. This angers the Yurble janitor, who uses his mop to whack the offenders, sending the dirt and mud flying off of them. The harder he smacks the Petpets, the cleaner they become. When the janitor walks over the dirty spots, he cleans them up. On his circuit around the Hall, the Yurble will pick up water droplets, which add to a pail whose quota grows with each level. He can also upgrade mop heads, for more efficient Petpet scrubbing!

Screenshots:

[link=http://www.jellyneo.net/images/newsup/gamemenu.png]Game Menu[/link]
[link=http://www.jellyneo.net/images/newsup/mnb_1.png]Instructions[/link]
[link=http://www.jellyneo.net/images/newsup/mnb_2.png]Instructions[/link] [link=http://www.jellyneo.net/images/newsup/mnb_3.png]Instructions[/link]
[link=http://www.jellyneo.net/images/newsup/mnb_4.png]Game[/link]
DB Maintenance:
We will be conducting some maintenance to clean up our user database in preparation for the transition to our new account system. If you notice anything funny in My Wishlists or our beta daily service, it should be gone in a few hours. (We'll also be deleting all unvalidated accounts! You'll be able to sign up for a new account in a few days time.)

Poogle Day - Roundup
Posted by Terry
Posted on September 18, 2007, 4:56 pm NST