Your jnAccount:
Login
or
Register
| New to Jellyneo?
Click here!
Welcome to Jellyneo.net!
Welcome to Jellyneo, the #1 ad-free Neopets help site! We offer news and tips for the popular online game Neopets. Here's what you can find on the site:
You can also register a jnAccount; it's free and lets you access special features! (Find out more!)
Pick your news: Neopets News
| Crossword | JN Updates | Daily Puzzle | Altador Cup XV
June NC Collectible
Posted by Herdy
Posted on June 1, 2020, 1:24 pm NST
The fifth item for the
Monsters and Mayhem Collection
is now released, and features the
Ghost Lupe
(and
Jeran
)! This item will only be available during June.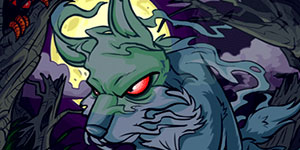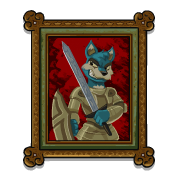 As this is the final item in the collection, a bonus is awarded to those who purchased the entire set:

---
jnAccount Update:
Beginning this evening, June 1st, we will be doing some maintenance on our "Your Dailies" custom daily lists service. During this time, you will still be able to access your dailies list, but we are temporarily disabling any editing of your lists while we migrate your links to an updated service. After the update, you'll notice a few new options in customising the display of your daily links, along with the ability to mix our preset links with your custom links!
UPDATE:
Our new
Dailies List
service is up and running! Check it out!
It's lovely artwork as with the rest of this series, but I don't know why the Ghost Lupe would be haunting a painting of Jeran.
The bonus is working now, Evil Trees Collectible Background. It has its charms. One odd thing is that when they are swinging their swords, they pass under the pet's feet, like a magic trick. I'm not sure if I'm bothered by that or if it makes it better.
I wonder if it's a reference to Ghostbusters 2? Hope we get a background for Halloween that has a decent amount of wall space, so we don't have a floating portrait.
Oh, nevermind. It's featued in a TCG image

http://www.drsloth.com/view/160942/
@Nefarity - Yanoush: He's GHOST LUPE! You are like the buzzing of petpetpets to heem!

Brave Bren: Oh, Johnny, did you back the wrong Poogle!
housie
, 06/1/2020, 8:44 pm NST
Nice update on the dailies list
Just a friendly reminder that Symol Hole can be visited multiple times a day, instead of once a day
For the Dailies list, can you make it such that images for the custom dailies are automatically resized to fit? The old Dailies list did that and it was helpful as we aren't always be able to find a suitable picture that also happens to be 80x80px.
I'm not all that happy about the re-do to My Dailies! I really liked the way I had them ordered, it was in the order of how I liked to do them and now they are split into all these different categories so I have to go searching. Don't like this. I know you need to change things now and then but this is how I feel!

Also I quite agree with starryfaerie about the size of some of the custom dailies, mine are all over the place now with different size images. Thank you.
OK I tried changing some of the settings and that helped a bit, at least un-grouping the categories.

I tried changing back and forth between large and small icons. I like the large ones better but again, they are not all the same size anymore and so the columns are all weird. The small size icons make it all more uniform but then the orange JN Guide button is what really stands out, Don't get me wrong, I LOVELOVELOVELOVELOVE the JN Guides!!!!!! I just miss the lil green icon from before.

Change is hard. Sigh.
OK Final thought - I just went ahead and removed the three custom dailies with the large pictures for now and it all looks much better. I know you had to make changes because of the computer stuff changing and all that and when it all comes down, I am just glad that JN is still here for us!
Dailies List Update:
It seems nice but thinking about it not sure if all the options given will be used. I imagine those of use who are used to the old style will revert the options back to the way they were while new JN members likely will stick to the default (or revert to a style similar to how us older members have it). The bigger & smaller icons choice is nice though.

If I were to add some suggestions:

1. Maybe add a "List" Display Type, like "Small Icons" but it's all one column. I think some may like that.

2. Maybe instead of having preset Categories let us create our own Categories (and maybe also let us put Dailies in multiple Categories). While I don't like how the presets split things up, I do think if I could make my own custom Categories I'd use that. Like for me I'd have Dailies I do right away, Dailies I come back to a few times a day, Custom Dailies for my own convenience, etc..
Links to the JN guides don't appear on the Dailies Do-er
Never mind, I found the setting to include the guide links on the ordering page
pasqui
, 06/2/2020, 8:52 am NST
Not really happy with the dailies page update. The main reason I used the JN dailies page was because everything was in one column per category, and I could easily open up a bunch of links with moving my mouse only slightly vertically. Now I gotta go left and right while up and down, and it makes finding the dailies I do an actual chore.

It looks better. It's less useful now.
@starryfaerie @contessa: I've fixed it so that icons will be a uniform size now, so larger images should not hinder the flow of the layout!
@pasqui: It sounds like you were using our old dailies page without any customisation? That view was only available to those who were not logged in or who did not customise their dailies.

I would recommend setting up your dailies list and then choosing the "Small Icons" display type under "Customise Display" for something relatively close to having all of the links in a column to click through. (Turning off "Group by category?" will help get your closer as well.)
I gotta say that this NC collectible looks amazing!
pasqui
, 06/2/2020, 1:01 pm NST
Okay, the "adding presets" confused me as I thought it meant adding more preset links (like to other games, shops, etc...) to the already listed dailies, so I never checked that out as everything I wanted was already listed. Didn't realize it meant the opposite, and reduce the basic list to only the dailies I want.

Yeah, I can work with this now and put things the way I want. Thanks! Sorry for misunderstanding.
@Dave
Thanks for fixing the image size issue!
My Dailies page looks normal again haha
There are 20 comments above. Why not post yours?