Your jnAccount:
Login
or
Register
| New to Jellyneo?
Click here!
Welcome to Jellyneo.net!
Welcome to Jellyneo, the #1 ad-free Neopets help site! We offer news and tips for the popular online game Neopets. Here's what you can find on the site:
You can also register a jnAccount; it's free and lets you access special features! (Find out more!)
Pick your news: Neopets News
| Crossword | JN Updates | Daily Puzzle
Festival of Neggs Returns
Posted by Dave
Posted on April 9, 2020, 11:08 am NST
The annual
Festival of Neggs
is now live, as of 10:00 AM NST this morning! The final day of the event will be April 24th.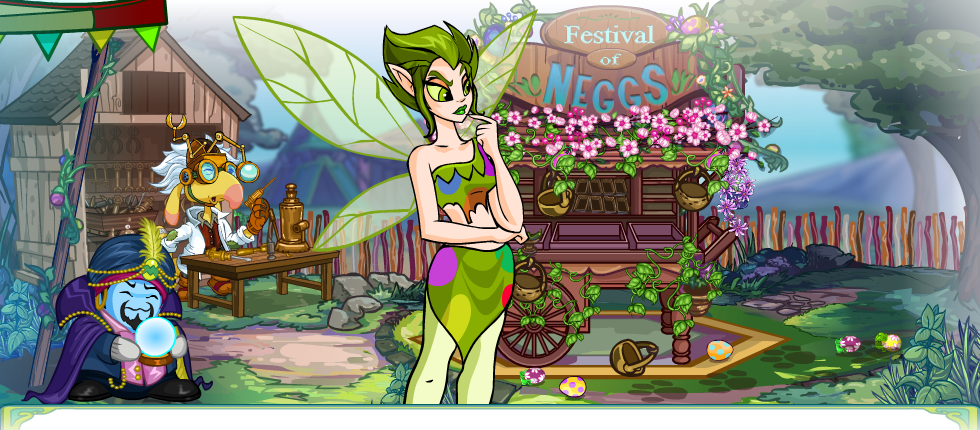 To begin, you must register at the
Festival of Neggs hub
. Then, Day 1's clue leads to
Grumpy Old King
.
New this year, Dr. Neggistential has set up shop to tinker with some mechanical Neggs. You can check out our
Mechanical Neggs
guide for more information.
Since this event did not start at midnight, the first day of the event will continue both today, April 9th, and tomorrow, April 10th. You have until April 10th at 11:59 PM NST to find the first Negg and get your gold day of checkmark.
View Our Festival of Neggs Guide »
can y'all not post the solution on the front page

thanks
housie
, 04/9/2020, 11:27 am NST
http://www.neopets.com/neggfest/faq/faq.phtml?type=fon


Faq for 2020 has been updated!
Very pretty items! And Neggs, for those who collect them.
600 nc to unlock one mechanical negg? That can't be right. The description sounds like one kit will unlock 5 neggs. *waits for clarification*


Oh and Kari is right. No one is looking for Topsi *giggles*
Second favorite event after Advent Calender
stamp that is given from charming negg is invalid when you try to put it into your album!

also the mechanical negg link goes to a 404 page for me
I think there will be three different Tinker Kits, each unlocking 5 Mechanical Neggs.
The Mechanical Negg is active now!
My first item is Spring Tea Party Set, don't know if it's the same for everyone.
sketch
, 04/9/2020, 12:55 pm NST
Other years you could use 5 dusts (125NC each) to obtain 5 prizes for each negg, but i think this year you just need one kit (600 NC) to unlock all 5 prizes
It looks to me like each time you open a negg it upgrades something that is being built, and we will get that extra item once all 5 neggs are opened.
The Mechanical Negg whirs to life!
*sings* Spyder-Negg! Spyder-Negg! Does whatever a Spyder-Negg does!

Ha-HA! We've done it! Those legs will sure come in handy... Heh... You get it?... Because any time a thief places their hand on it, it'll run away! *Ahem* Anyway, for your assistance, I've given you a special something:
Spring Tea Party Set
The items are so beautiful. The Spring Ona is everything!
chanty
, 04/9/2020, 6:50 pm NST
Thanks Coltzan, Kaia is back.
chanty
, 04/9/2020, 6:51 pm NST
*Kari
josie
, 04/9/2020, 8:08 pm NST
Does anyone know yet if the Floral Nature Charm can be added to the charm album?
Does anyone know what the bubbling ethereal potion does?
Those Meepit plushies on the main page's news banner remind me of the Invader Zim "rubber piggies!" *shudders* 😨
"since Topsi decided to play hide-and-seek and no one's seen him in weeks. I wonder if anyone's actually looking for him?" Awww!!!
"since he left the stand unattended, someone or something has stolen most of the Neggs before I had a chance to hide them." *gasp* 😱 😱 😱 THE FIEND!!!
First prize I got was the Spring Ona!
Great. I bought the stamp, put it in my album and now the stamp is gone
. It says I have 4 stamps in Other IV but if I go to Other IV it says I only have 3. No answer from TNT. I just hope they fix it. I'm so sick of their glitches
Someone on the Neoboards mentioned plain plastic neggs hidden around the site. Is this really a thing? And, if it is, where are they?
Also-the mechanical neggs. Can you use more than one kit for duplicate prizes?
Oh, never mind about the plain plastic neggs. I failed to see the 2012 below it.
With many people spending a lot of time at home, this might be the perfect time to bring back the JN negg hunt
ally
, 04/12/2020, 8:27 am NST
JN Negg Hunt was always epic.

Miss you all! Hope everyone is staying safe and well. Thanks for this fantastic guide - it has been fun catching up on Festival of Neggs during my RN downtime! <3
As far as duplicate kits, it doesn't mention it specifically in the FAQ
http://www.neopets.com/neggfest/2020/neggbots/faq/faq.phtml?type=neggbot
but we only get one Mechanical Negg at a time and can't buy or trade for more so it doesn't seem like having another Kit would give you extra prizes.
Odd! When I went to the Negghunt Hub this morning, Topsi was there. He said I had solved all of his riddles on the day of display and gave me 3 prizes and a site theme. He also said that the Negghunt was over for this year. Inventory does not show the prizes. I was able to use the link here to get today's prize.


I got the old Festival link yesterday morning, too. Refreshing it brought it to the current one. That's been happening to me and the New Features page a bit in the last week, too.
Did I miss the start of the third mechanical negg? I went to the mall yesterday and there wasn't one for it.
bodhi
, 04/25/2020, 1:40 pm NST
Some nice prizes for those who managed to get the neggs every day!
There are 29 comments above. Why not post yours?