Your jnAccount:
Login
or
Register
| New to Jellyneo?
Click here!
Welcome to Jellyneo.net!
Welcome to Jellyneo, the #1 ad-free Neopets help site! We offer news and tips for the popular online game Neopets. Here's what you can find on the site:
You can also register a jnAccount; it's free and lets you access special features! (Find out more!)
Pick your news: Neopets News
| Crossword | JN Updates | Daily Puzzle
December Monthly Freebies
Posted by Jen
Posted on December 1, 2019, 12:49 am NST
Today marks the start of the month of Celebrating with lots of daily gifts from the Advent Calendar to come. It's also time to collect your
freebie foods
and neopoints for December!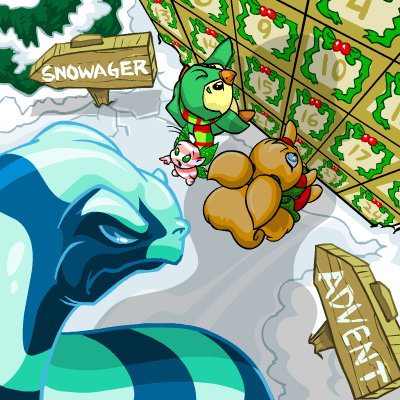 » Collect Your Freebies Now! «
Advent Calendar
December 1st marks the first day of the
Advent Calendar
. Visit each day for gifts and animations. You're able to check out our
Advent guide
for full coverage.
Once again this year, each Advent animation will have a secret clickable item (this year it appears to be a Santa Hat) that will award you a random Neopoint item once per day.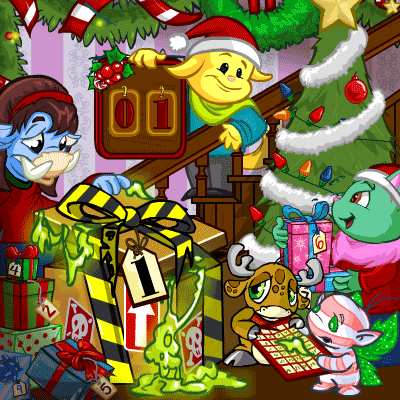 » Visit our Advent guide! «
Winter Starlight Celebration and the Snowager
Today also marks the start of the
Winter Starlight Celebration
. The
Snowager
is now hibernating for December - he is asleep every hour of the day. Visit him once a day at any time to steal a piece of treasure!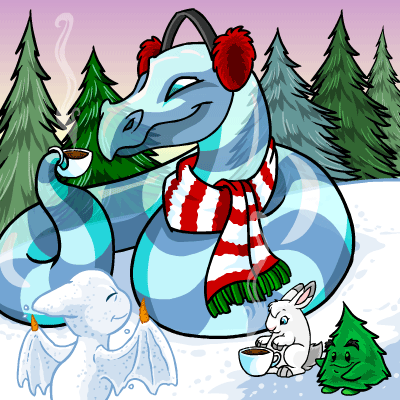 Donations
We're getting closer to meeting our 2019 fundraising goal but are still a wee way away. If you'd like to donate to help keep JN online and ad-free you can check out the
details here
! Just a friendly reminder the month of December is your last chance to get our 2019 Donation Trophies!
» Donate to Jellyneo! «
I had to click on the Santa hat on the presents by the tree to get the bonus prize. I didn't see any Petpets to click on.
And once again the prize does not match the animation. That plushie Cybunny was clearly stuffed in a green stocking.
I also clicked on the Santa hat for the daily bonus prize - a Snow Chomby.
I got a Bamboo Forest Foreground from clicking the Santa hat.
I got a Snowball Slingshot from the santa hat!
bennyw
, 12/1/2019, 6:49 am NST
apophis324, that's a really nitpicky thing but ok
I got a Holly Jewellery Box when I clicked on the santa hat.
Holiday Lights Slushie for me
kaa6b
, 12/1/2019, 7:24 am NST
I got Seasonal Steel Drums from the santa hat!
No GMC this year? HOLY SHIRTS!
bodhi
, 12/1/2019, 9:30 am NST
Oh, the Santa hat is what we click on? I thought it was the Fir!
josie
, 12/1/2019, 9:33 am NST
I got a Snowman Garland when I clicked on the Santa hat.
I got a Snow Chomby form the santa hat as well.
I got a 'Gingerbread Peophin' from the Santa Hat
I got a Corncob Cracker from the santa hat!
I got a Pathetic Christmas Tree from the hat.
josh_m
, 12/1/2019, 11:09 am NST

Snorkle Vegan Platter
@bennyw But it's such an obvious mistake they keep making. I am not 100% sure, but I don't think the old TNT made mix-ups like that. Why give an item that does not resemble the animation? Also.. who thinks it's a good idea to put a fully decorated christmas tree in a baby room?
Thank you, Jen!
@apophis324 - It's not. Big___shot taught me AND himself the hard way about how dangerous a tree with GLASS ornaments are. 🤕
junimo
, 12/1/2019, 6:23 pm NST
my bonus was a winter fun usul gnome
shyn12
, 12/1/2019, 8:49 pm NST
I got a snowflake garland from the santa hat.
The hat is not clickable for me. I've seen others saying the same
Santa Hat on 12/2 gave me Rainbow Fountain Secrets
There is a huge lag for me when clicking the hat. It seems like it's not working, but it just takes a while for the prize to pop up.
bennyw
, 12/2/2019, 8:50 am NST
I got Holiday Decorated Money Tree from the Santa hat this morning.
debgil
, 12/2/2019, 9:59 am NST
I had to go through the video about 20 times clicking like a crazy person on that hat. Took forever for it to take and get the prize. Ugga!

Side note: Why have we gone back to gear pet pictures? I wanted to customize for Christmas.
Day 2 - Clicking the hat gave me a Winter Fun Usul Gnome
The Advent Calendar seems like it is giving out useful prizes this year. At least, so far. Wearables and books. Applaud TNT for that. We don't need a bunch more useless junk items even if they're cute.
Day 3 - Clicking the Hat gave me a Bika.
I got a Christmas Gnorbu Stocking from clicking the daily hat.
Is it just me or can you guys not read the book we got on day 4 to any pets either?
@mamsmelk_jr - It wasn't readable before, but it is now.
I also got a Christmas Gnorbu stocking from clicking the Santa Hat.

I just started getting the gear pet pictures today for a couple of my pets. Why is that?!?!
There are 33 comments above. Why not post yours?