Your jnAccount:
Login
or
Register
| New to Jellyneo?
Click here!
Welcome to Jellyneo.net!
Welcome to Jellyneo, the #1 ad-free Neopets help site! We offer news and tips for the popular online game Neopets. Here's what you can find on the site:
You can also register a jnAccount; it's free and lets you access special features! (Find out more!)
Pick your news: Neopets News
| Crossword | JN Updates | Daily Puzzle
Extra Pet Slot Live
Posted by Herdy
Posted on November 19, 2019, 12:58 pm NST
As announced last week, to celebrate the Neopets 20th Birthday, all accounts (premium and non-premium) are being given an extra pet slot. This extra slot is now live!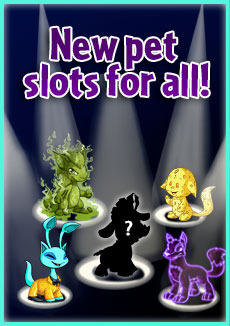 This brings the total maximum per account to 6 for regular accounts (including side accounts), and 7 for premium accounts.
this is so ridiculousssss
Here's to hoping they'll be a perk from next Charity Corner's perk shop as well and before you know it we won't even have need for side accounts anymore xD (aside from those who use it for galleries, of course)
sketch
, 11/19/2019, 4:44 pm NST
YAYYYYYYYYYYY
twocue
, 11/19/2019, 5:25 pm NST
Oh OK OK I think Imma need medical attention. I'm so happy there's not a word for it. I want ALL the pets!
cat
, 11/19/2019, 5:45 pm NST
Awesome! Now I can bring one of my side pets back to my main. And I can start looking at some new pets.
YES! i always love getting more pet slots... i never have enough room for all the ideas i have
thanks to tnt for supporting my impulsive personality
lol
😲 "The Adam Powell Prophecy!"
This was INEVITABLE! 🤩
Remember how Adam Powell, the creator of Neopets had seven pets instead of the original four? This was DESTINY!!! I think it's perfect the way it is now. It should stop at 6/7 per slots.
hulatu
, 11/21/2019, 2:58 am NST
Awwwww so happy!
Stop at 6/7 pet slots? No way. Over the years I'm playing I have come up with roughly ten characters I'd like to create. Pets that play a role in my other pets backstories, pet colors that I enjoyed so much I made up characters for them.

In my opinion, It should start at three pet slots for the first year, then increase by one per year the user is active. Some of us would have more slots than they need, but others could close their side accounts.
Given that one of the main reasons why we want more pet slots is to be able to close sides, I say 6 pet slots is a very small amount, even more if we consider that it took them two decades to reach that limit.
I agree with cocojan, pet limit should increase by one with every year of playing, that's actually something that was requested for loyal user perks a while ago but never became true
GNNNORRBUS. GNNNNNORRBUS.

I have two new. Cloud and Pirate.

There are over 1400 colour/species combos. Kinda hard to decide what to repaint if interesting colour comes by.
Is it weird that I only have two pets and no desire to get anymore? Originally I only had the one, Olivia named after Olivia Benson but then Lucretia got stuck in my head from Spartacus and I just HAD to make one of her too!
But... but destiny!
What destiny? Adam stopped working for Neopets years ago, so I see no point on making stuff 100% he wanted
*shrug* I just like finding new lore that matches old lore. I think part of me wants 6/7 pet slots to be it just because it SEEMED like they were planning this since the beginning.
In reality... yeah, I wouldn't mind more pet slots.
There are 15 comments above. Why not post yours?