Your jnAccount:
Login
or
Register
| New to Jellyneo?
Click here!
Welcome to Jellyneo.net!
Welcome to Jellyneo, the #1 ad-free Neopets help site! We offer news and tips for the popular online game Neopets. Here's what you can find on the site:
You can also register a jnAccount; it's free and lets you access special features! (Find out more!)
Pick your news: Neopets News
| Crossword | JN Updates | Daily Puzzle
Hannah and the Lost Time Capsules Event
Posted by Herdy
Posted on November 11, 2019, 6:28 am NST
To celebrate the upcoming 20th birthday of Neopets, a new event has launched -
Hannah and the Lost Time Capsules!
In an effort to restore the core of Neopia for the next 20 years, Hannah has roped in Kanrik to solve clues hidden around Neopia.
This event will run until Friday, November 15th, with new clues releasing each day. There will be 20 in total, one representing each of the years of Neopets history.
Today, 4 clues are available. You must complete them in order to unlock the next, beginning by clicking the scroll in the top right of the event's hub page: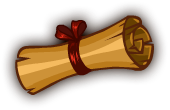 Today's clues can be found at:
Clue 1
Clue 2
Clue 3
Clue 4
Solving each clue awards a new item related to each year in Neopets history.
View Our Lost Time Capsules Guide »
I got:
First Edition of the Neopian Times
Giant Omelette Battledome Snowglobe
Champions of Meridell Stamp
Seasonal Pinchit Attack Pea Plushie

In that order
This is cute. I love it
First Edition of the Neopian Times
Giant Omelette Battledome Snowglobe
Champions of Meridell Stamp
Seasonal Pinchit Attack Pea Plushie

It seems all the prizes are the same for everyone!
Thank you so much
First Edition of the Neopian Times
Giant Omelette Battledome Snowglobe
Champions of Meridell Stamp
Seasonal Pinchit Attack Pea Plushie

It seems all the prizes are the same for everyone!
Thank you so much
Uh, why does Hannah and Kanrik not like each?
JS, did you not read the entirety of the Hannah & The Ice Caves plot? Hannah and Kanrik are probably considered one of Neopia's popular pairings!

Are we going to have consider this yet another tale from Aurrick...
hail
, 11/11/2019, 9:17 am NST
On top of the items from the four clue locations, I got a popup at the happy valley petpet shop that gave me a Mysterious Orchid. It said something like "a moltanore running through what's that doing here?"
@hail I suppose that flowers still grow in Terror Mountain
@hail, that's a hangover from the Atlas of the Ancients plot. A couple of the items can still be found around the site even though the plot ended ages ago.
@pikachu that might be Hannah and Kanrik, but this is KanRick we are talking about....
..I love that JS time and time again have failed to quality check what they release when it comes to lore.
Heh. Someone doesn't know their Wests from Easts.. Krawk Island is definitely on the West side of the Island of Mystery.. (Unless I misread it, can't check..)
bennyw
, 11/11/2019, 11:37 am NST
Yay, a new book!
What am I doing wrong? I went to the ruins of Maraqua and nothing happened.
Never mind, there were a few steps I had to get to first. sorry.
I wonder if this event is leading to an almost complete website in html? After all, Hannah talked about the core of Neopia! But so far, this small event is fun and simple! And I'm sure it will bring many memories! And no NC capsules, this time?
josie
, 11/11/2019, 8:36 pm NST
This is a fun little event. Thank you for posting the clues.
A fun little event.. until they realize not much noteworthy has happened in the last five years.. Really, aside from the Vandagyres being discovered, what else really happened? Wraith Resurgence and Lost Heirloom? Those... don't really count as achievements...
So glad I could still play today! I made the mistake of going to Maraqua first, but didn't realize I had to activate the clue game at the event page. Thanks for the guide!
Are Kanrik and Hannah going through a crisis or are the writers just that bad at Neopets lore? lol
Altador plot my first plot after joining neopets. I could have done Maraqua, but I didn't know about plot/events when I started. So today's clues were nostalgic.
Neocola machine doesn't seem to be giving me anything.
Ignore me, apparently it just did not give me the event dialogue at the Neocola machine.
Thanks for the handy guide! May I suggest you put it up along with the links to the dailies, such as crosswords and daily puzzle, like you did to the faerie quest event? This way it'll be easier to locate it even as other news are posted.
dustin
, 11/13/2019, 7:28 am NST
Would be kinda cool if they release the site revamp after this event... 20 years. New look.
I'm hoping for the HTML5 Neopets 3.0 update too.
YES! The 20th anniversary is the PERFECT Time to release the 3.0 update! @phenixia - GREAT theory! 👌😄
Not only would it be 'the perfect time' it would also really be 'the only time', at least of significance, before Flash completely stops working come next year.
Also (sorry for the double post) with them addressing the Neopocalypse with such a bittersweet item today, maybe the new TNT isn't so bad after all.. Still have got a long way to go when it comes to proof-reading though..
You guys notice the games written on those stones for the RIP Gravestones Foreground? #heartbreak for KQ T_T
Why is there no NC component or really anything else happening with a 20year celebration...was hoping something else would happen. I guess there's tomorrow though but...
Got the 20 Year Celebration avatar!
That ending was quite abrupt and made very little sense.. Just like the last few of TNT's 'achievements' (which I already expected four days ago). It's basically their first non-flash game, some 'hilarious' joke totally everybody remembers, their Wraith Resurgence plod (no typo) and the overhaul of Meridell and Brightvale (which still need tweaking), and... the Hidden Tower for some reason..
/some 'hilarious' joke totally everybody remembers

Exactly captured my reaction when I read the item description lol
(I mean I did remember it, but compared to other april fools they did I remember it seeming like they were "phoning it in&quot
I completely forgot about it.. The only things I remember when it comes to April Fools is that we were taxed one year for the pages we viewed.. and of course the Scourgies.
Neoplants and Sccurgies are all I remember and both of them pale to Flight Rising and Lioden pranks.
sad how little effort new tnt gives
I just looked carefully at the RIP Gravestones FG. Is it just me or is it really insensitive to have Petpet Park, Habitarium & Key Quest on the gravestones? Those were things a lot of people loved. I'm still miss my habi! I certainly don't want to have a gravestone commemorating it, customizing one of my pets.
bennyw
, 11/15/2019, 8:35 am NST
mistyraider - I don't think insensitive so much as TNT saying "they are dead, please stop asking."
There's been a games graveyard for a long time, why not a wearable? Besides: for myself, I was way more partial to some of the games in the graveyard than those three. There's still a place in the world for a little dark humor
bennyw
, 11/15/2019, 9:25 am NST
ladyamethyst - Understandable, but TNT was speaking openly about bringing KQ back. They've waffled on the topic and if this is their way of saying "leave us alone now", perhaps you can see why people are not totally amused.
You know you've had an exhausting week when you find yourself shouting at the computer monitor because of out-of-character Neopets dialogue. XD;; I think it was the word "friends" that finally got to me on the last day. XP
Seriously though, I just found the writing so bad. My own headcanon can survive this knock but... yeah. Hannah/Kanrik are one thing... but if they pulled this stunt with, say, Jeran... I... yeah. Stay away from him, Jumpstaff!

Not to mention the 'story' (which is nothing more than a weird dialogue, unnecessary to give us clues) ends with just... a K. So Kanrik finished spelling his name and is therefor not dead. Okay, cool. AND THEN? WHAT HAPPENS NEXT?!

[Also, I would like to add to the gravestone discussion saying that I actually found it rather endearing that they paid homage to three games that were lost in their Neopocalypse / transfer to Jumpstart. I guess there are people who do like it!]
There are 43 comments above. Why not post yours?