Your jnAccount:
Login
or
Register
| New to Jellyneo?
Click here!
Welcome to Jellyneo.net!
Welcome to Jellyneo, the #1 ad-free Neopets help site! We offer news and tips for the popular online game Neopets. Here's what you can find on the site:
You can also register a jnAccount; it's free and lets you access special features! (Find out more!)
Pick your news: Neopets News
| Crossword | JN Updates | Daily Puzzle
Altador Cup: Score Sending Refresh Needed
Posted by Dave
Posted on July 6, 2019, 7:50 am NST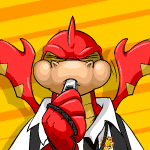 The extra score sending weekend is well underway. From now until tomorrow, Sunday, July 7th at 11:59 PM NST, you'll be able to play more games of Yooyuball, Make Some Noise, Slushie Slinger, and Shootout Showdown, to boost up your final personal rank. The team tournament is over, with final ranks secured, and no teams will be playing each other during this time.
You may find that you can only send 3 scores in Yooyuball and Shootout Showdown. This seems to be just a visual bug since it's after the tournament. You will need to refresh the page after you send your first 3 scores of the day and from then on will need to refresh after every game.
Will you be playing more this weekend? Let us know what your final rank goal is in the comments!
Oh! Thank you for this precious information! I was getting angry when I noticed nothing worked anymore! *go back playing*
After sending the first 3 scores you have to refresh after EVERY game, not after every three.
I am definitely playing, I missed a lot of days and I am within reach of Double All Star.
I am done done done. Not refreshing after any games. A big pain!!!
I'll try to play as much as I can.
This is pain.

I wanted to get to 400 game of YYB because I like round numbers (have 5000 in SOSD) but..not. Feeling. It.
On the plus side, YYB loads the quickest.
sycatt
, 07/6/2019, 10:20 am NST
Thank you for letting us know about the refreshing. I was a little perturbed when I had played 5 games of SoSD before I noticed my score had only gone up by 3 points. Yes it is annoying to have to refresh, and it takes a bite out of play time, but I'm grateful we still get to add more to our ranking.
I /could/ complain about having to refresh between each game, but honestly I'm just glad I get another chance to get my rank up!
I just needed to play my last 7 YYB games to make All-Star. I'm all done now (: Thanks JS!
great I get extra time and now the game wont let me throw the ball into the goal net I even restarted my computer and it still wont let me throw the ball I guess I am stuck better luck next year lol
My YYB max for the day has changed from 46 to only 45. My last one said it was sent, but the total didn't change, and after another game it still hasn't changed.
I just wasted time playing three more YYB to test the cap. Maybe I just recorded my starting number of games wrong...
Refreshing 398 times to max out SOSD today doesn't sound like it'd be worth the extra shop points since I'm already All Star but what if they have something amazing that costs the difference lol
Uh, oh, I just figured out what happened.
I sent a losing score! That has never happened, and I don't even know how it did.
Lol .. Ducky: but..not. Feeling. It.

Yup yup .. What a pain. Got to Allstar .. Good enuf!
Man refreshing after each SOSD makes this pointless. It's like not even worth the effort of playing 1 goal games if it takes over an hour to send all the scores...
It's not really all that bad. I alternate between games, so one is reloading while I'm playing the other one.
joe
, 07/6/2019, 3:49 pm NST
and Neopets is down...
Yep down...maybe they are fixing the refresh issue?
lol I made a mistake playing any thing other than yyb today. Now my Neo OCD needs to get ALL my numbers to something I'm happy with
Just got back online to play, and Neo's down

.
Still will play, refreshing an' all, as much as I can .. both days.
I hope they're fixing the refresh issue (or at least fix it for tomorrow). SOSD is kinda painful
Wouldn't all this refreshing overload the server?
Looks like the site is back up!
cat
, 07/6/2019, 6:13 pm NST
I've decided Slushie Slinger is the least aggravating way I can earn points since it does require Captcha but doesn't require refreshing. Incidentally there doesn't seem to be a minimum required score to count anymore.
cat
, 07/6/2019, 6:22 pm NST
Or, actually there is still a minimum score to count. Sorry.
Is the Relics of Altador page messed up or has it always looked like that? I just bought one ticket and I want to make sure I get the one item I want so far.


TNT - "OK here's the deal: we are going to give you two days to catch up on the time you missed while the site was down. In the fine print however is this: You will have to refresh in between every single game to be able to send a score that will count muwhahahaha...


Me' "Whyyyyyyyyyyyyyyyyyyyyyyyyyyyyyyyyyyyyyyyy////"
Why not fix the send score glitch after 1 refresh?
After playing around 25 games and not knowing the score was not counting, my plan is to go from ludicrousity to utter silence to resigned refreshing until nothingness
Thanks for the extra 48 hours, TNT. At this rate we'll need literally all of them. Can't believe they still haven't fixed this. The extension is almost over and it's still completely unbearable to play.
I'm playing YYB on auto pilot at this point, and I've never really played the practice team before, but I was surprised that it took me a whole day before noticing that the practice team have names (Lemoran, Tagobo, Vinarok, Zeenana, and Wartroot), and that their formation changes with a new game. At least that broke up the monotony a bit for me today.
Yesterday I got more total points than any other day this year, although that's just because I had more time to spend on it. I play a game of SoSd between each of the other games, so I'm not waiting for things to refresh. Yesterday was the first time I didn't max SoSd!
rosi
, 07/7/2019, 10:13 am NST
The Practice Team members started having names (like fruit-flavoured jellies, yum) back in 2012. They didn't have names in the first editions of the Altador Cup.
I always refresh between any Neopets game. I've been burned before.
Site is down I have been refreshing for about 15 mins now and nothing. *sigh*
I was just thinking about quitting for the night, but trying to get a last couple of games in, and the scores stopped sending.
Oh well, it wouldn't have been very many more points anyway. I should have played more yesterday and during the day today.
@purplebin - Wait! It's back up!
I was excited for it. But i really didn't want to refresh after each game so in the end I didn't play.
sycatt
, 07/7/2019, 11:35 pm NST
...and it's back down again with only 25 minutes left to play.
There are 38 comments above. Why not post yours?