Your jnAccount:
Login
or
Register
| New to Jellyneo?
Click here!
Welcome to Jellyneo.net!
Welcome to Jellyneo, the #1 ad-free Neopets help site! We offer news and tips for the popular online game Neopets. Here's what you can find on the site:
You can also register a jnAccount; it's free and lets you access special features! (Find out more!)
Pick your news: Neopets News
| Crossword | JN | Daily Puzzle | Lost Heirloom | Neopies
The Desert Jewel
Posted by Herdy
Posted on December 12, 2018, 5:08 am NST
This morning, an NC element to Lyra and the Lost Heirloom has launched, called
The Desert Jewel.
The Shady Merchant has set up a shop and is offering new NC items in exchange for bejeweled caskets.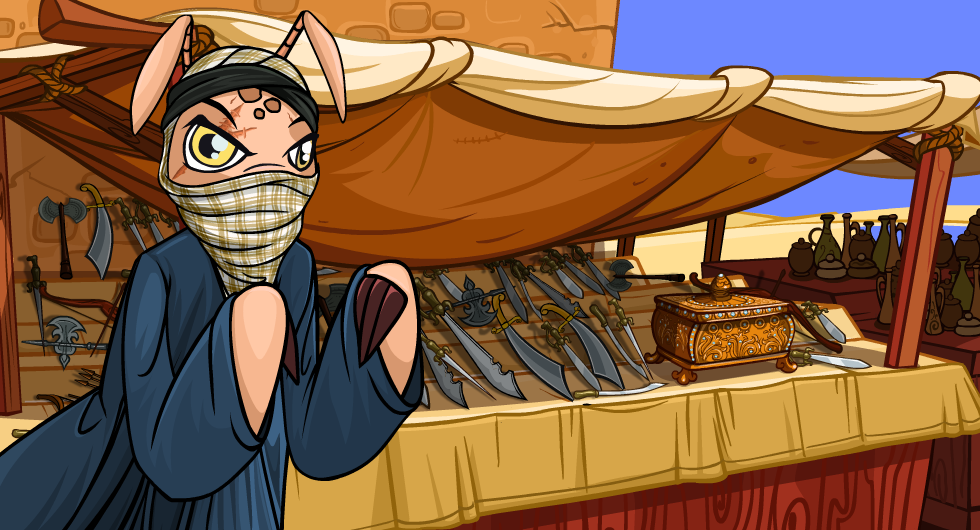 Each casket awards two items. One will be an exclusive item to this event, and the second either a re-release of an existing NC item or a second exclusive item.
This is an NC-only event, and participation is not required for the wider Lyra and the Lost Heirloom event.
View Our Desert Jewel Guide »
reeves
, 12/12/2018, 6:10 am NST
"Each Bejewelled Casket will award 2 items when it is opened. The first item will be exclusive to the event, while the second item will be an already existing NC item."

This isn't necessarily true. I've gotten 2 exclusive items when opening 1 single chest. Doesn't have to be 1 exclusive 1 existing.
@reeves: Thanks for clarification!
I wish I could be more enthusiastic about the exclusive items...they're OK. Also, since this is a Desert related activity, why not have the RRs be desert in nature. More than half are beachy/summer items.

Yes, it's hot in the summer. Yes, it's hot in the desert. There's sand at the beach, there's sand in the desert. Did they use those connections to choose the rr'd items? what was their thinking?
I got sand castle foreground
I got Colorful Desert Wings.
I also got 2 exclusive items for some of the caskets.
only one thing i would like to have out of all that
ill just trade for it
I got hyped assuming this was part of the plot!!!
cat
, 12/12/2018, 2:19 pm NST
Kind of wish they'd picked rarer items to rerelease, items that don't usually get rereleases like old Style Showdown costume packs or event items, in addition to wishing they'd done more desert type items.
sithra
, 12/12/2018, 7:27 pm NST
I got existing NC items that are not on the non-exclusive list. Tropical Flower Facepaint x 2, Golden Birthday Dress, Sand Castle Foreground and Desert Night Background.
WARNING: Very long rant, in two parts.
There are certain species that I look at when something new is released. Usul, Techo, Ixi, Grundo, Lutari, and Blumaroo. I have all of these pets, of course-right? For Techos, since the new ownership of Neopets, wigs are held up, away from the scalp by the eyes--you can see under the wig! For Usuls and other pets like them my question is: Does it omit the mane? In my opinion it should, because the mane interferes with wigs. Blumaroos pretty much look good in everything so they're my barometer. Ixi are my feisty, snarky, battlers, but they like the OPTION of being demure and sweet. But a lot of the time, details on the front of a gown are lost to being face down, AND if a gown does not go high enough on the neck-you have their hairy chest just poofing out the top! Please! Madam, cover yourself! Skirts frequently stick up all the way around so the hind end would be exposed again. Not cool. Just cause she's a tough chick doesn't mean she has no self respect.
Part 2--you still here? Wow, your thirst for knowledge is vast grasshopper.
Grundos I check for in scene placement as they are also one of my favorites. I love an underdog. Many times their huge feet has them placed in a scene so they look like they're levitating! Same with Lutaris. Or they cover details. And the look of some really cute shoes-don't get me started. I'd just as soon hide those big galumping stompers! I am finding fault with almost all of the current releases. Not knowing what I'm getting for unlocking a casket or whatever has me a little like-Really? Buy, buy, buy, MORE? Without them ever addressing some of these very basic issues. Just getting tired of the greed. END RANT.
At first I was happy to see a Liz Taylor Cleo wig but upon closer inspection, the braids look like they're just glued on. Ruins it for me
I agree with everyone who said the RRs should be more desert themed.
josie
, 12/13/2018, 7:19 pm NST
@katina_choovanski - I totally agree with you on the wig and mane issue. I have this problem with Unis quite often, and missed out on buying many cute wigs because the mane sticks out everywhere. What's the point of a wig if it doesn't completely replace the pet's regular hair? I wish they would fix this.
I agree with mistyraider's comment above about the other items in the caskets - why are they beach items and not more desert-y items??? I was very disappointed to get so much beach stuff from the caskets that I opened. I was happy however that 3 of the 10 caskets that I opened had 2 exclusive items in them!
There are 16 comments above. Why not post yours?