Your jnAccount:
Login
or
Register
| New to Jellyneo?
Click here!
Welcome to Jellyneo.net!
Welcome to Jellyneo, the #1 ad-free Neopets help site! We offer news and tips for the popular online game Neopets. Here's what you can find on the site:
You can also register a jnAccount; it's free and lets you access special features! (Find out more!)
Pick your news: Neopets News
| Crossword | JN Updates | Daily Puzzle

New Brightvale Mini-Event
Posted by Herdy
Posted on August 22, 2018, 5:39 am NST
Update:
This week's editorial has confirmed there are no steps currently live -- the event will officially start next week.
Similar to Dragoyle Hunting in Meridell earlier this month, it seems
Brightvale
is getting the same treatment! There has been a map update: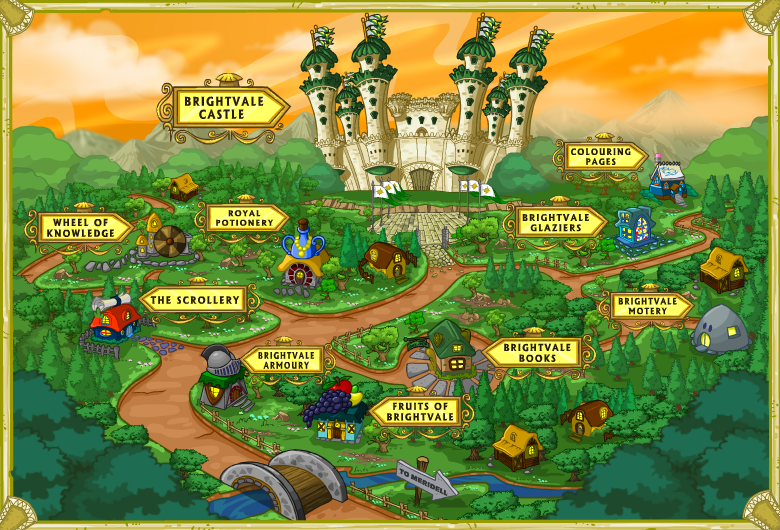 As with Dragoyle Hunting, there is also a message under the map from a character. It is unclear if the steps of the event are actually live yet or not -- images of portals are appearing on pages across the site, but currently they just redirect to the main Brightvale page.
A mini event in the land of wisdom to celebrate JN's Birthday!!! *fires glitter cannon*
Now it is not just broken images! It is asking for Username and Password on many pages.
I just clicked Cancel on the prompts and then got the broken images.
I am finding portals on many of my dailies pages, they just take me back to Brightvale.
That's because it is linking to the private image server — nothing to worry about.
Images are working now though!
I got sent back to Brightvale via a portal and my message changed.
There are three messages. Refreshing changes them.
At least they made the full signs and images clickable on this map, rather than just the text like they did with Meridell. That map has extremely poor usability.
@cloonshannagh - They KNEW it was Jellyneo's birthday! They PURPOSELY waited for today to unveil it!
OMG! I JUST checked it out and it looks exactly like how it SHOULD look!!!!!
Like the Moltara, Faerieland, Tyrannia, and Haunted Woods maps!!!
I LOVE IT!!! Simplistic, yet sleek and properly and rectangularly proportioned!
MOTHERLAND!!! <(of my neosona)
...Portals? What portals?
+1 for having things be easily clickable.
+1 for making the map wider to match older revamps.
-10 for none of the fun animations that Altador and Meridell received. Feels too static!
@dave

It looks like this is just a PNG. Maybe they'll be adding an animated version later...
Such a pretty map! I'd really like a flash version of this now.
But boo for no animation. :/
josie
, 08/22/2018, 1:41 pm NST
I found a portal at the Mystery Island Training School. Hopefully the hunt will be active soon too.

The new map is awesome! They did a great job.
I found a portal at the Discarded Magical Blue Grundo Plushie in Faerieland. Now I am very curious.
I like the new make as well
I've stumbled across 3 portals so far, always leading back to the kacheek who talks about a spell gone wrong ...
inkpot
, 08/22/2018, 4:05 pm NST
Love the map. Such nice, lush, greenery~!
*FWOOOOOOOSH* AAAAAAAAHHHHH!!!!!!

X_x
... *hoarsely*: There's a portal at the Snowager... but BEFORE you try to take something. *passes out from snowager attack*
News is out and says *drumroll* wait
@mavegibson: If you look at the source code on the Brightvale map page on Neopets, you'll see that it's just like the other Meridell/Altador maps, minus animations. That's not to say they can't add stuff later, but this is certainly the lowest tech map update so far.
I am happier to have a clickable map that isn't animated than I would be to have an animated one that is difficult to use, but it would be nice if we could have it be clickable and animated.
Looks like the portals are in the same place for everyone. The ones I found untill now:

Lost Desert (2): Coltzan's shrine; Fruit machine;

Mystery Island (2): Geraptiku's desert tomb; Mystery Island Training School;

Faerieland (4): Jhudora's Bluff; Poogle Racing; Faerieland personality quiz; The Discarded Magical Blue Grundo Plushie;

Haunted Woods (5): The Witch's Tower - The Haunted House! - The BRAIN Tree -The Esophagor - Castle Nox - The Gypsy Camp
krawk Island (8): The Golden Dubloon - Cap'n Threelegs' Swashbuckling Academy - Treasure of the Black Pawkeet - Armada! - Governor's Mansion - Dubloon-O-Matic - Smugglers Cove

Others: Brightvale castle; Giant Omelette; Altadorian Archives; The Snowager; Igneot's Cavern (Moltara);

​

and it seems the message is random:

-'' Oh, the king will have my head for this, I'm sure! I must undo this, now! There should be something in this book… ''

- '' Oh dear, I

-'' Oh, the king will have my head for this, I'm sure! I must undo this, now! There should be something in this book… ''

- '' Oh dear, I knew the spell would do something crazy, but how can I expect to succeed if I don't try crazy things?! I must find a way to stop those portals immediately! I really can't talk right now – can we save this conversation for later, please? I'll be right here."

-" Good grief, not another one! Please, you must not breathe a word of this to anyone! Now excuse me while I try to get rid of those portals… What are they for? Erm - I'll tell you more once this is sorted, I promise. Now is not the time. "
Are these portals making neo sluggish
or is it just my computer?
Is anyone having trouble with the portals and colzan's shrine? ever since the portals appear nothing ever happens at coltzan's.
Coltrane works great here. Been winning, winning and winning! On a different subject tho, got Trudy avatar 1 minute after it became available!
yay portals.
what if it malfunctions?
I honestly prefer the older version of the brightvale map.
Im just happy that neo is giving us something to do every week :p and is also coming back with KQ etc .. its so exciting to see the site alive again.
My Chomby invisible, I wonder if that'l were off
There are 32 comments above. Why not post yours?