Your jnAccount:
Login
or
Register
| New to Jellyneo?
Click here!
Welcome to Jellyneo.net!
Welcome to Jellyneo, the #1 ad-free Neopets help site! We offer news and tips for the popular online game Neopets. Here's what you can find on the site:
You can also register a jnAccount; it's free and lets you access special features! (Find out more!)
Pick your news: Neopets News
| Crossword | JN Updates | Daily Puzzle | Altador Cup

Neopets at Comic-Con!
Posted by Herdy
Posted on July 8, 2018, 1:17 pm NST
UPDATE:
Tickets for this event have since sold out!
Today, TNT have officially
announced
that they'll be in San Diego for Comic-Con this year! You can get the details on
this page.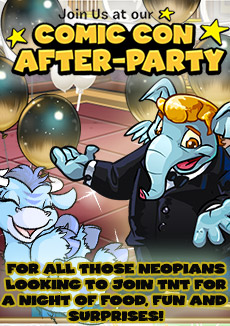 On the evening of Thursday 19th July (the first whole day of Comic-Con this year), they'll be holding a ticket-only event at the Horton Grand hotel, which is only a few blocks from the Convention Centre where the main Comic-Con events will be held. There'll be members of the Neopets Team there with a sneak peak of a
new
upcoming mobile app, along with free food and drinks, and swag for attendees (likely including Rare Item Codes).
Note that this isn't technically part of Comic Con. You will not need a badge to get in, but you will need a ticket for the event which you can get
here.
They will cost $15 per person.
You must also be over 21 years old
, since alcohol will be served.
That sounds amazing :o too bad I live on the other side of the country :/
I'd just want the swag bag and leave lol.
dustin
, 07/8/2018, 2:17 pm NST
I like the fact that you have to be 21. I think most of us players are anyway.. *cough28cough*. Seems like they finally understand they have an older player base.

I'd travel/go if it were the old TNT.

A NEOPETS LIVE EVENT?!?! THEY HAVEN'T DONE THAT IN YEARS!!! IT'S SO BEAUTIFUL!!!!
UNDENIABLE PROOF THAT NEOPETS IS STILL ALIVE AND WELL!!!
A NEW APP?!?!?!?!?!?!?!?!?!

X_X
*faints and lands on the JN refreshments table knocking everything over*
Good for TNT! I hope that it does attract a lot of attention for players of any age, and that people have fun!
Ahh I'm so jealous at anyone who can go! I'm going to be at Atlanta comic con this weekend. Why can't they be there too? :p
inkpot
, 07/8/2018, 4:08 pm NST
i wish i would be in the area. i'd love to attend something like that with a friend.
i hope ppl show up, lol.
I'm UK based and already used up my holiday this year so no. If there had been more advance warning, maybe.
joe
, 07/8/2018, 4:48 pm NST
Grr.. Im on the other coast.. I'll totally host one in NYC if they need.
*snaps awake with Guacamole all over my face*
@Herdy - You're BRITISH?!?! Whoa! I didn't know that! You...
*wipes face clean* You just got twice as cool as you already were!
dustin
, 07/8/2018, 5:58 pm NST
Yeah I think it's kind of weird they haven't mentioned it until today (when the free ticket presale ended..?).
They should have invited you guys like the old TNT did to their offices.
I have a couple nfs who live there. I will tell them to take lots of pictures!
I used to go to Comic-con when i lived in SD. haven't been in years.
Have fun those who go!
@dustin: We did get some invites.
josie
, 07/8/2018, 7:30 pm NST
I live too far away to go, but that would be an amazing event to attend.
Ah well.
I hope everyone who gets to go has a great time
Yes I sure wish they would come to the Atlanta Comic Con, I could go to that one *sigh*
You guys (JN staff) are going to take pictures like last comic-con themed event, right?
@fuzzyflufffeet:

That sounds amazing :o too bad I live on the other side of the world :/
I'm very, very annoyed at this event. One, Neopets is supposed to be family friendly, so why do they have to have their party at a bar? Two, this event is on VERY short notice. What about those of us who live nowhere near California but want to meet the neopets team?
cay
, 07/8/2018, 9:43 pm NST
-cries- I wish I could go! it would be so cool to meet TNT!
cay
, 07/8/2018, 9:43 pm NST
-cries- I wish I could go! it would be so cool to meet TNT!
looks like it is sold out already
cay
, 07/8/2018, 11:12 pm NST
That would've been really quick to sell out! I'm happy for TNT though
Ooft, wish it were being held in Australia
Glad they seem to have finally recognised the older age of their player base, sounds like it will be a fun night
cay
, 07/9/2018, 12:28 am NST
pikasuno - me too! I'm Aussie.
If anybody does go, send us all a postcard (via Jellyneo).
Wish they had given more warning. San Diego is a beautiful place to be, but asking for time off has to happen like way in advance...
I wish I could afford this
I'm broke
Wish they could come down to New Zealand
This Canuck is way too far & doing renos IRL. I hope there's lots of cosplay & photos! Bet it'll be a blast
If anyone nabbed a ticket and does not want it or cannot go, PLEASE let me know! I'll be attending sdcc and missed my chance to grab one before they sold out, but I would absolutely love to go
I'm so sad to be stuck in Europe :/ I would have flown in if it was doable at all.
WOW! This comment base is so... international!!!
I LOVE IT!!!
❤️❤️❤️
Can imagine the mob of those who want their tickets answered, Battledome fixed, Healing Springs fixed, Keyquest returned, Neocash issues fixed, etc....
rosi
, 07/9/2018, 3:49 pm NST
European JellyNeopians unite
(and envy those who can go
)
Beautiful San Diego is too far away and the trip is too expensive for us
---
Wow, 15 US dollars is cheap! No wonder this event is already sold out.
Had it been held at the local comic convention here, it would have cost 35 euros - entry fee only, no swag bag, no refreshements whatsoever

What about those of us whose usernames end in 5? They should make an event just for us.

But seriously I'm pleased they're holding events. Just another way they're reaching out to the community. What's the usual age of Comic con anyways?
dustin
, 07/9/2018, 5:43 pm NST
@Dave - can't wait to read all about it!
alex
, 07/9/2018, 10:50 pm NST
@melinda_kacheek
If I went there I would be all grumpy about my accounts being frozen.



I hope people who attend have a good time! Im from Mexico and I love neopets since 2005!
There are 44 comments above. Why not post yours?