Your jnAccount:
Login
or
Register
| New to Jellyneo?
Click here!
Welcome to Jellyneo.net!
Welcome to Jellyneo, the #1 ad-free Neopets help site! We offer news and tips for the popular online game Neopets. Here's what you can find on the site:
You can also register a jnAccount; it's free and lets you access special features! (Find out more!)
Pick your news: Neopets News
| Crossword | JN | Daily Puzzle | Plot | Daily Faerie Quests

Festival of Neggs: Final Prizes
Posted by Dave
Posted on April 14, 2018, 8:20 am NST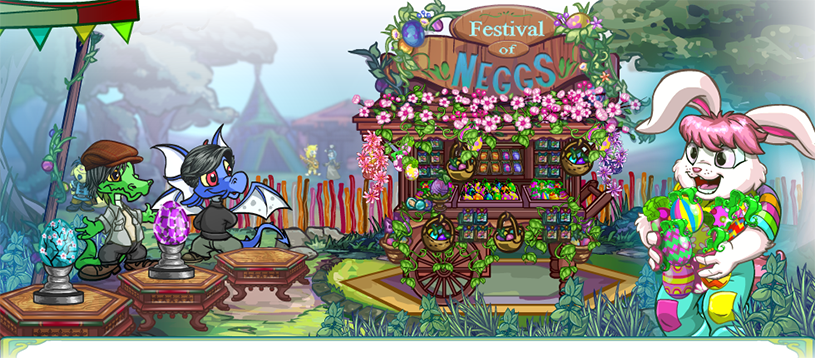 This year's Festival of Neggs has come to a close. The final prizes are now available for you to claim on the
Festival page
.
For a list of all the final prizes, check out our guide:
» View all Final Prizes «
Charity Corner Perk:
The Festival of Neggs site theme is being awarded again this year. If you still needed it, be sure to claim it. Then, it might be a good time to consider using up your site theme
Charity Corner perk
if you were waiting!
Here's hoping that they fix the final Magical Negg bonus soon. And when they do they really should put the Magical Dust back in the mall for a little longer.
Awwww... Flip-droozit!!! *sigh*
I missed a few eggs on their days. Now I can't get the best prize. I'm gonna have to buy it.
I knew the stamp would be cool. I missed ONE negg on the release date, no, I didn't miss it, I FORGOT to look for it. Only one and I've been punishing me for it ever since. My mind's been a mess lately.
Do they think all our pets are female or something? they keep maing A LOT of dresses and wigs. They should make something more gender neutral.
YES!!! Gender neutral!!! Like Single colour T-shirts!
To bad I missed the first day. Oh well, I always love new wearables and the neggs themself gave nice prices as well.
Oh and I agree on the gender neutral thing, I do have 2 guys after all.
HOW MUCH FOR THE STAMP?!?!?!?!?!?!







*LOUD GROAN* WHY?!?!?!?!
No news about the last magic egg bonus yet?
Someone has modeled the bonus Negg background on DTI already, but my Magical Negg is still in my inventory. Maybe they are fixing them in alphabetical order?
From what I'm reading on the chat board, it's fixed if you haven't used the last magic dust until now. I guess changing the Neggs we got back is more work.
Well, you an't use another dust on it. It says complete. Guess just wait...
so im guessing that means that we don't get a bonus at all if it glitched?
bodhi
, 04/14/2018, 10:29 pm NST
Blech! Missed a single day.
@1jediboy
Yesterday I saw it at the trading post for 450k and 550k
I made an offer and they both rejected it and now they're asking a million.
Yesterday I saw it selling on the shop wizard for 890K!!! I don't feel it's necessarily very nice to sell what you earned for such a price. It feels like it's exploiting someone who missed out. They have the RIGHT to... but for such a high price? Just because someone forgot to find all the neggs? That's like someone buying the last "fudgy-buddy ice cream" and selling it back to you for more than twice the price.
@maxgarou
I did the same thing! I blame rl for being too demanding
There are 16 comments above. Why not post yours?