Your jnAccount:
Login
or
Register
| New to Jellyneo?
Click here!
Welcome to Jellyneo.net!
Welcome to Jellyneo, the #1 ad-free Neopets help site! We offer news and tips for the popular online game Neopets. Here's what you can find on the site:
You can also register a jnAccount; it's free and lets you access special features! (Find out more!)
Pick your news: Neopets News
| Crossword | JN Updates | Daily Puzzle | Plot

Neocash Cards on Sale
Posted by Dave
Posted on February 13, 2018, 11:06 am NST
UPDATE:
This promotion is now over.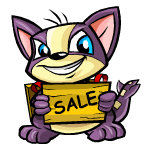 To celebrate Valentine's Day tomorrow,
ScratchMonkeys
is running a site-wide 10% off sale, which includes Neocash cards! They currently sell $15 and $25 cards. The codes are delivered immediately, so you do not need to wait for a physical card to arrive.
The sale is running on February 14th only, from 12:00 AM NST through 11:59 PM NST. To take advantage of the sale, use promo code
LOVESM
in your shopping cart. You may only use the promo code once, so make sure you purchase everything in one go.
View Cards »
(The sale is only running on February 14th!)
ScratchMonkeys reached out to us to tell us about the sale. Please let us know if you've purchased from them before and if you had a good experience!
Oh, wow! I wonder if they will send me an email?
I used to use egifter, but had trouble with them, and switched to Scratchmonkeys. They have been wonderful! I will definitely be stocking up tomorrow.
It's funny, when there used to be physical cards and they went on sale I would have to drive all over town to get them, and that could easily take a couple of hours!
With all the updates lately to prizes of various dailies, I wonder if new NC card redemption prizes are planned? It might be worth a question to Scrappy.
I've switched to scratchmonkey entirely for all my NC purchases and love them! So fast and easy. Thanks for the heads up about the sale!! Time to stock up
Has anyone had the trouble of purchasing from scratchmonkey and the code not working in the mall? Like the purchase was fine but it gets screwed up on the NC mall side.
I've never used scratchmonkey b4. I just purchase nc directly.
I've never had any trouble with any codes from any cards from anywhere not working when activating.
doesn't work anymore, ugh.

sp4de
, 02/13/2018, 12:47 pm NST
Warning: Coupon is either invalid, expired or reached its usage limit!
It's for tomorrow. Not today.
josh_m
, 02/13/2018, 1:18 pm NST
I've used scratchmonkey before. I received my nc code fast and had no problems redeeming them.
Warning: Coupon is either invalid, expired or reached its usage limit!
@octophi, it's only tomorrow, not today.
so people know, the sale does not start until tomorrow so trying now will do you no good.
scratchmonkeys is awesome by the way, its how i get all my nc cards
Also, when the code does go active, you can only use the code once, tech from scratchmoneys told me that cause i had had a question.
I always recommend scratchmonkeys, they're quick like buyneocash but SM doesn't charge extra for their cards, 15 dollars is 15 dollars not 17.99 or whatever BNC charges but I'm also Canadian so we have to pay the exchange rate, c'est la vie.
Like the purchase was fine but it gets screwed up on the NC mall side.
----
@tomato99
regardless of the site you buy your NC card from, that issue can happen randomly and it's more of a Neopets issue rather than a card bought from gametimezone or buyneocash or egifter or scratchmonkeys
ScratchMonkeys is a great site. I chose them for NC cards after all the positive reviews on the NC Mall board. Miss the 20% off Gamestop used to offer, though. Still, nice ScratchMonkeys let JN know in advance.
Well I wish they had said clearly that it was one use - I'm in the UK so wanted to test the card would work for me first, it did so I went back to buy more and code no longer works.
It says right on the main page that you can only use the code once, and that's the way all discount codes work.

My problem is that no payment methods are working!
@purple_spidergirl @purplebin: You should send in a query to their support team. They seem to be responsive.
What Purplebin said, its right on the front page that the code can only be used once
Okay, I just called the Scratchmonkeys customer service number, and found that there is a limit of 4 Neopets cards you can buy at one time. So when I did that it worked just fine.
Sorry, ignore my previous post about the 4 card limit!
I just got a message back from SM and they said they gave me the wrong information, that it was a problem with paypal.
However, I had also tried using my credit card directly... I'm waiting for another reply about that.
Well, SM gave me another discount code to use because of the wrong info they gave me, and because I didn't buy as many cards as I wanted.
I just used the new code, but I still wasn't able to buy more than 4! I'm not going to worry about it, though. I've read on the boards that other people were able to buy more cards, so I don't know what is going on with me. I ended up with plenty of discounted cards, and SM was very accommodating.
I just bought 2 cards and was very happy that they accept paypal. I simply don't like having my card numbers all over the net.

I haven't tried to redeem the codes yet but I don't expect trouble there *fingers crossed*.
*although my paypal login page was in a foreign language I've logged in there often enough that I knew the drill and I got logged in to paypal US.
There are 27 comments above. Why not post yours?