Your jnAccount:
Login
or
Register
| New to Jellyneo?
Click here!
Welcome to Jellyneo.net!
Welcome to Jellyneo, the #1 ad-free Neopets help site! We offer news and tips for the popular online game Neopets. Here's what you can find on the site:
You can also register a jnAccount; it's free and lets you access special features! (Find out more!)
Pick your news: Neopets News
| Crossword | JN Updates | Daily Puzzle | Plot | Advent

GMC: Now Live
Posted by Dave
Posted on November 20, 2017, 12:24 pm NST
The
Games Master Challenge
has arrived! This year's theme will be
Living vs. Dead
, led by none other than
Magax
and
Hubrid Nox
.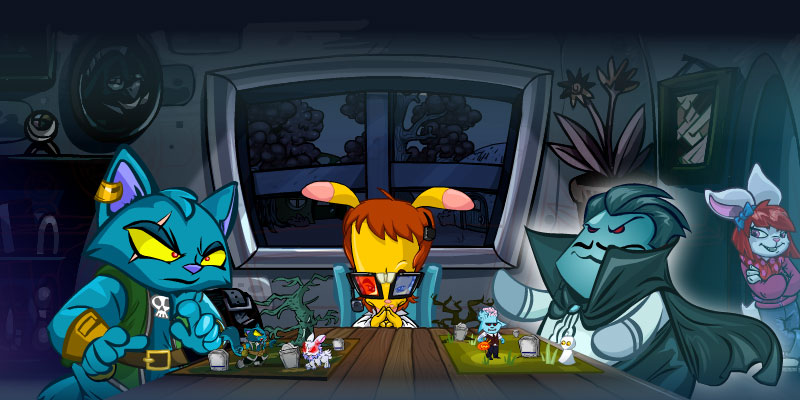 The first set of challenges are now live and will be the usual "one and a half days" for Day 1. The next set of challenges will go live on November 22nd.
Have you joined a team, yet? Let us know in the comments: which team will you be choosing?
Games Master Challenge Guide »
The art is so. different. Hms.
The fact we've got Nox is enough to make up for the weird Albert the Kacheek on the table.
OMG...that is a tough decision!
blu
, 11/20/2017, 12:33 pm NST
ofc i'll join the demon hunting kitty
You mean they actually remembered that Magax exists?! Finally!
#NoxDeservedBetter #TeamDead
So maybe it will be starting at the usual time!
I'm guessing that will be tomorrow...
@purplebin Actually, the FAQ has been updated and it says today!
bonju
, 11/20/2017, 12:56 pm NST
It's live!
No, no, no, they can't fight! Magax and Nox became friends ever since Nox died, according to the Advent Calendar xD
Getting our guide together--will update shortly.
awena
, 11/20/2017, 1:32 pm NST
Magax!
The NC prize for today is entered twice.
I'm dead inside so this is an easy decision.
I see the discount NC code is still not working in the mall. I wonder if it ever will be, and if they will extend the deadline.
The first Lulu prize is nice, but what's with that corner of a table taking up the lower foreground zone?
josie
, 11/20/2017, 2:34 pm NST
I'm going with Team Living. I wanted to join Team Dead, but after seeing the first game for them I changed my mind
cat
, 11/20/2017, 2:43 pm NST
Tough decision, but I'm joining Team Magax. It's the reigun.
sketch
, 11/20/2017, 3:00 pm NST
Liviiiiiiing
rosi
, 11/20/2017, 3:08 pm NST
A plot AND the Game Master Challenge going on at the same time?!
What's happening? Will the servers resist or will they explode?
Anyway, to anybody using Firefox v.57 I'm glad to announce NoScript is again available and compatible with Firefox Quantum engine
. You needn't even update the whitelist/blocklist
hurray! Now I can play games again
The fact we've got Nox is enough to make up for the weird Albert the Kacheek on the table.
---
Herdy! Team Dead for me!
@Rosi- Thanks for the FF NS update. I hope this helps me out too.
I would have normally gone with team dead, but i decided to mix it up and chose team living.
Team Living. While wasting my life online. There's some sort of commentary there...
MAGAX for the win, though I won't play too much. Find it funny they have a typo, sie with the dead lol, sign of bad times.
Man, and I thought Splatfests had odd themes. Now to see which plushie is cheaper so I know which team to join.
I still hope this is connected to the plot.
Jellyneo, which team did you pick?
inkpot
, 11/21/2017, 4:05 am NST
the little blurb for team living made me laugh; i'm the complete opposite. so i joined my boi magax for the chuckle
cat
, 11/21/2017, 8:27 pm NST
@purplebin - the Y19BIRTHDAY discount code worked fine for me, but you have to open the goodie bag before you can apply it.
Looks like team death won...the gmc didn't update haha rip
Team dead, I really want that cute nox plushie!! But gosh the living games are so much better this far..
so, do we need to play a lot of game with high score to change the bar progress?
There are 33 comments above. Why not post yours?