Your jnAccount:
Login
or
Register
| New to Jellyneo?
Click here!
Welcome to Jellyneo.net!
Welcome to Jellyneo, the #1 ad-free Neopets help site! We offer news and tips for the popular online game Neopets. Here's what you can find on the site:
You can also register a jnAccount; it's free and lets you access special features! (Find out more!)
Pick your news: Neopets News
| Crossword | JN Updates | Daily Puzzle | Plot | GMC

New Pet Slot Added
Posted by Herdy
Posted on October 18, 2017, 11:09 am NST
The recently mentioned extra pet slot has now been made live on the site! Regular users can now have 5 Neopets, and Premium members can have 6! You may also notice a change to userlookups - you can now scroll through Neopets on an account!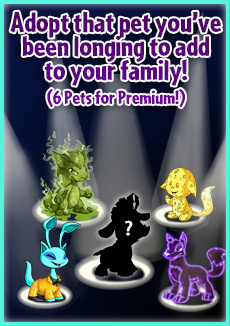 UPDATE:
Currently this may be glitched for transfers on premium accounts attempting to transfer across a 6th pet. There is a work-around currently - if you adopt a pet from the pound as your 6th pet you can then use that to transfer across the pet you want.
Adopt-A-Grundo now appears to be fixed. The status of the Draik Nest and Fungus Caves is unknown.
Premium members are also being sent this celebratory neomail:
Hello,
Thanks for being a Premium User! As you might've heard, we have knocked down some walls and made some extra space for all to have an extra Neopet.
As a Premium subscriber you can now adopt a 6th pet of your very own!
On a day like today, we just want to show you how much we appreciate you being a part of the Neopets Community!
Please enjoy this Goodie Bag that we've placed in your inventory!
- The Neopets Team
This bonus is only available to premium users. When opened, the goodie bag will award 1 Wonderclaw token, 1 Shenanigifts token, and 1 Patapult token. The bag is tradable as a normal NC item.
YAY!!!!!!!!!!!!!!
except a lot of those premade lookies are now wonky but I'm still excited about extra pets :*
yesss
it a start
hope thye add in the close future more slots (both for premium, regular and loyal users) - let's all give cakes to TNT
Oh happy news time to look for a another pet
let's release a MAJOR thing for the site, but not make sure it works for the main reason people will be using it! yay!!
I'm so happy to expand my family!
This is awesome!
Just tested the Draik nest. Got an error saying I already have four pets, so guess it still hasn't been updated.
Thanks for the confirmation! I've updated the post
Yay for the extra pet slot. Can use the lab ray again.
inkpot
, 10/18/2017, 1:07 pm NST
aaaaaaaaaaaAAAAAAAAAAAAAA
i'm so excited!!!!!111!
cat
, 10/18/2017, 1:42 pm NST
Yay, now I can start labbing again and get those pets I wanted.
cat
, 10/18/2017, 2:09 pm NST
let's release a MAJOR thing for the site, but not make sure it works for the main reason people will be using it! yay!!
---
In all fairness to them the news announcement hasn't actually gone live yet, unless you randomly saw something like this post telling you or tried creating a 5th pet you wouldn't realize it was out. So hopefully by the time they actually do announce the feature they'll have worked out all the bugs.
release a MAJOR thing for the site
--------
That's just it. It's a major thing. So many other things are connected to a change like this that it takes awhile to get all the new coding done, even for them to KNOW what new coding HAS to be done.
If they ever figure out a way to allow name changes I guarantee the site wont work right for 2 years, minimum.
can you adopt pets from other players or the pound?
You can adopt from pound. Currently its only transfers that are broken for premium players - and only then for incoming transfers. If you do a 1:1 pet swap via transfer it will work.
I would NOT recommend doing a pound transfer. That's a great way yo lose a beloved pet. :-/
No don't try to transfer your own pet thru the pound. As I understand it premium can't have 6 pets yet. And so many people are surfing the pound looking for new pets right now. *shudder*
Premium can. You just have to use the work around. You adopt a pet out of the pound. You transfer that pet to your side opting to exchange it for the pet on your side that you actually want. That form of transfer will work. You can then get rid of the pound fodder pet on your side once the transfer is complete.
I just got a neomail from TNT saying they're giving out Premium Rewards Goodie Bags. Anyone open theirs yet?
At first i thought it was all a joke, until i checked out "create a neopet". An unexpected and awesome surprise.
Does anyone know the coding to get rid of the new scrolling on our lookups? Thanks!
I opened my premium bag, you get 1 patapult pack, 1 shenan pack and 1 widget.
Thanks dolchay! That's pretty cool!
josie
, 10/18/2017, 4:40 pm NST
I'm so excited about this. I was finally able to bring a pet over that has been waiting on my side account for several years, and now my little family is complete
That scrollbar is funny. It keeps cycling through the pets over and over, instead of stopping behind the last pet or before the first one
It's likely not feasible for JS to test all of the possible interactions on the site where a 5th/6th pet can cause bugs. They need users to do that. There was some issues with the 5th pet when it went live for Premium but they were fixed pretty quickly. I imagine JS is already preparing to fix these bugs.
Gotta hand it to JS/Netdragon. Things are HAPPENING!
That scrollbar is funny. It keeps cycling through the pets over and over,
-----
This means we could conceivably have infinite pets
Now I can grab pets from the pound and zap them pretty on my main! (and then give them to the pound so others can adopt pretty pets!)
Holy kau.

Guess I don't need premium anymore.
Huh.

Now what pet do I want...
cosmos
, 10/18/2017, 8:27 pm NST
So excited about this
but pls TNT fix the draik nest I'm begging you
Aww, the Draik nest is broken if you have 4 pets? I really wanted to hatch one.
I just adopted a Shadow Koi
So, I created a Neopet (turns out I had both a Draik egg and a Draik morphing potion) and it asked if I wanted a tutorial on the site. Uh, excuse me? I've been there for over 12 years!
I found it hilarious, though.
I am so excited...I have added 5 more usuls to my accounts...this is a dream come true
Meh. Maybe 6 years ago when folks were still literally begging for a fifth spot, but now I personally just don't care for it. So yay for the newer accounts but as a 14 year vet? Pass.
I can uderstand the feeling, loyal users are still left behind - but this is a major change, this should be seen like a ray of hope, right?
saeung
, 10/19/2017, 12:38 am NST
Yay for TNT!
I love that the site is being updated. I am a happy Neopian.
@escrainus
Absolutely! It's a great bright light of hope that they're still trying to keep up with neo.
I just wish that they left the scrolling for premium accounts because you didn't have to do that for 5 pets before... -_- Lol (My hard work on my lookups is for naught.
*)
I used Fungus Caves with no problems on my side accounts to get the avvie.
I wonder if they ever release names from pets who'd been inactive for 6+ years. Nice names are hard to find
@nicole24 well there is the yearly account purge which delete all inactive account information to a point it can be taken once again.
Hey, JN staff, this has been happening that IDK if you guys are aware of:

If you are trying to:

-remove nc items from sdb
-put nc items into sdb
-send nc items
-accept nc items
-open caps
-activate tokens

you will NOT be able to.

There is something going on regarding NC items atm, and it's affecting everyone, so just be patient until this gets fixed

I might as well share it since it's been going on since yesterday I believe.
@jomarcenter Then I'm wondering how long that will take. The name I'm after starts with a B and is on a frozen account for already 5+ years or so
Maybe the scrolling is plans for things to come... like allowing us to show all of our pets on one account?
I'm so happy
@nicole24 That's a good idea!
There's one issue on the ULs that I would like fixed. Remember before the additional pet slot the ULs would show the users' pets' levels? Well, for some reason, you can't see them anymore. I would like that part to return.
The draik nest is working now. Got me my ice draik now
Fungus Cave appears to be working now; I have four pets and the link/button to feed my petpet Krawk some fungus is showing
Also got a reply (on Oct 23) to my Ticket / Bug Report saying: "Thank you for writing in! We are excited about the 5th pet slot but of course some issues might come up so we appreciate your report! Our developers are working on these issues so you can experience the new slot in all it's glory! Thank you!"
YAYYYYYYYYYY!!
There are 51 comments above. Why not post yours?