Your jnAccount:
Login
or
Register
| New to Jellyneo?
Click here!
Welcome to Jellyneo.net!
Welcome to Jellyneo, the #1 ad-free Neopets help site! We offer news and tips for the popular online game Neopets. Here's what you can find on the site:
You can also register a jnAccount; it's free and lets you access special features! (Find out more!)
Pick your news: Neopets News
| Crossword Answers | JN Updates | Daily Puzzle

Meerca Day Roundup
Posted by Herdy
Posted on August 18, 2017, 6:57 am NST
Happy Meerca Day! Two new colours are now active for Meercas:

Clay | Pastel
A new clothing set, themed around a Forest Ranger, is also now active: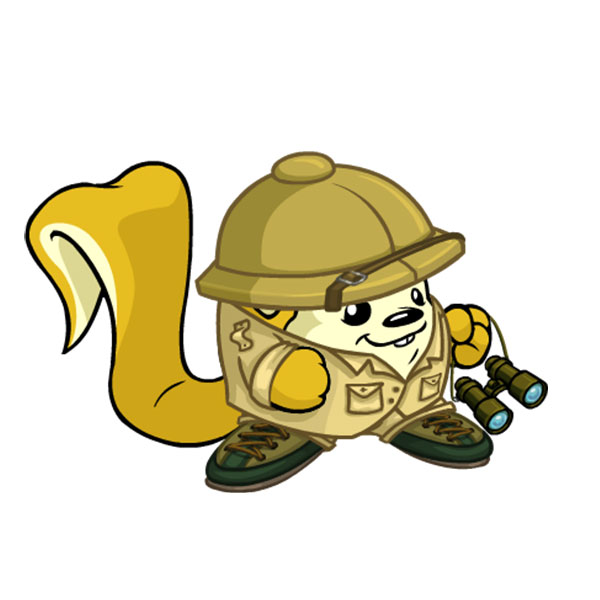 Boring colours
But clothes look promising.
I was soooo hoping for Elderly! I think the Pastel is nice, clay seems darker than other pets.
HAPPY
BIRTHDAY !!
♡ jellyneo ♡
We couldn't neo without your expertise, good humour, and company! Thanks for all you do!
Wishing you all much joy and success
**** HAPPY BITHDAY ****
birthday *facepalm*
giss91
, 08/18/2017, 11:10 am NST
Well, pastel clothes would look nice with their maid clothes at least n_n
Do you have to have a meerca and go to the rainbow pool? Or do you get those colors..
Weird that news didn't update on the right day...
cat
, 08/18/2017, 2:33 pm NST
Pastel's too close to Blue IMO. Clay's nice though, I like the added texture.
Ive been so disappointed with the pastel colors. they just seem so blaah
Not super extravagant colors but I think they turned out well. That outfit is also really cute.
josie
, 08/18/2017, 5:34 pm NST
Happy Birthday, Jellyneo
I don't know what I would do without you guys!
~~~~~~~~~~~~~~~
Meerca colors are a bit meh, but the outfit looks cute.
Just saw the site theme!
HAPPY BIRTHDAY!!!
I'm just gonna share a random Meerca-themed thought I just had... I want a Blueberry Meerca Colour.
They're small enough; They deserve some fruit colors.
So do Kikos and Jubjubs. ("more" fruit colors)
I absolutely love the Pastel!
inkpot
, 08/18/2017, 9:38 pm NST
the clay is nice. as is the pastel.
not exciting but they're well done for what they are.
Pastel is same that pastel ixi has?
People

on ixi: OMG I LOVE IT
on meerca: ugh, it's blue

...or maybe it is my eyesight.

Fruitcolours for meercas would be.. interesting.
I really hope that Herdy's next Meerca card is the Clay one!
Pastel Meerca would be a nice base for a Faerie-styled customization. I quite like it!
I think people find the pastel Meerca boring is because there are no accent colors like with most other pastel pets, not even the eyes. But it's a nice color and great for customizing.
I think the clay one is the nicest of the clay pets. The texture looks great.
I agree that the recent clay pets have gotten much, much better. The Lupe is good, too.
Happy birthday JN. You guys are AMAZING and I want you to know I appreciate and send hugs to each and every one of you!!! xoxo <3 <3 <3
cat
, 08/19/2017, 5:32 pm NST
@ducky - Pastel Ixi is pale purple with blue accents, pastel meerca is blue. It might be your monitor settings, or maybe your ability to percieve red wavelengths but the two are way different.

@purplebin - it's more that it's a slightly paler version of the Blue Meerca, it's like why even bother painting it when you might as well just stick with the basic pet.
"Pale purple with blue accents" - or, as I like to call it, periwinkle.
cat
, 08/20/2017, 1:58 am NST
More of a thistle or mauve then periwinkle I think.
inkpot
, 08/20/2017, 5:48 am NST
i don't see how this pastel meerca is so identical to a normal "blue" meerca that it shouldn't exist... it is making me think that perhaps someone else should be checking their monitor settings or should take another look at a blue meerca...
Blue? The pastel Meerca is a beautiful shade of lilac, or lavender, definitely a pale purple or violet and not at all blue.
I've noticed people comment on how the birthday site theme is way too bright, so I know they have their monitors set that way. It's hard to get the color balance just right, too.
How do you get the colors...
Clay you can only get from the Lab Ray, and not a paint brush or even a Fountain Faerie Quest.
Pastel is a paint brush, and you can also get it from the lab ray or a FFQ.
I just realized that a Meerca can't even use those binoculars because their eyes are too far apart...
Most binoculars hinge so the lenses can move closer together or further apart to fit different size faces, don't they? I haven't seen binoculars since I was a child, but those were hinged.
Perhaps the moral is that this Meerca is... unhinged!?
I am glad someoen agrees with me pastel not being blue. Any shade of blue. Lilac, lavander are most likely closest, I had hard time to remember English colour names while I was commenting
..also I now checked pastel ixi and yeah it's different (I didn't check when I made my original comment) but still. Pastel meerca is no blue.
There are 34 comments above. Why not post yours?