Your jnAccount:
Login
or
Register
| New to Jellyneo?
Click here!
Welcome to Jellyneo.net!
Welcome to Jellyneo, the #1 ad-free Neopets help site! We offer news and tips for the popular online game Neopets. Here's what you can find on the site:
You can also register a jnAccount; it's free and lets you access special features! (Find out more!)
Pick your news: Neopets News
| Crossword Answers | JN Updates | Daily Puzzle | Altador Cup

Gelert Day Roundup
Posted by Ian
Posted on March 6, 2017, 9:14 am NST
Colours:

Maractite | Woodland
Outfit: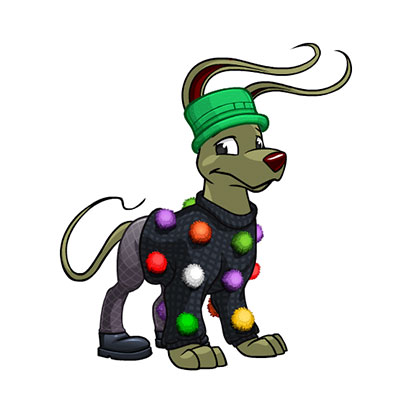 peanut
, 03/6/2017, 9:21 am NST
These both look really good!
That woodland one looks like it could give a nasty splinter
sketch
, 03/6/2017, 10:11 am NST
Wow they're so nice! *crosses fingers for a Woodland Lutari* It's my dream colour!!
fenix
, 03/6/2017, 10:35 am NST
Aww, missed opportunity to make Woodland based on a dogwood tree.
I agree about the dogwood tree, but that would have required flowers and I like it better without.
No sign yet of a new outfit, even though they've recently activated them early in the day.
I sure hope they come up with something good this time, past outfits have been very disappointing.
josie
, 03/6/2017, 11:52 am NST
I can visualize a little bird sitting within the leaves of the ears
@josie: Like this?
Was hoping for marble, but they both look great.
Thanks Fyora the colors aren't Custard or/and Swamp Gas
inkpot
, 03/6/2017, 4:48 pm NST
love the colors! really well done!
esp. woodland though... i just really like the jaggedness(?) of some of the lines, idk. o:
It looks like a tamarind tree.
It's definitely some type of leguminous tree like tamarind or locust or mimosa.
Are they kidding with that pom-pom outfit!?
another pair of dark pants and ugly shoes, an inexplicable weird green hat, and a dopey sweater even a Gelert can't make look good. My Gelert is not amused.
sketch
, 03/6/2017, 7:19 pm NST
Hmm that outfit is...uhh...interesting?
Welp, you can't have it all! I personally value colours higher priority than outfits
There isn't any excuse for bad species outfits. Other clothing has to be drawn to fit all species and that can be challenging, but if you are drawing something for one pet you can get creative and not worry about different body shapes. My Gelert looks great in almost everything he wears *except* for some of the Gelert-specific clothing!
Good thing my Gelert has a thing for seasonal ugly sweaters...
The pants seem promising, though.
This... is so sad
I love the woodland one (especially with Dave's addition of the Beekadoodle attacked. Too bad they probably won't make a bird type hat like that) ... but I can not figure out what the outfit is supposed to be.
Is it supposed to be an very early Ugly Christmas sweater, or some static material that balloons stick too?
I would normally guess the hat is an early addition for St. Pattys day, but they don't normally just tack a bunch of random items together so I am completely lost on the theme in case anyone else can figure it out.
What...is that sweater? 0.o
Crumbs!!
I looked up 'Pom pom jumper' and found the exact outfit on some (obscure?) blog. Hat and all!
Interesting.
Correction: I looked up 'big pom pom jumper'.
Apparently it's a plain jumper from Target with home-made pom poms sewn on.
Thank you for posting that, recklesse! I guess I feel a little better about it now... Although the girl in the photo is wearing tall boots, which I would prefer to these ugly shoes.
@recklesse: I added that image to your comment for all to see.
Also, next month's Wardrobe Wars: create an outfit using the Pom Pom shirt.
@dave, I guess that will depend on the outfit getting activated by then. The last Tonu outfit still isn't all activated.
josie
, 03/8/2017, 7:26 pm NST
@dave - exactly like that
Thanks for making that image with the bird. It's so cute!
What Colour is the Pompom Gelert?
cat
, 03/9/2017, 2:22 pm NST
The colors are both really well done, the patterning on the maractite is nice and visible, and I like the way the woodland's ears and tail look like twisting branches with leaves. Though it is a shame they missed the chance to do a Dogwood (on both this and the Lupe).

Wow, that outfit is something else.
cat
, 03/9/2017, 2:37 pm NST
@pikachu - I call that color "bird poop" - as with a lot of other clothing models it's not a colour Neopets can actually be painted.
There are 31 comments above. Why not post yours?