Your jnAccount:
Log In
or
Register
| New to Jellyneo?
Click here!
Welcome to Jellyneo.net!
Welcome to Jellyneo, the #1 ad-free Neopets help site! We offer news and tips for the popular online game Neopets. Here's what you can find on the site:
You can also register a jnAccount; it's free and lets you access special features! (Find out more!)
Pick your news: Neopets News
| Crossword | JN Updates | Daily Puzzle | Festival of Neggs
More Neopet Colours Converted to HTML5
Posted by Dave
Posted on February 18, 2021, 9:36 am NST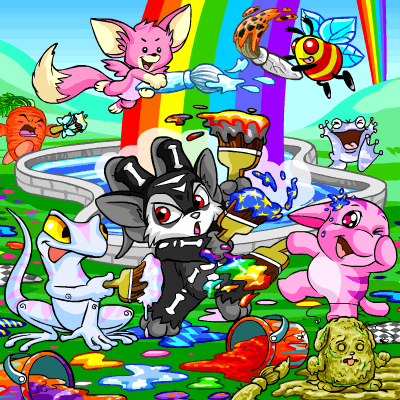 Yesterday, February 17th, TNT pushed a sizable update to convert many more Neopets colour combos to HTML5.
When we released our
HTML5 wearable Previews
section last week, we discovered in the process that some colour combos (mostly released in 2020 onward) were not yet HTML5 compatible. That meant when you painted your Neopet, say, to be a Steampunk Blumaroo, it would not have worked in the new HTML5 customisation app.
No longer! TNT pushed an update for 74 of those Flash-based Neopets, and now the following colour combos may be enjoyed in the HTML5 customisation app:
Maractite Acara
Candy Acara
Oil Paint Acara
Steampunk Aisha
Toy Aisha
Steampunk Blumaroo
Toy Blumaroo
Pastel Bori
Candy Bori
Burlap Bori
Oil Paint Chomby
Candy Cybunny
Stealthy Elephante
Relic Eyrie
Wraith Eyrie
Origami Eyrie
Woodland Gnorbu
Eventide Gnorbu
Maractite Grarrl
Toy Grarrl
Mosaic Grarrl
Maractite Grundo
Pastel Grundo
Candy Grundo
Toy Hissi
Stealthy Jubjub
Origami Kacheek
Oil Paint Kacheek
Clay Kau
Woodland Kau
Wraith Kau
Tyrannian Kiko
Burlap Kiko
Snow Korbat
Water Korbat
8-Bit Kyrii
Pastel Kyrii
Candy Kyrii
Relic Lenny
Maraquan Lutari
Origami Moehog
Candy Mynci
Chocolate Nimmo
Transparent Nimmo
Mosaic Nimmo
Ice Peophin
Oil Paint Peophin
Maractite Poogle
Stealthy Poogle
Swamp Gas Quiggle
Oil Paint Quiggle
Burlap Quiggle
Ice Ruki
Maractite Ruki
Steampunk Scorchio
Swamp Gas Shoyru
Relic Skeith
Stealthy Skeith
Candy Skeith
Eventide Techo
Steampunk Techo
Origami Techo
Water Tuskaninny
Dimensional Tuskaninny
Desert Vandagyre
Mutant Vandagyre
Maractite Wocky
Wraith Wocky
Biscuit Xweetok
Glowing Xweetok
Oil Paint Xweetok
Mosaic Yurble
Marble Zafara
Burlap Zafara
We are still waiting on HTML5 conversions for about 40 more colour combos. Hopefully we see them soon!
Lenny Day Roundup
Posted by Herdy
Posted on February 12, 2021, 2:22 pm NST
Happy Lenny Day! Here's what's new for this species:
Swamp Gas
A new clothing set is also now active:
Free NC Goodie Bag
Posted by Herdy
Posted on February 12, 2021, 10:31 am NST
A new goodie bag has been released at the
NC Mall
in time for Valentine's Day!
It contains the following item:
As with other free NC items of this type, you can claim it on side accounts.
Site Redesign: A Few Bug Fixes
Posted by Dave
Posted on February 11, 2021, 7:47 pm NST
A new update to the Neopets site redesign—v0.4.5—is now live! This update contains a few new items and a theme:
1) The Valentine's Day theme makes its redesigned debut.
It's bright pink, filled with chocolate, and has more hearts than you can count—fitting for a Valentine's theme:
This theme is available to all Neopians during the beta period, but in order to keep the new theme you will need to either (a) already have it unlocked on the Classic site, or (b) send a Mysterious Valentines Day Card on February 14th to a Neopian who doesn't have the theme yet. See our
Site Themes guide
for full details.
To enable this new theme on redesigned pages, you need to choose it from the "Beta Theme" dropdown list on the
Site Preferences
page.
2) A ticking clock has returned to the top right corner.
A staple since the very first Neopets layout redesign has returned.
3) The Wheel of Monotony has been de-Flashed.
And alongside the longest spinning wheel, all wheels now have sound effects added back in.
4) Last week, HTML5 Customisation closet fixes were pushed.
If you haven't checked yet, see if you can now load your wearables to customise your Neopet. If you still have issues, TNT has stated they're still looking into remaining issues.
Coming in a near-future release:
The Festival of Neggs site theme will be hopping onto mobile-friendly pages soon.
HTML5 maps
Mobile-friendly faerie quests
Mobile-friendly updates to the HTML5 wheels
Community Central
A member of TNT has also stated that if you're not a fan of the bright pink in this update's Valentine's Day theme, then sit tight... a sadder, greyer theme is also in the pipeline.
Flash-Free Wearable Previews
Posted by Dave
Posted on February 9, 2021, 1:26 pm NST
As promised, our updated
Flash-free wearable Previews
section is now up and running!
You may notice a few new features, notably:
A brand new advanced search bar, modeled off of our Item Database. Search wearables by all sorts of new fields to narrow in on what you'd like to wear!
Swap between colours on an item's preview page. Want to preview an item on a Zombie-coloured Neopet? Now you can!
Affected and restricted zones are now listed.
Jump quickly between an item's preview page and its info page, price history, TP history, UFT and seeking lists in the Item Database.
What's to come? Here's what we're still working on:
Animated item previews are still a work in progress. Most items, we've found, are not animated, so you should still be able to enjoy the majority of previews.
The ability to add an item to your Wishlist from individual preview pages.
The ability to search by restricted zones.
Easy modeling straight from the individual preview page.
Special searches, and more!
And of course, our Wardrobe app itself is still a work in progress, but releasing our new Previews is a big step towards us being able to offer a Flash-free Wardrobe.
---
As another note, we were also able to take stock of which items and Neopets have been converted to HTML5, and which ones have not. We are happy to report that roughly 66% of items have been converted to HTML5—only about 33% of them are left for TNT to convert!
We have also found that almost every older Neopet colour combo has been converted to HTML5, however, most Neopets released from early 2020 and onward have
not
been converted yet. (So for example, the Marble Draik that was released in September 2020 for Draik Day does not work in the new HTML5 customisation.)
Until all of these conversions occur, you may find that some Neopets and wearables cannot be previewed. We will be keeping a watchful eye on TNT's progress with converting the remaining wearables and Neopets and will update our previews as they do.