Your jnAccount:
Log In
or
Register
| New to Jellyneo?
Click here!
Welcome to Jellyneo.net!
Welcome to Jellyneo, the #1 ad-free Neopets help site! We offer news and tips for the popular online game Neopets. Here's what you can find on the site:
You can also register a jnAccount; it's free and lets you access special features! (Find out more!)
Pick your news: Neopets News
| Crossword | JN Updates | Daily Puzzle
macOS Safari 14 Rolls Out
Posted by Dave
Posted on September 17, 2020, 9:21 am NST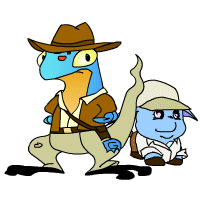 Just a quick warning for any of those who use the Safari web browser on macOS devices: Safari 14 is beginning to roll out as a system update. This new version of Safari completely removes support for Adobe Flash, meaning any Flash features on Neopets.com (or any other website!) will no longer function at all in Safari.
To continue using Flash features, such as world maps, games, or the customisation system, you will need to switch to another browser. (We recommend Firefox for its recent memory/speed enhancements and commitment to privacy.)
This only applies to macOS devices. iOS and iPadOS devices have never officially supported Flash.
For more information on the end of Flash, and how you can still re-enable Flash in other browsers, see our:
Charity Corner Refunds + Bonus
Posted by Dave
Posted on September 16, 2020, 6:12 pm NST
The
aforementioned refunds and bonus
for the
Charity Corner
prize shop price cut are rolling out.
Hi Everyone,

This is the second part of our charity corner update. If you spent points in the prize shop before we reduced the prices, you will be receiving a refund of the difference. Additionally if you visit the prize shop you can claim 500 free points by clicking on the little gift box in the lower right corner. Lastly please note that the prize shop will stay open during and after the event ends.

-TNT

From The Official Neopets Team Message Board
To claim your 500 free points, head to the
prize shop
and click the gift box at the bottom of the table.
It appears that points were refunded for some users (not all yet—likely a script is slowly running over all usernames, so still time to be patient), but the total numbers at the top of the prize shop page are still out of whack for those who received one.
---
UPDATE:
Looks like claiming your free 500 points, then resuming donations, resulted in those 500 points disappearing. 🤦‍♂️
Error: Captain Rourke bars your way. "Sorry my eager donators, the quick neopoints donation page is temporarily closed for inspections! Feel free to donate the traditional way from your inventory while we make sure everything is in ship shape."
We recommend not making anymore donations (or not claiming your free 500 points) until TNT has it all sorted! If you're experiencing (or already experienced) any issues, please let us know in the comments.
---
UPDATE, Sept. 17th, 8:50 AM:
It seems that all points have been wiped and are now showing as "0" in the prize shop. This is just likely temporary while TNT implements a fix for the issues of donating leading to points disappearing.
---
UPDATE, Sept. 17th, 3:15 PM:
It looks like the prize shop points have returned. Point totals, prize redemption, and donating all seem to be working as intended now as well!
With today's news update, the event has also been extended to make up for some of the lost time due to glitches:
CHARITY CORNER NEWS: Heads up Neopians, we will be extending this year's Charity Corner until Monday September 28th at midnight. So, swing by the Charity Corner soon and keep those donations coming!

From New Features, September 18, 2020
---
UPDATE, Sept. 18th:
Late last night, it was discovered that the
Coconut Cabana Mystery Capsule Tier 3
(the cheapest capsule) was actually giving out r99 items, instead of the expected
Aquamarine Mystery Capsule Tier 1
(the most expensive capsule). It appears that the contents of those capsules was actually swapped, which isn't 100% verified, but it is verified that the cheap Coconut Cabana capsule is giving out better items than advertised.
We'll keep you updated if TNT addresses this massive discrepancy.
TNT have addressed this issue. See the 4:00 PM update below.
---
UPDATE, Sept. 18th:
As of around 11:00 AM NST, points for multiple prize shop items purchased before the price cut have been refunded. In yesterday's refund, refunds were only given on one of each type of item you purchased at the old price. So, if you purchased multiple items at old prices, you should be able to re-spend those points now.
---
UPDATE, Sept. 18th, 4:00 PM:
TNT has acknowledged the capsule rarity tier mismatch by granting those who have opened Tier 1 capsules replacement capsules to be re-opened. The odds on the Tier 1 and Tier 3 capsules were swapped (meaning the cheaper 150 point capsule was awarding what should have come out of Tier 3).
The following Neomail is going out to those who opened Tier 1 capsules:
You're receiving this Neomail because you purchased 1 or more Tier 1 Mystery Capsules during this year's Charity Corner event prior to this Sept 18th neomail. Recently, our team uncovered an internal issue that was causing the rarity drop rates of Tier 1 and Tier 3 Mystery Capsules to be switched. The issue has since been fixed; Tier 1 capsules will now properly grant higher rarity items at a higher rate, and Tier 3's will grant the lowest.

We'd like to sincerely apologize to you for this oversight. Due to those previous balance issues, you have been re-granted the same amount of Tier 1 capsules that you previously purchased. You can now find those capsules, working with the correct drop rates, in your Inventory. Any existing Tier 1 capsules you had unopened will now have the corrected rates.

The Neopets Team
---
UPDATE, Sept. 18th, 5:00 PM NST:
This weeks
Neopian Times
is out, and the beginning of the editorial contains another message about Charity Corner. Specifically, it's been noted that no one who was buying the glitched Tier 3 capsules and receiving better items than intended will be punished.
Hi all. Gutterfoot here. It's been a tough week for everyone and we know this years' Charity Corner isn't what any of us expected. There were a lot of issues that we should have been more on top of as well as things like server crashes completely outside of our control.

We've heard everyone's concerns on the Neoboards about the need for more open communication. I personally try to be on the Mobile Beta board as much as time permits me (as I am also a member of the dev team, not a full-time community manager), but it just isn't realistic for all of us. The problem is that the TNT you all see on the boards popping in ARE the dev team as well. Having us be constantly available for communication just isn't viable, especially not while that same team is responsible for both the conversion effort and keeping up with content/events.

Now, I know NONE of this is your problem. This is entirely a problem that TNT needs to handle and we promise that we're going to make an effort to communicate more openly. We want and value your feedback. I appreciate every user who participates on the Mobile Beta board, whether they have dedicated entire pet pages of feedback or just pop-in to report a bug they've noticed. It's all so incredibly helpful to our team.

Circling back to Charity Corner, refunds should be processed and the glitch that prevented some users from claiming their free 500 points should be solved. If anyone feels that their point totals aren't accurate, please send a support ticket and we will try to respond as quickly as possible before the event ends on the 28th of September. We have also fixed the issue where tier 1 and tier 3 mystery capsule drop rates were switched. Those who purchased tier 1 capsules have been reimbursed with new ones. And the capsules within your inventory/prize shop are now reflecting correct drop rates. There won't be any penalties at all since this was entirely our mistake, so everyone is safe. We know we can do better than this and we hope to regain your trust one step at a time.
Neopets: Island Builders Android Update
Posted by Herdy
Posted on September 16, 2020, 12:15 pm NST
Yesterday another new update for the Open Beta on Android in Island Builders was launched. iOS remains on the old version in Closed Beta.
Although the patch notes list only small bug fixes, you will now notice that pets have an icon next to them indicating which form of Happiness they are lacking (style, food, amenity), helping you figure out what they are needing next.
Charity Corner Update
Posted by Herdy
Posted on September 15, 2020, 2:35 pm NST
Gutterfoot has posted an update on Charity Corner in the r/neopets Discord and
the Official Neopets Team Notice Board
today:
Hi everyone!

As many of you know, Charity Corner was released this year with a few changes. We wanted to take a moment to talk about these changes, as well as address the concerns we've heard from the users since we launched the event yesterday.

The first thing we'd like to talk about is the removal of perks. During last year's Charity Corner, the site encountered some technical difficulties as a result of their implementation. This year, our dev team has been focusing their main efforts on converting the site in preparation for the end of Flash. This dev team is also responsible for working on all site events, including Charity Corner. In the interest of directing efforts towards the site's conversion and to avoid unforeseen site bugs and user difficulties due to perks, they were removed from the event.

We'd also like to address the issue of sticky snowballs. This adjustment was made as a necessary balance change; the Charity Corner donation items are intended to be worth the same amount that it takes to obtain them. The team never intended to intentionally obstruct the event due to this balance change, and we'd like to apologize for any miscommunication this change may have caused.

We've heard your comments and concerns regarding Charity Corner this year, and we'd like to make this right. Adjustments will be made to the prize shop; prices will be reduced on all prizes, and you'll be able to claim a free gift of 500 points to use in whichever purchase you wish. The price changes will be rolling out immediately, and those 500 points will be coming your way soon.

We know we've let you down this year, but we truly do value the community and want to thank you for keeping an open dialogue with us. Our team is doing its best to ensure the future of Neopets, and we hope you'll stick with us as we work to modernize the site approaching the end of 2020.

- TNT
(The changes to prizes are already live.)
Charity Corner Live
Posted by Dave
Posted on September 14, 2020, 3:21 pm NST
The
Charity Corner
event is now live! This year, Granny Hopbobbin is gathering donations to convert into relief supplies for the citizens of Dacardia (as seen in
Island Builders
). She's employed Captain Rourke to ship the supplies to the islands of Dacardia.
A big change this year is the lack of a perks shop. Instead,
14 item prizes
are available to purchase. Three of the items are "mystery capsules" that will award random NP items. Another notable change is Sticky Snowballs being downgraded to count for only 1 point, rather than the usual 8 points from prior years. (Yes, that's the sound of the Sticky Snowball market crashing harder than Faerieland.)
We are getting our guide together, in which you can see the changes to this year's format:
With the start of the event, we've also got a glimpse of where Dacardia is located in Neopia: