Your jnAccount:
Login
or
Register
| New to Jellyneo?
Click here!
Welcome to Jellyneo.net!
Welcome to Jellyneo, the #1 ad-free Neopets help site! We offer news and tips for the popular online game Neopets. Here's what you can find on the site:
You can also register a jnAccount; it's free and lets you access special features! (Find out more!)
Pick your news: Neopets News
| Crossword | JN Updates | Daily Puzzle | Altador Cup XV
TNT's Answers to Site Redesign Feedback
Posted by Dave
Posted on May 14, 2020, 9:52 am NST
TNT has been on the beta Neoboards, responding to a few questions about bugs and the stuff that's upcoming with the site redesign. Here's a wrap up of the various posts we were able to find:
On the direction of the new design:
hi everyone! just wanted to drop in and say that by no means is the current direction of the layout final. we are working on new styles as well as taking in your feedback for the direction. this was just a first step, not a final one so don't worry!
On maintaining both the classic (existing) site design
and
the redesign:
as for keeping the current live site as an option for players, i'm afraid that won't be possible when flash is discontinued. this is why we are currently in the process of converting everything to html5.

if we were to keep the existing site, we'd have to convert both the mobile-friendly version of the site and the existing site which would be double the work for our dev team.

And again in another thread...

the plan is to phase out classic mode once we've converted the majority of the site to html5, as flash is being discontinued and the classic site will cease to function.
(This is similar to how the 2007 site redesign revamped the entire site and the old layout was retired completely.)
On whether this redesign is just for mobile devices (it's not—it's for any device you access Neopets.com from):
hi there! totally understand your concerns. to start with the vision, it is intended for this new beta to replace the existing live site once all features have been completed, so this will be the layout for both desktop and mobile. the site will be fully playable when we go live, but it'll be a ways before we get there since there is so much to convert.
On wearables being converted away from Flash (not all of them have been converted yet—they're being done in batches):
wearable conversion is being worked on in batches by our artists, since those are also being converted to be html5 compatible.
On a place to know what's new and upcoming:
we are working on a release notes page that will let users know the completed/in-progress/coming soon features as well as known issues that we are working on and bug fixes.
On the world maps, Explore page, and Premium features coming to the redesign:
explore is definitely coming over to the beta, yes. we are working on giving the maps an entire, fresh redesign that we are excited to share! the current beta is not the final version in any way, we have a lot more to add and will continue to add throughout the year, including all the premium features.
On the "View Classic Site" option not always sticking (it should—it's buggy and will be fixed):
the "view classic site" button was intended to permanently keep you in the classic until you chose to switch back to beta, but it isn't working correctly. we have plans to fix this so stay tuned!
On navigational submenus:
hi guys! submenus for the navigation menu have been in the works for a while, we just didn't want to add them when we didn't have that many pages converted. but we've heard you and will be prioritizing this feature. thanks for the feedback!
On the new bookmarks feature, and whether it will be Premium only or not:
thanks for your feedback! to answer you, the bookmarks feature will be for everyone, not just premium.
On the converted HTML5 games:
hi everyone! we super appreciate the feedback. our team has been hard at work fixing the games on mobile not scaling properly, so we should have an update for that soon.
On whether TNT is paying attention to the site redesign Neoboards:
hi! yes, we are looking at the neoboards daily even if we may not be replying as frequently. rest assured that everyone's feedback is being tracked! c:
Altador Cup Prize Shops Closing Soon
Posted by Dave
Posted on May 9, 2020, 2:05 pm NST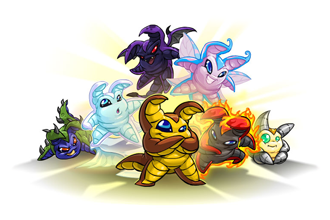 As a reminder, you have until Thursday, May 14th to redeem your points for
Altador Cup XIV prizes
and
Staff Tournament prizes
.
After May 14th, the prize shop will be closed in preparation of this year's Altador Cup. You will lose any unredeemed points and you won't be able to claim those prizes.
Neopets Site Redesign Beta Expanded
Posted by Dave
Posted on May 7, 2020, 1:58 pm NST
We've received some reports of more Neopians being added to the closed beta test of the new Neopets.com site layout.
We are not sure what the exact criteria for gaining an invite is.
We've confirmed that it appears that this round of beta invites are going out in batches to random Premium members.
If you haven't seen it yet, check out our coverage of the
site redesign
, along with some
unreleased site themes
we uncovered!
New Mobile Game Beta Signups
Posted by Dave
Posted on May 5, 2020, 8:15 pm NST
With today's news update, TNT posted about an upcoming closed beta test of a "3D mobile game", presumably the game being demoed as
Neopets X
last year at Comic-Con.
The sign up for is now working! You can
sign up for the beta
after answering a few questions. (We're assuming beta spots are limited and they'll be choosing users based on answers to get a variety of player types.)
We'll update our post once the form is in working order.
New MME
Posted by Herdy
Posted on May 5, 2020, 10:40 am NST
A new Mysterious Morphing Experiment has been released at the
NC Mall!
This MME has two IDs (ending in 44 and 45).

Previews for this MME include backgrounds, a wig, trinkets, a cape, a dress/jacket, and a jumpsuit.