Your jnAccount:
Log In
or
Register
| New to Jellyneo?
Click here!
Welcome to Jellyneo.net!
Welcome to Jellyneo, the #1 ad-free Neopets help site! We offer news and tips for the popular online game Neopets. Here's what you can find on the site:
You can also register a jnAccount; it's free and lets you access special features! (Find out more!)
Pick your news: Neopets News
| Crossword | JN Updates | Daily Puzzle
Year 2009 Advent Animations Preserved
Posted by Dave
Posted on November 11, 2021, 8:44 am NST
We're back for another Flash preservation update! As you know
Flash is long gone
, and here at Jellyneo we are curating and converting as much old Neopian Flash content as we can into modern viewing formats so it isn't lost to the ages.
The next item to get the conversion treatment is the
2009 Advent Calendar Animations
! We started with preserving the year 2000 animations, and we're slowly adding additional years to the collection.
These Advent animations have all been converted into a modern movie format that will play on both your desktop and mobile devices for many years to come.
You may remember the 2009 series of static "animations"—let's just say it was the same year the Atlas of the Ancients plot took place.
New this year!
We've also added the prizes underneath of each animation, to give you a more complete viewing experience.
Check back in next week as we prepare the next addition to our collection!
Previous Flash Conversions
Looking to see what else we've converted? Check out the collections below:
Pteri Day Roundup
Posted by Zelda
Posted on November 8, 2021, 4:59 pm NST
In honour of Pteri Day, a new colour is now available:
Pastel
It looks like the inspiration for this colour was suggested by user parody_ham: the
Coracias caudatus
, or
lilac-breasted roller
. (Thanks to 1jediboy and nefarity for pointing this out!)
Or, if the
Fire Pteri
isn't fiery enough for you, try the new phoenix wearables: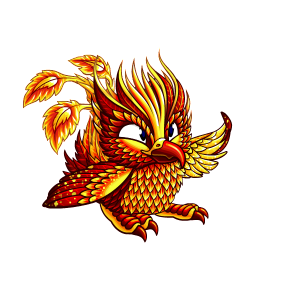 Metaverse Project Stumbles to Finish Line, Announces $240-$960 Price Point
Posted by Dave
Posted on November 5, 2021, 8:57 pm NST
UPDATE, 11/6:
SOL has reached a value of 1 SOL = $250 USD! That means the price for Neopets NFTs can range from $250 up to $1,000
each
! In all likelihood, the cheaper NFTs will be snatched up by autobuyers, so any supporters of the project will be stuck purchasing at highly inflated prices.
---
Big news late this Friday evening: the Neopets Metaverse is
finally
launching on November 12th at 9:00 UTC (aka 1:00 AM NST for us Neopians)—only a month behind schedule.
However, the bigger news: each NFT will sell for up to 4 SOL, which at time of writing would convert to ~$960 USD.
The number of NFTs have also been severely cut, with now only 10,500 on offer (with 500 of those being reserved for giveaways). Prior to today's announcement, there were plans for 20,500 NFTs. It's unknown exactly why the number on sale has been cut in half, but our speculation is that it's due to either production troubles or fear that they would not sell out. The Metaverse team has said a few times during the project's delay that they were encountering issues producing the NFTs. (And most of the samples they've posted have had graphical issues.)
Here is the exact pricing breakdown. It will be a race to buy the NFTs as quickly as you can, as the more that sell, the more expensive they become:
In other words, the first 250 sold will sell for 1 SOL, and then the price increases to 1.5 SOL for numbers 251 through 750. If all 10,000 sell, that will be 26,750 SOL (which at time of writing is ~$6,393,250 USD).
The sale is slightly convoluted. You must buy tokens called "NMC" and then each NMC can be used to mint one actual NFT. So, (a) convert your local currency to SOL (Solana) cryptocurrency; (b) use SOL to buy NMCs; and then (c) use your NMCs to mint NFTs.
The project was also slated to sell NMCs on the Raydium DropZone via a lottery-esque system. But instead that plan is being axed to instead use a more "bespoke" system that is on a "first come first serve basis." (Which the NFT community is concerned about, as it means bots can come and buy out the supply. In Neopian terms, it's like autobuyers buying all the good stuff when restocking.)
At this point, the changes being made to the project mean little to us Neopians, but it seems that the Metaverse team is working overtime to upset the actual NFT supporters by inflating the price and removing the promised method of fair distribution.
(Here at JN, our mouths are still agape about how much we underestimated the price on our free NFTopets!)
Will you be purchasing any of the NFTs for 4 SOL? Let us know in the comments!
---
REMINDER: Free NFTopets Say Goodbye
Bad news! We've decided that our
free
NFTopets project has run its course, and we will be shutting down our NFTopet server on
Sunday, November 7th
Thursday, November 18th. (We're pushing it up a bit to align with the grand finale of the Neopets Metaverse project.) That means your NFTopets will no longer be accessible, so make sure you
right click and save as
if you're attached to any of them. Don't worry, your NFTopets are still yours! We're just not going to show you what they look like anymore! (We're staying true to how many NFT projects run their course.)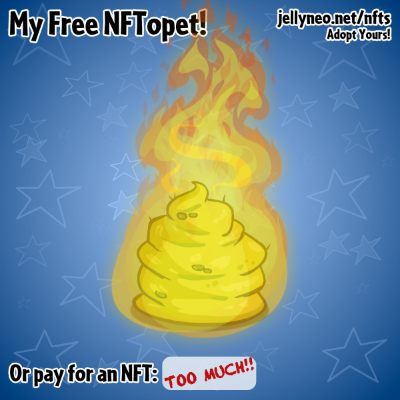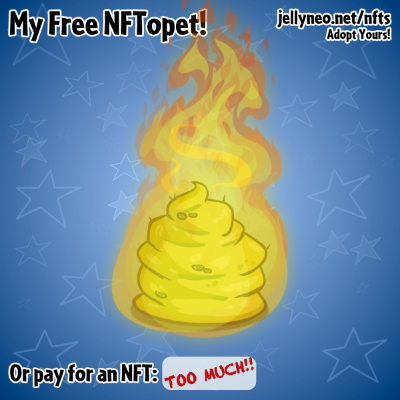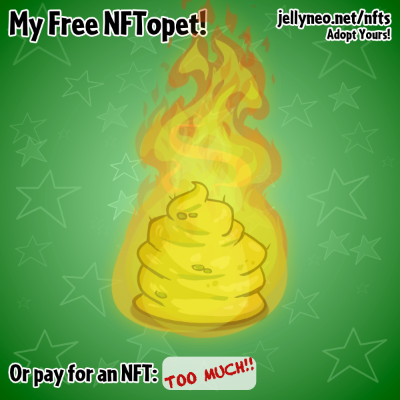 Our anti-Neopets Metaverse landing page will remain up and accessible at
jellyneo.net/nfts
. We just won't be allowing the minting of new NFTopets after the 18th.
September & October Recap: Wearables & Modeling
Posted by Rylon
Posted on November 5, 2021, 3:59 pm NST
The Chocolate Ball and Halloween's
Trick-or-Treat
bags gave out the only other Neopoint wearables.
Kadoatie Cafe
is the latest
Shenanigifts party
.
Loic brewed a new batch of
Dyeworks
items.
The
Haunted Mansion
returned with new spooky goodies.
New Capsules & Grams awarded the latest seasonal items.
Several new items were released on general sale at the NC Mall.
And as always, rounding out the month are the collectibles!
We still need a lot of these item previews for our
Wardrobe App
, so please head on over to our
Modeling Department
if you can lend a hand! Additionally there are also items that need a
Remodel
for updated assets or zoning. Your help and support ensures Wardrobe is up to date, and we really appreciate all your hard work!
Zombie Vandagyre
Posted by Herdy
Posted on November 1, 2021, 3:05 pm NST
To celebrate Halloween, a new Vandagyre colour has been released!
Zombie