Your jnAccount:
Login
or
Register
| New to Jellyneo?
Click here!
Wishing Well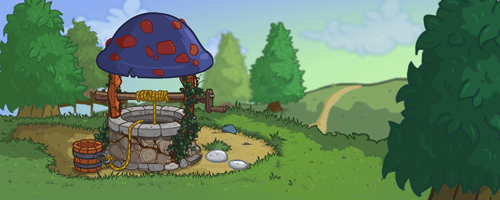 Plunk!
For as long as the Neopian public can remember, there has been one well that has stood out. That well is none other than the Wishing Well, located in the northwest corner of the Neopian Plaza in Neopia Central. What makes it special is that it has the power to grant 10 wishes twice a day. (Despite the fact that the Well says it grants wishes 4x a day, it is in fact only 2x.)
The Wishing Well works like this - you walk up to it and give the amount of Neopoints you wish to donate, be it a small amount or a large amount (that just depends on the donor), and type in the name of the item you wish for. Then, once you've donated and wished for your heart's desire, you will be greeted with the message "Thanks for your donation of X NP!!! If the well grants your wish it will be in touch via Neomail!". So, remember to keep checking your Neomail and good luck!
How Often Can You Make a Wish?
You can make up to 14 wishes a day; seven every 12 hours. Traditionally winners were chosen at 4:30pm and 4:30am NST. However, since the server transition, the times are a'changin'... literally. Every day the prizes are awarded a little bit later than the day before (we're talking a second later each day, give or take). Luckily when you bet doesn't make a difference, so you can choose any two times (12 hours apart) throughout the day to bet and not miss out.
What You Can Get
Remember, the Well is not perfect... For one, it sleeps 18 hours a day, meaning the response can take quite some time. Two, the Well isn't known for its cleverness in understanding ciphered messages, so just to be safe, write the exact item name!
But that still doesn't mean that you'll get the item you wished for, even if you do get an item at all; the Wishing Well gives what the site's search function lists as the first item in the list from a search result of that item. (Thanks to Nightwind_292 for that great information!)
If you're a frequent wisher for high-end Neopian goods, you may be disappointed to learn that the Wishing Well has something of a price cap. It will only grant items that are rarity 89 or below. If you check out the listing of users whose wishes were recently granted, you might notice items like 'Yellow Paint Brush Collectable Charm' and 'Hatching a Draik Egg'. No prizes for guessing what those users wished for! ;) Don't be greedy - wish reasonably!
If you're a winner, you will receive a NeoMail from theneopetsteam congratulating you for your win, and your prize will be placed directly into your inventory. No need to revisit the Well in order to collect!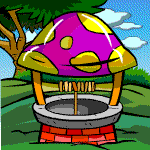 "It's the thought that counts!"
Please note that you have to donate at least 21 Neopoints in order for your wish to count. After that, however, the amount you donate appears to have no correlation to your chances of winning. Just keep up that wishing and eventually you might get lucky and find the very item you wished for, just sitting there in your inventory...
And with that, good luck and happy wishing!
The Wishing Well Avatar
The solution to the avatar was shrouded in mystery for approximately a year and a half! The biggest hint came from a Neopian Times editorial:
Hey, TNT! *hands cookie* So, I was reading The Lord of the Rings and I found that one chapter is named "Flotsam and Jetsam"... curious. I then realized that "Ring of the Lost" (RotL) has the same letters as "Lord of the Rings" (LotR). Therefore I was wondering, as it seems you guys like reading... will I be able to find some hint about the Wishing Well avatar in a book, or am I just overthinking? ~blackie1407

You're overthinking. No one on The Neopets Team can read. In fact, we're not even sure how we're typi33o47k thwls68es.
Now that the solution has been found, we are left wondering what the next great conundrum will be...
Donate 48673 NP at the Wishing Well with one of your daily 7 wishes. What you wish for doesn't matter.
Released: June 10, 2010
Help us improve!

Did you find what you were looking for on this page?
This article was written by: Zador