Your jnAccount:
Login
or
Register
| New to Jellyneo?
Click here!
Wise Old King
Wise Old King Information
World:

Trophies:

Neopoint Ratio:




Our Difficulty Rating:

0%

[Send in a Game Tip] - [Return to the Game Guide Index]
King Hagan's Judgements
Grade
Reward
A+
You profound genius you! As a reward for your intellect you will receive a rare item, some Neopoints and you may also randomly be awarded an avatar.
B
Ah, you're smart! But you could still use some studying. For this grade King Hagan gives you one of the following books: Brightvale Castle, Brightvale Maps, Cartography For Beginners, Keeping the Peace, or King Hagan.
I Already Knew That!
He's not dense, youngin'. He already knew that! Okay so maybe you don't get a grade, but he may still give you a few neopoints just for the effort. He's nice like that... sometimes.
F-
Crikey, and I thought Skarl had a bad temper! Okay so maybe just saying "angelpuss" was a bad idea. Oh well, better luck tomorrow. :)
Bonuses
Occasionally you will catch Hagan in a good mood (yes it does happen), and he will give you a "x10 bonus" because he's feeling nice. In these cases you can get a few hundred Neopoints out of him, so it's not all bad. (Thanks to Anne for reminding us about that).
Out Studying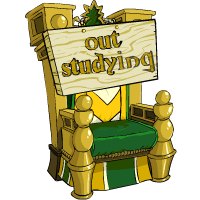 There are certain times during the day when you won't be able to bother enlighten King Hagan. Every day between the hours of 8-9AM NST, 1-2PM NST and 7-8PM NST he will be off in his library studying. If you try to visit him during those times you will find an empty throne with a sign on it; just pop back during the next hour and you can try then instead.
The Avatar
Impressing the Wise Old King may take you a while, but it's worth it to get your hands on the snazzy avatar. Sadly there aren't any tips or tricks to boosting the grade he awards you, it is entirely random and has nothing to do with what you actually choose to say to him.
Skeith - King Hagan / Guide
Get a grade of A+ from King Hagan after you give him a piece of wisdom.
Released: September 25, 2006
Help us improve!
Did you find what you were looking for on this page?
This game guide was written by: DragonBeak