Your jnAccount:
Log In
or
Register
| New to Jellyneo?
Click here!
Toy Repair Shop
Have a broken toy? You're in luck! Donny runs a Toy Repair Shop on the peak of Terror Mountain to fix toys for any Neopian who visits him.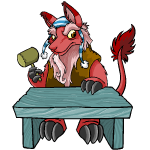 List of Broken Toys
Not all broken toys are created equal. There is a specific set of items that Donny can repair for you. For a full list, see our Broken Toy category in the Item Database. If an item is not listed there, Donny will not be able to repair it.




How to Repair
To repair a toy, simply make sure the item is in your inventory and then visit Donny. He will ask which item from your inventory you wish to have fixed. Clicking on it will result in Donny asking you if you'd like to have it repaired, along with the cost.
Cost
The cost for repairing a toy can range between a few hundred NP. Typically, you can expect a fee of 300-400 NP. Occasionally, Donny will offer to repair an item for free.
When repaired, the Bag of Broken Neopoints will result in a gain of 1,000-2,000 NP. Depending on the price of the bag and the cost of repair, this could be an advantageous way to make a few NP.

Results
Despite you hoping to have your toy repaired, a few things could happen to your item:
Damaged Beyond Repair
Sometimes, Donny will not be able to fix your toy, accidentally turning it into a Pile of Rubble or Pile of Sludge, which he will return to you.
Alternate Prize
If Donny cannot fix your toy, and he's in the mood to apologize, you will receive an alternative item as a prize. Most of these items are various TCG Rare Item Code prizes (with a few exceptions):
A Fixed Toy!
Of course, Donny can fix your broken toy and turn it back into its old shiny self.
Avatar
There is also an avatar available for having Donny fix a toy:
Help us improve!
Did you find what you were looking for on this page?
This article was written by: DragonBeak