Your jnAccount:
Login
or
Register
| New to Jellyneo?
Click here!
Tiki Tack Tombola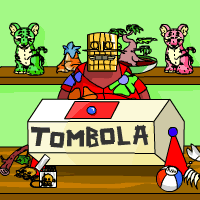 I may not be a Neopet, but I'm just as awesome!
Everyone loves the Tiki Tack Tombola! Located on Mystery Island, it's a free daily activity that can award prizes, staffed by the ever-mysterious Tiki Tack Man. Much like a real-life tombola, winning is entirely a matter of chance -- you draw a random ticket (in this case, by clicking the button), and win a prize (or not) depending on which number you pull. Anything ending with a 0, 2 or 5 is a "winner". There are actually only 21 possible tickets, which give you a 4-in-21 chance of winning.
You can visit the Tombola only once per day, whether or not you win. Bear in mind that you can't visit on your side account in order to play more than once a day; using multiple accounts to gain freebies is against the rules, and if you're caught, TNT will surely freeze you before you can say 'Gadgadsbogen'.
Tombola Prizes
The Tombola offers two different kinds of prizes: booby prizes and winner's prizes. Every prize includes at least one item (sometimes more). Winning tickets also award a small sum of Neopoints. You may also win a small amount along with a booby prize if the Tiki Tack Man "feels sorry for you" (this appears to be random). Some prizes are Tombola Exclusive, while others can be obtained multiple ways.
Booby Prizes
These are pretty much, well, just stinky prizes. These prizes are the most commonly given out, and some can only be obtained from the Tombola. In addition to the cheaper Tombola Exclusive items, Booby Prizes can include:
Booby Prizes
All these booby prizes can be found in user shops for less than 10 Neopoints, so unless you're interested in the Packrat avatar, these items are basically worthless.
Winner's Prizes
These are the prizes obtained from a winning ticket. However, not all of these prizes are quite as spectacular as you might expect. In addition to the rarer Tombola Exclusive items, you can also receive:
Winner's Prizes
Bear in mind that the chance of winning any of these prizes is completely random, and doesn't depend on account age, Neopoints, or whether you've won anything recently. As with other chance games, getting a "winning" or "losing streak" for days at a time is perfectly normal, and there's nothing you can do to control it.
If you turn up at the Tombola and the Tiki Tack Man isn't there, he's probably gone out for his scheduled break. Well, would you want to work 24/7 without taking a little while off a few times a day? The Tombola is closed between the hours of 3-4am, 1-2pm and 9pm-midnight NST (this has been known to be a little slow to catch up with Daylight Savings Time on occasion).
Every now and then, the Tiki Tack Man is too generous with his prizes and ends up giving away more than he can afford. When this happens, you'll find the Tombola closed while he asks for donations from kind Neopians. If you don't fancy donating, just go away and come back a couple of hours later to see if the game is back open. You could, of course, spare a few Neopoints to help the Tombola reopen sooner, but this is entirely optional and fairly thankless -- there's no trophy or reward for donating NP, and you won't be any more likely to win a prize later. Maybe the Tiki Tack Man has a short memory, or maybe he just plays scrupulously fair...
Well, that should be the finer points of the Tombola cleared up. Now go take a spin -- you've got everything to win and nothing to lose!
Help us improve!

Did you find what you were looking for on this page?
This game guide was written by: DragonBeak, Dream, and Suzuka