Your jnAccount:
Login
or
Register
| New to Jellyneo?
Click here!
The Wraith Resurgence
Jellyneo's Wraith Resurgence Coverage
Walkthrough


- Concoction I
- Concoction II and III
- The Wild Woods
- The Infirmary
- Concoction IV, V and VI
- The Infirmary, Revisited
- The Wild Woods, Revisited
- The Infirmary, Part 3
- Concoction VII, VIII, IX and X
- The Wild Woods, Part 3
- The Infirmary, Part 4
- Defeating Malum
- The Infirmary, Part 5
- The Infirmary, Part 6
- Fiendish Formations, Part 1
- Fiendish Formations, Part 2
- Fiendish Formations, Part 3
- Fiendish Formations, Part 4
- Fiendish Formations, Part 5
- Fiendish Formations, Part 6
- Fiendish Formations, Part 7
- Fiendish Formations, Part 8
- The Forgotten Graveyard
- The Clearing

Activity Guides


- Mystic Murmurs
- The Faeries' Chest
- Taelia's Brewing Centre
- The Wild Woods
- The Infirmary
- Fiendish Formations
- Forgotten Graveyard
- Achievement Guide
- Final Prizes



Neocash Activities


- War Booty (NC)
- Mysterious Coffers (NC)



Storyline


- Dialogue Transcript
- HQ Notices



More Information


- Plot News
- Faerie Resistance HQ
- Your Achievements
Plot Updates
New Plot Steps (Glitched)
Posted by Herdy
Posted on December 24, 2017, 5:10 am NST
For a few hours this morning, new plot steps were live -
however
they were likely glitched to some degree and were removed. It is unclear when they will be made live again.
The steps were another round of the Murmurs, involving another attempt at the Faeries Chest, a new battledome challenger dropping Wraith Fangs, and 4 new potions to make. No new locations to use the potions at were made live, nor were any achievements added.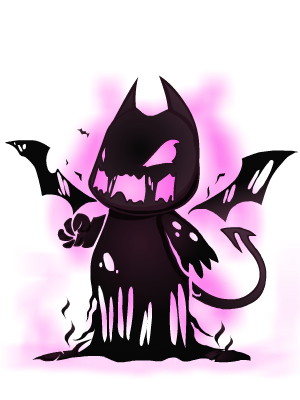 For the time being we would advise against investing in the new weapon from the Faeries Chest -
Winged Palm Blade
, since all other weapons from the Chest have been no trade and it is likely a glitch that this one is not.
Equally, the new Wraith challenger only appears to be dropping Wraith Fangs if you are not at your 15 item limit for the battledome already (similar to the coffers), so you may want to hold off on doing your daily battles just in case the steps return later on.
New Wraith Resurgence Steps
Posted by Dave
Posted on December 19, 2017, 10:06 am NST
It looks like there is something
new to do
in the Wraith Resurgence plot!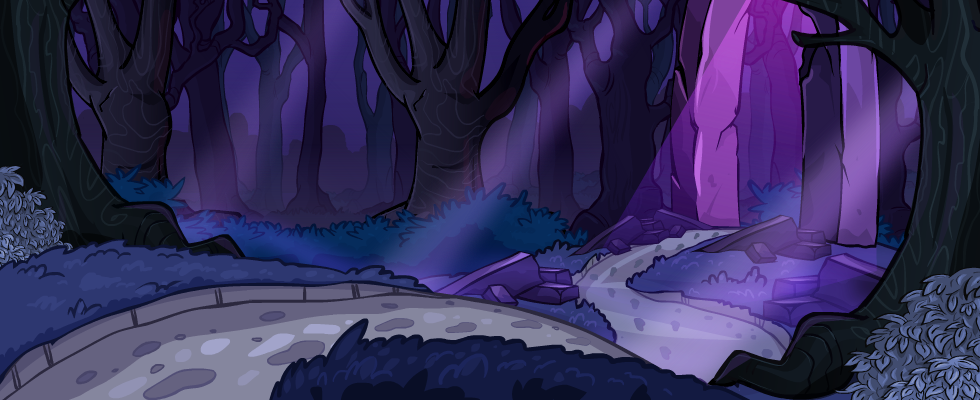 The "
Wild Woods
" have opened up, which you can access by clicking on the bridge to the right of Kaia.
It appears that the activity is similar to the Faerie Caverns, where you select between heading left or right at three forks in the road. If you are successful, you'll find a cloaked figure running away. If not, then you'll be locked out and need to wait 2 hours before being able to go back in.
Once you have found the figure running away, you appear to be done for the step currently.
It is unknown if this will become a daily activity or something similar.
As of day 2 of the woods being released, you cannot re-enter if you already came across the cloaked figure. There are currently no achievements to unlock for this part of the plot.
Elsewhere, the two existing Wraith opponents have begun dropping Mysterious Cyan Coffers:
These are no-trade items that serve as an additional NC element to the plot (similar to the casks from the War for the Obelisk). Using
Golden Keys
from the Mall will allow you to unlock them. Currently you can get 4 Cyan Coffers, enough to unlock the 4 available NC items. It appears there will be additional coffers released in the future.
Note: Coffers are optional and opening them will not count towards plot completion. They are only awarded alongside of your normal daily 15 item drop maximum when battling. (In other words, if you already received your 15 items today battling other challengers, you will need to wait to receive your coffers tomorrow by battling the wraiths first.)
Plot BD Challenger Glitch
Posted by Herdy
Posted on December 10, 2017, 12:53 pm NST
UPDATE:
Both challengers are now back in the Battledome.
You may have noticed that both the Snapjaw Wraith and Deathball Wraith have disappeared from the Battledome today. This appears to be a glitch relating to today (10th) being the original date the plot was due to end. Scrappy has since confirmed on the neoboards that the end date of the plot has been pushed back, so there will be additional plot updates at some point and it is likely that both Wraiths will return.

If you can't wait for that (it will likely be fixed soon in the new week), remember that all three Wraith ingredients are still available on the Shop Wizard - you only need to actually fight Wraiths for the specific BD achievements.
Plot BD Challenger Updates
Posted by Herdy
Posted on December 5, 2017, 1:27 pm NST
Today you may have noticed a change when fighting the Wraiths in the battledome. New defeated images have been added which show the Snapjaw Wraith reverting to a Jetsam and the Deathball Wraith becoming a Meerca.
This builds on
the dialogue
since the plot began where characters have mentioned the Wraiths being possessed Neopets.
As an additional note, since the new steps were released last week, a cap has been introduced to the number of wraith items you can farm - this appears to be 35. This is retroactive, so if you already had more Ectoplasm from the Snapjaw Wraith, you will already be capped. We advise for the time being not making 'spare' versions of the potions we already used, in case the ingredients are needed later on.
New Plot Steps
Posted by Herdy
Posted on December 1, 2017, 2:35 pm NST

New steps have been released in the
Wraith Resurgence
! These steps effectively have you repeating the steps from last week, but with slightly added difficulty.
(Note, TNT have fixed the "method" that allowed you to refresh Mystic Murmurs. You will now need to solve it the intended way, by deciphering Kaia's notes and notices.)
Our guide has been updated with the new steps, and we've created a step-by-step walkthrough for you to follow:
Scrappy has also clarified the matter of battle caps on the boards:
Okay folks, I've been waiting until I knew for absolute certain but battling to 100% is all you need to do! There is no extra achievement for extra battles!
Meaning that, once you have battled each Wraith to fill their progress bars to 100%, you will not get any additional points for overbattling (though you will get free Wraith ingredients for Taelia).
New Plot Dialogue
Posted by Dave
Posted on November 29, 2017, 11:37 am NST
Some new comments have appeared from a Light Faerie and Taelia at the
Resistance HQ
:
Light Faerie: This is incredible! How are you using the remains of the wraith to create potions that work against the darkness they spread?

Taelia: I realized the wraith have powerful magic coursing through them, and it lingers in the remains the warriors are bringing back from battle. It's tricky, but I managed to reverse the nature of the magic while retaining its potency so that it works against itself.

Light Faerie: Then why can't we just use the same magic to defeat the wraith?

Taelia: But how do we make them drink the potion?

Light Faerie: They don't have to! A few of us have come together to assist the warriors with special weapons that help take down the wraith - with your help, we can also try equipping them with this magic so that it works against the wraith they're battling.

Taelia: I'll see what I can do.
Timing for Next Plot Steps
Posted by Dave
Posted on November 29, 2017, 8:58 am NST
Scrappy has
posted a few notes
on the Neoboards regarding the timing of the next plot steps. It seems that the steps were intentionally slowed down to give time to the GMC.
Okay I got a couple things for you guys here...

1. Friendly reminder here, that we do not permit the sharing of offsite information. This includes email addresses, phone numbers, screen names, physical addresses, or ID numbers from other games. Thanks for respecting this!

2. SHOUT OUT TO TEAM LIVING! That was our bad guys, sorry for missing out on the news. Some say it was an honest mistake, I say someone on Team Dead was just bitter but that's neither here nor there. Either way you will have a post today for your glorious win in the Games Master Challenge!!

3. Sorry for the slowdown of the event, we wanted to keep GMC on track but don't fret, the next steps will be here very very soon! Thanks for all the patience and excitement about everything! You guys are truly the best community out there!!

That's all from us! Have a wonderful week!!

-TNT

P.S. Who else is excited for the Month of Celebrating?!! We know we areeeee!!!!
On a separate board, there's also new information regarding the ending of the plot, which seems to be in our hands:
The estimated date of finish is when you guys defeat them all....or they take over and you guys lose.....sooooo (but I think that will probably happen in a few weeks)
New (locked) Plot Achievements
Posted by Herdy
Posted on November 26, 2017, 1:11 pm NST
Update 27/11:
The extra achievements have now been removed, this also briefly coincided with the bridge on the HQ page becoming clickable (labelled Finding Kaia). Again though, no additional steps were actually active at that time.
You may have noticed that today came with some new achievements on the
Achievements
page of the Wraith Resurgence.

These achievements are not currently obtainable, and there are no further live plot steps to complete at this time - but they do give considerable spoilers as to what we'll be doing in the future. There are achievements for creating the remaining nine of Taelia's potions, as well as using them to heal all of the areas that will be effected around the site (suggesting a large part of the plot will be repeating the pattern we had in the initial update).
There are also two additional achievements that look under construction at the bottom of the list for using potions to heal NPCs - likely the cursed Neopets Fyora mentioned in her
dialogue
.
Important Note on Wraith Resurgence
Posted by Herdy
Posted on November 21, 2017, 6:12 am NST
Late last night TNT fixed the broken achievements in
the Wraith Resurgence.
The
Oh, Snap,
and
Snap, Snap, Snap
battledome achievements and the
Bubble, Bubble
achievement are now working correctly. They are not intended to award items, but instead will award you with more plot points for completion.

HOWEVER
an additional achievement hidden in the source code has also had its description updated to say that it will also increase plot points - and
it requires that you visit the Wraith Resurgence Hub page every day of the event.
It is possible this notice was added in error, and the achievement is not intended to be made live - but just in case we advise that you continue to visit the hub page every day regardless of whether there are any new plot steps to complete.
Wraith Resurgence Begins!
Posted by Dave
Posted on November 17, 2017, 6:16 pm NST



The plot has officially begun--things to do, anyway!
As a first step, head on over to the
Faerie Resistance Headquarters
, where you'll be greeted by Aethia:
I was just talking to the others about our preparations. Meanwhile, why don't you pick up a shield for yourself? I daresay you'll be needing it pretty soon.
You can also click on the medals on the table by Kaia to see your
achievements
, of which one you can claim a prize for already.
From there, you can begin interpreting the murmurings of Kaia:
You may also be interested in reviewing the
full series of dialogues
leading up to the event, along with seeing all of the
hidden notices
in one spot.