Your jnAccount:
Login
or
Register
| New to Jellyneo?
Click here!
Test Your Strength
Test Your Strength Information
World:

Trophies:

Neopoint Ratio:

1.00 Points =
1 NP

Our Difficulty Rating:

10%

[Send in a Game Tip] - [Return to the Game Guide Index]
We're collecting prize data!
Please let us know your prize result. Click Here >>
If you've ever been itching to test your own strength, there's no worse better place to go than Test Your Strength, Haunted Wood's very own strength test game. The game is completely random, unfortunately, meaning you will never know just how strong you actually are.
If you'd like to try it, Arnold, the owner, will kindly lighten your pocket by 100 Neopoints. Once you have pressed 'Click to Start!', aim your mouse at the giant red button. When you have aimed correctly, let go of the mouse button and you will see how well you did. It doesn't matter where you hit it, as it's all random from here on out.
The game can be played once every 6 hours. Here is a full view of the Test Your Strength board: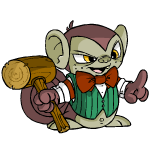 "Swing the mallet and see how strong you really are!"
The prizes are mostly spooky-themed items. Some are expensive and can be only acquired from this game, while others are very cheap. You may get lucky and win a Snorkle Snout, a Halloween Paint Brush (when you get a score of about 70), or a Mummified Negg. But if you are unlucky (which is most of the time), you will most likely just get a normal Slime Sundae or a petty amount of Neopoints.
The Neopoint rewards range from 1 to 300. If you get the jackpot however, you can win up to 1,000,000 Neopoints. For a while, the Jackpot was impossible, but it has now become achievable.
Prizes
Test Your Strength Prizes
In addition to the above prizes, it is also possible to win many other common spooky foods from Test Your Strength.
That just about sums up this here guide. Good luck! Show Arnold what you're made of!
Help us improve!
Did you find what you were looking for on this page?
This game guide was written by: Zador & JN Forum Members