Your jnAccount:
Log In
or
Register
| New to Jellyneo?
Click here!
Tale of Woe Plot Coverage
Jellyneo's Tale of Woe Plot Coverage
Day 5: October 20th
Day 5 of the plot is officially over!
Please read this to see why.
You will not need to dig/test/find ingredients to continue on with the plot.
(Just skip to the next section.)
NOTE: If you get a 404 error when you visit the Shack, it means that you have not successfully completed Part I of the plot. Check out our walkthrough to make sure you have done all the steps.
1. Go to the Caretaker.




The Caretaker:
Again, I can't thank you enough for returning my books. If you'd like to peruse them, please feel free.

--------------------------------------------------------------------------------

Sophie:
Well, let's dig in. We've got a lot of graveyards to search.

Bruno:
It's going to take us a long time to dig up that many graves.

Sophie:
Correction: It's going to take you a long time.

Bruno:
Well what are you going to be doing?

Sophie:
I'll be mixing up a potion that we can use to test each bone. If it belongs to the Spirit of Slumber, it'll glow.

Gilly:
Can I help?

Sophie:
Well, sure. Someone's gonna have to fetch potion ingredients for me.

Gilly:
Great.
Click on the 'Examine the graveyard lists' button.
2. You will see the following message:



The books contain detailed lists of information about every graveyard in the Haunted Woods. There sure are a lot of graveyards in the Haunted Woods!

The caretaker clears his throat. "The graveyards are all named according to a complex coordinate scheme that I devised. Unfortunately, it's too complex to explain, so just tell me which graveyard you want to go to and I'll guide you there."

"Once you've finished, er, exploring each graveyard, I'll remove it from this list and find another one for you to search."
Choose a graveyard, (don't worry, you always have the option of switching to a different graveyard).
3. You will now come to a page with 3 options.
You may do each task as many times as you want, BUT you can only do one task at a time!

- Click on 'Enter graveyard' to start digging up graves!
(If you choose this task, proceed to step 4)
- Click on 'Sure, I can handle it. Which ingredient?' to find potion ingredients!
(If you choose this task, skip to step 5)
- Click on 'Take potion' to start testing bones!
(If you choose this task, skip to step 6)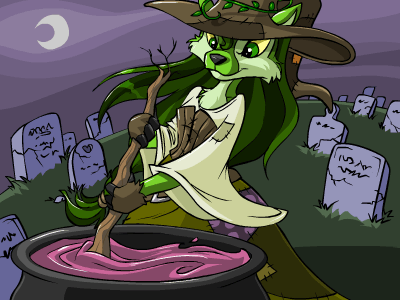 4. LET'S GO GRAVE DIGGING!

The graveyard should look something like this:
The black outlined square is where you are at. You can now navigate through the rows and columns, searching for clickable graves that have not been dug up already. You will only be able to click on the gravestones that are adjacent to where you are.

Once you have found an undisturbed grave, (or a grave with less than 4 people at it), you will see something like this:
Click on 'Join the diggers' to join. If you don't have 4 people, keep clicking on the 'Wait' button; this basically freshes the screen and updates the status of your grave.

When you have 4 people, one of the Neopets on the screen will be highlighted in pink. Keep clicking 'Wait' until your Neopet is highlighted. Then click 'Dig.' Keep repeating this process until your grave is all dug up!

If you leave a grave you have joined, you are banned for a few minutes. When you finish digging up a grave, you have to wait 5 minutes before you can dig again.

Note: Sometimes, you dig up items (e.g. Fetch! Stamp, Spooky Doughnut, Meowclops Statue)! These go straight to your inventory.
5. FINDING POTION INGREDIENTS

Sophie will tell you which item she needs. Head to Sophie's Shack and click on the door. Inside, you will see shelves of ingredients: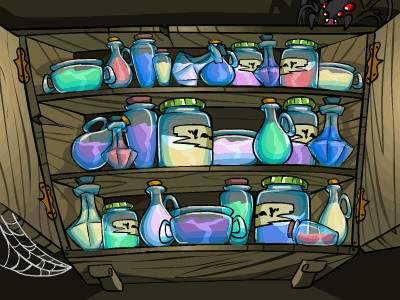 When you hover your mouse over each potion, pay attention to the URL in the status bar of your browser:
The following IDs correspond to the following ingredients:
Potion Ingredients
| | |
| --- | --- |
| ID# | POTION |
| 1 | Bagguss Juice |
| 2 | Juppie Extract |
| 3 | Kadoatie Essence |
| 4 | Tanglevine Sap |
| 5 | Liquid Chokato Mould |
| 6 | Moonwater |
| 7 | Liquid Meepit |
| 8 | Alyseth |
| 9 | Bloatershroom Extract |
| 10 | Liquefied Bumroot |
| 11 | Crushweed Juice |
| 12 | Boiled Tree Bark |
| 13 | Worm Snot |
| 14 | Soaked Babaa Wool |
| 15 | Spicy Mortogberry |
| 16 | Jurple Butter |
| 17 | Boiled Meowclops Saliva |
| 18 | Barkroot Dew |
| 20 | Grundo Goo |
| 21 | Powedered Bloodfern |
| 22 | Pureed Sharpgrass |
| 23 | Mutant Gruel |
| 24 | Evaporated Snorkle Juice |
| 25 | Ghostbeef Essence |
| 26 | Glowing Zomutt Mucus |
Now return to the graveyard to receive a 50NP reward from Sophie. Be sure to click the 'Continue' button!

You may now choose another task to do.
6. TESTING BONES

Once you have your potion, click on 'Enter graveyard' and search for a grave with bones in it (it'll look like the above tile).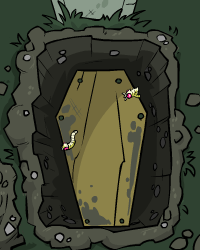 If you have your potion and no one is currently testing the bone, you the message:
The bones at this grave still need testing! Time to put on your thinking cap.
Click "Continue" as quickly as possible. If you got the bones, you will see a message telling you the mass and volume of the bone:
You remove a large bone from the coffin and examine it. Some quick estimates tell you that it weighs 3,263 grams and has a volume of 2,330.71 cubic centimetres. How many drops of potion do you put on the bone?
Now you must calculate the number of drops needed. Should you wish to do it yourself, divide mass by volume to get the density. Square the density then multiply by twenty-five. If correctly calculated, you will see a bone. If it is not the Spirit of Slumber's Bones, then you will see this message:
You drip 49 drops of potion onto the bone...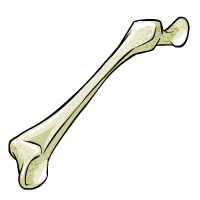 Hmm.


The potion absorbs into the bone, and... nothing happens. Looks like this bone doesn't belong to the Spirit of Slumber.

You gain 150 NP!
If you no longer wish to do this task, go back to the graveyard and click 'Return potion.' Sophie won't be happy about it, though.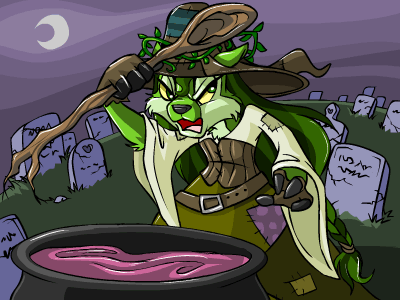 7. The end result, after 4 days of digging, questing, and testing: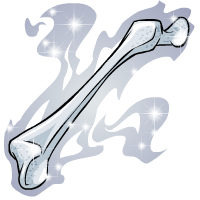 "heavenest found the Spirit of Slumber's bones!

The bones glow with an unearthly silver light."



8. If you visit the Haunted Woods, you will get this random event after a bit of refreshing:
You have now finished Day 5 of the Haunted Woods Plot! If you need help, or would like to discuss the upcoming parts, check out the forum discussion. You can also continue on to Day 6's steps.