Your jnAccount:
Log In
or
Register
| New to Jellyneo?
Click here!
Petpet Park Mini-Plot
Petpet Park Mini-Plot Coverage by Jellyneo
Operation Petpet Park : Mission Two
The Petpet Park Mini-Plot is now over!
You cannot complete the missions anymore!

The second mission in the Petpet Park Mini-Plot, Operation Petpet Park, has begun! To officially get started, click the green paw print in the Petpet Park flash logo in the upper left hand corner of the main celebration page (see the non-shaded part below).


Next, read Weltrude's welcome and click the mission two icon to read the second chapter comic and then proceed on your mission! You'll rejoin the agents leaving Terror Mountain, and learn about your next mission - finding the Hifflo in Shenkuu. There you'll bridge the worlds, with the assistance of the Moonlight Opal, and escort the Hifflos back to Petpet Park safely.
After getting briefed, head on down to Shenkuu, where the Moonlight Opal is located.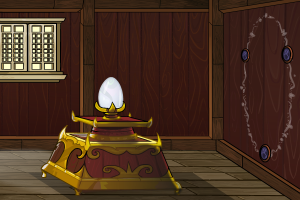 To pass, you'll need to use the opal to light up all three gems. You can rotate the opal into twelve different positions - think of it like a clock. Three of those positions will light up a gem, but you only have a certain number of tries before the moon changes; which seems to vary each time. After you restart, however, the positions you used previously to light the gems will no longer work, and you'll have to start over again until you get all three lit before the change of the moon.
Note: The pattern is different for everyone. Just because your friend got it one way on the first try doesn't mean you will!
Big Hint: The gems are spaced 120 degrees apart, so once you find one position that lights a gem up, move the Opal 4 spaces to clockwise, let the moonlight in, and then move it again 4 more spaces clockwise and let the light in again. This should do the trick.
Once you get all three jewels lit, the Hifflo will pop through the portal. Escort it back to Petpet Park safely!

Hifflos are quite adorable, aren't they?
The agents and Weltrude (aka 'Mother Bruce') are beginning to suspect that someone, or something, may be interfering with their missions, although they aren't sure who.
You can now move on to Mission Three!