Your jnAccount:
Login
or
Register
| New to Jellyneo?
Click here!
Reading and Pet Intelligence
Do you want your pets to be intellectuals? Do you wish your pets were more well-read? Have you been eyeing the ULTIMATE GENIUS pets of your friends and wishing your pets could be the same? Well, now they can! This guide will give you a rundown of all the methods commonly used to increase your pet's intelligence. That's right, we're here with the solution for how to make your pet smarter!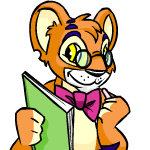 Reading Books to Pets
The most well-known, well-discussed, and simple way to increase your pet's intelligence is by reading to him or her. This raises your pet's intelligence level points; each book is worth 1-2 points (this is completely random). You've probably seen a book item on Neopets and possibly read a couple to your Neopet. But if you haven't, here's how it works:
Step 1: Buy a book. This can be done at the Magical Bookshop in Neopia Central, as well as many other bookshops around Neopia. Here's a handy list of them, right here on JN! You can also earn books from dailies and site events.
Step 2: Go to your inventory and click on the book you wish to read. In the drop-down menu, select the pet you wish to read the book to and click submit. Unless your pet decides the book is not for them (to be mentioned later), it will vanish in a puff of smoke of a random color and your pet's intelligence level will increase.
Loyal User Perks
Once your account matures to 24 months or older, you unlock the possibility to keep a book after reading it to your pets. When reading a book to a pet on an aged account, there is a small chance that the book will remain in your inventory after reading. It will still register that your pet has read it and it will count towards any applicable book awards. You can then choose to read the book to a second pet, sell it, give it to a friend, or whatever you want.
Book Smarts Boon
Certain factions give the opportunity of activating the Book Smarts boon if you side with them and they emerge victorious from the Battleground of the Obelisk. When activated, reading a book to your pet will cause it to gain two or four intelligence points instead of the standard one point increase.
Book Awards
There are two awards that you can win by reading to your pet: the Neopian Book Award and the Booktastic Book Award. The shiny trophies for each of these awards are given to those Neopian citizens who have read the largest number of books and Booktastic Books, respectively. The Neopian Book Award covers all books not sold by the bookshop on Kreludor. The Booktastic Book Award covers only books sold by the Booktastic Books shop on Neopia's moon.



One day...oh glorious day!
These trophies are pet trophies. That means that they will show up not on your lookup, but on your pet's lookup. If you're going for one of these trophies, we have some handy checklist tools here on JN for you to use:
Book Checklist
Booktastic Book Checklist
Simply head over to the Control Panel --> Quick Reference page and click the link that is your pet's intelligence value. Copy-paste the source code of the resulting page into the box given, and the tool will output a lovely checklist for you sorted however you like!
Levels of Intelligence
For every book you read, or action you take to increase your pet's Intelligence, their number of points will go up. However, there are designated "levels" of intelligence that your pet can be at.
In terms of points accrued, the levels are:
0-4: Dim Witted
5-9: Dull
10-14: Average
15-19: Above Average
20-24: Bright
25-29: Clever
30-34: Very Clever
35-39: Brilliant
40-44: Genius
45-49: Super Genius
50-54: Mega Genius
55-59: Total Genius
60-94: Master Genius
95+: Ultimate Genius
Note: Only Grundos and hatched Draiks start at intelligence level 0 and can obtain these two levels; all other Neopets start at 10.
In terms of books read, the levels are estimated to be:
0-2: Average
3-4: Above Average
5-7: Bright
8-11: Clever
12-13: Very Clever
14-16: Brilliant
17-19: Genius
20-22: Super Genius
23-25: Mega Genius
26-28: Total Genius
29-48: Master Genius
49+: Ultimate Genius
Note: In order to bring a Grundo's intelligence level up to speed, they will need to read approximately 5 additional books.
Refusing to Read a Book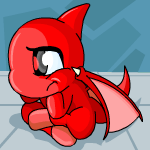 Sometimes, your Neopet will refuse to read a book, saying something like "That is like such a boring book!"
There is an easy way to fix this issue: look at the bottom of the page on Neopets and select a different language to browse the site in. After selecting a new language, try reading the book to your pet again. You may have to try a couple, but eventually one will work. Note: this trick has stopped working for some users. If this is the case, try using a different browser and changing your browser's language. Then, visit your inventory and attempt to read the book.
Why does this work, you ask? It's based on the number of letters in your pet's name compared to the number of letters in the item name. If the book's name is a multiple of your pet's name (ex: you have a 4-letter named pet, and the book's name is either 4, 8, 12, etc letters), your pet will find the book boring. But, your pet will happily read the book in German or French if the translation changes the number of letters of the title!
Uses for Intelligence
As of right now, there are few uses of intelligence in Neopia. However, a couple Battledome weapons require a certain threshold of intelligence in order to work, which you can read more about in our Battlepedia.
For a full list of Battledome items whose properties change depending on either your pet's intelligence or the opponent's intelligence, see the advanced search in the Battlepedia.
Other Ways to Change Pet Intelligence
There are several other ways to increase your pet's intelligence that don't require the collection books. Here are some of them:
The following items will also affect your pet's intelligence if used:
Items That Increase Intelligence
Help us improve!

Did you find what you were looking for on this page?
This article was written by: Zelda