Your jnAccount:
Login
or
Register
| New to Jellyneo?
Click here!
Past Jellyneo Events
We've hosted numerous site competitions and events, and here is a listing of them all, with links to the winners, plots, etc. :)
Past Events
AC XI Staff Tourney
For the eighth time, all of the JN staffers got together and played a competitive round of Yooyuball!
Trivia Challenge 2015
Trivia made a return for the 2015 holiday season!
Costume Contest 2015
The ninth annual costume contest had another successful year, with the winner getting 4x more votes than other contestants.
AC X Staff Tourney
For the seventh time, all of the JN staffers got together and played a competitive round of Yooyuball!
Build-a-Species
Build-a-Species returned for April, asking our visitors to build a new species of Neopet. Congrats to the Orangia, our winner!
Trivia Challenge 2014
Trivia made a return for the 2014 holiday season!
Costume Contest 2014
The eighth annual costume contest brought back our rating system for another successful contest.
Downtime Trivia Challenge 2014
Trivia made a surprise return for the transition downtime in September 2014.
AC IX Staff Tourney
For the sixth time, all of the JN staffers got together and played a competitive round of Yooyuball!
Build-a-Species
For our 2014 April Fools' prank, we tricked everyone into thinking they were building the next species of Neopet, and we had a contest!
Trivia Challenge 2013
Trivia made a return for the 2013 holiday season!
Costume Contest 2013
The seventh annual costume contest featured a new voting system with no limitations on pets in the first round.
Negg Hunt 2013
A certain Grarrl decided to participate in the Hunt and caused all sorts of trouble across Jellyneo's various departments.
Trivia Challenge 2012
Trivia made a return for the 2012 holiday season!
Costume Contest 2012
The sixth annual costume contest featured pets with a lot of gangnam style, but the creative invisible pets showed everyone just how creepy they can be!
AC VII Staff Tourney
Geared up for their worlds finest sporting event, the staffers played their hardest in this years Yooyuball arena. This year included a special scavenger hunt for those riddle savvy faction members.
Negg Hunt 2012
The Neggative Fearie created chaos by stealing the JN Neggs and turning them into Neggative Neggs. A whole new set of challenges awaited the players this year.
Trivia Challenge
To wrap up 2011, we posed a different question to JN visitors every day for a week.
Costume Contest 2011
The fifth annual costume contest showcased many all-star entries. Super Mario warped his way into first place!
AC VI Staff Tourney
An epic rivalry occurred between team Diet Terror and team Jelly Squad, to celebrate the sixth annual Altador Cup. Only one staffer remained to claim the Jelly Sceptre.
Negg Hunt 2011
The Negg Hunt returned in 2011 with new puzzles, portals, clues, and of course, a new mind-boggling safe to crack!
Costume Contest 2010
The fourth annual costume contest featured many elaborate outfits, with Ron Weasley taking first place!
Soda Wars: The Refreshment Due
Jellyneo's soda supply went from low to nonexistent, but with the help of some new companies, as well as Jellyneo users, the soda crisis was resolved.
AC V Staff Tourney
For the fifth annual Altador Cup, JN staffers competed with each other to see who would win the Jelly Sceptre and bragging rights for the next year.
Negg Hunt 2010
The Negg Hunt returned in 2010 with hair-pulling, mind-bending challenges. Socko gave this one a five-toe rating!
Costume Contest 2009
The third annual costume contest was a magical success, with Harry Potter taking top pick!
AC IV Staff Tourney
For the fourth annual Altador Cup, JN staffers got into the spirit by competing with each other to see who was the ultimate Yooyuball player... again!
Negg Hunt 2009
The Negg Hunt returned in 2009 with even more challenges, but less mutant, rabid Cybunnies! (Much to the delight of Rosie.)
Costume Contest 2008
We had another competition for the best dressed pets in our second costume contest!
Where are the JN Staffers?!
When our fourth birthday came around, we couldn't celebrate properly because all of the JN staff had gone missing! Those pesky Cybunnies from the Negg Hunt showed up again.
AC III Staff Tourney
For the third annual Altador Cup, JN staffers battled each other to see who was the ultimate Yooyuball player.
Shopping Fiasco
During the holiday season of 2007, a few JN staffers went shopping for presents at different stores. Unfortunately, they all met one another in a rather clashing encounter...
Meepits Attack!
Another event for Halloween 2007 featured Meepits attacking poor users across the site. Luckily, they were all defeated by our loyal JN users!
Costume Contest 2007
For Halloween, we hosted our first ever costume contest so that pet owners everywhere could show off their creative dressing talents.
Negg Hunt 2007
Our first annual Negg Hunt was held in April 2007.
Item Scavenger Hunt
Towards the end of December 2006, we hosted a scavenger hunt in our brand new Item Database.
Older Events
Jellyneo has hosted events since the very first year we opened back in 2004. Below are some recaps of our older events that are no longer hosted on the site.
A JN Par-teh!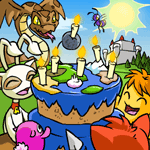 To celebrate our second birthday, a party was thrown! However, we kept terrible track of what our guests ate, drank, played, wore, and brought as gifts! So, we left it up to you, our faithful visitors, to help us figure it out based on a series of logic puzzle style clues.
Slimy Slorgs Attack
SLORGS ARE ATTACKING! Or at least they did back in February 2006. Mysterious slime began appearing all across various JN pages one day. As the problem grew, it was found out that Slorgs were behind the mess. Slowly, they began approaching visitors and challenging them with puzzles.




For those who braved the attacking Slorgs to solve their puzzles, we presented them with a shiny trophy and award. However, the shadowy figure behind the plot was not apprehended by the conclusion of the event...
Jack-O'-Lantern Carve-Off



For Halloween 2005, we hosted a pumpkin carving contest and rewarded those who sent in photos of their pumpkins. During the submission period from October 9th through October 25th, a whopping 4 users participated and sent in carved pumpkins. Not necessarily our most popular event. :)
The Hunt for the Golden Jelly
This was our very first puzzle that required users to search across the site for clues. It ran during the site's first birthday in August 2005, and it was modeled off of the puzzles from the earlier days of Neopets that required looking through source code and search pages meticulously.
Turns out, Dave owned a very special artifact called the Golden Jelly, rumored to be imported direct from Jelly Wo--err, somewhere. Rather predictable, it was stolen from Dave and users could help out to track it down and return the artifact from the thieves.
Christmas Extravaganza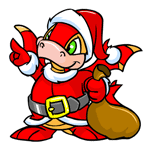 The first event Jellyneo ever hosted, it ran during the month of December back in 2004. Users were subjected to Christmas carols played across the entire site in Midi format. To participate, users had to guess what each of the songs were on a daily basis.
The users who got the most right were given fame and glory! Well, as much as being on a high score table from an event back in 2004 would get them.