Your jnAccount:
Login
or
Register
| New to Jellyneo?
Click here!
The Neopian Lottery
The Neopian Lottery Information
World:

Trophies:

Neopoint Ratio:

1.00 Points =
1 NP

Our Difficulty Rating:

10%

[Send in a Game Tip] - [Return to the Game Guide Index]
It's the Neopian Lottery! Like a gumball machine gone mad, colorful balls bounce around inside the lottery machine, each bearing a unique number. If you can correctly guess which numbers will turn up, you could win-- big time!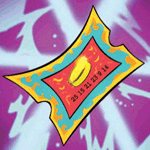 May the odds be ever in your favor...
How to Play
To participate in the Neopian Lottery, you must buy a ticket (at a cost of 100 NP) containing six unique numbers between 1 and 30. While you could use the numbers 1-2-3-4-5-6, using 1-1-2-3-4-5 wouldn't be allowed, as the same number will never come up twice on the same run. The order in which you enter the numbers isn't taken into account, as both your ticket and the winning numbers will automatically be ordered from lowest to highest. You can buy up to twenty lottery tickets each day.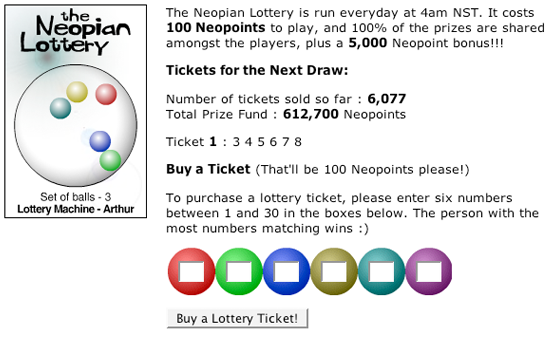 Despite what the lottery page says, each day the drawing time gets a little later!
In order to win, four, five, or six numbers on your ticket must match the numbers that come up in the lottery. Only the tickets with the greatest number of matches will be considered winners; even if your ticket has five matching numbers, if someone else has six matches, you would win nothing.
The jackpot each day depends on the number of tickets sold, with any Neopoints spent on tickets going directly to the prize pool. There is also a bonus of 5,000 NP added to the pool; if 10,000 people bought tickets in a given day, the jackpot would be 1,005,000 NP. The prize is split between all winning tickets.
If you have a winning ticket, you will receive an e-mail (not a Neomail) letting you know the winning numbers and how much you've won.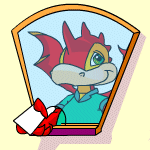 Me, I never play the lotto. Have you taken a statistics class?
While you're normally unable to purchase multiple tickets with the same numbers on them in a given day, it's possible to do so through a quirk in the way tickets are processed. When generating a ticket from the numbers you've entered, the lottery will arrange the numbers from lowest to highest; by submitting different arrangements of the same numbers, you can receive multiples of the same ticket.
This technique could be used to play the game in a way that was never intended, but there is no clear advantage to doing so. While winning with two of the same ticket would award you nearly twice the NP you would get otherwise, it diminishes your odds of winning by a large enough amount as to not be worth it.
If you would like to increase your odds of winning on a given day, there's a trick that can be used to double your number of tickets: simply purchase twenty tickets sometime after the lottery has been drawn for the day, then purchase another twenty after midnight (and before the next drawing). Since the lottery is drawn in the afternoon, but the ability to buy tickets is reset at midnight, you can buy two sets of tickets and use them in a single drawing (though this means that you will not be able to buy tickets for every drawing).
Lotto-Matic
The Jellyneo Lotto-Matic will randomly generate numbers for twenty lottery tickets, supplying you with links to purchase these tickets without having to manually enter the numbers. Click the Generate button below to give it a try!
Scoring
While the Neopian Lottery doesn't have a traditional high score table, it does award trophies, based on the number of Neopoints won with a single ticket.
Trophies
| | |
| --- | --- |
| Trophy | Neopoints won |
| | over 1,000,000 NP |
| | over 500,000 NP |
| | less than 500,000 NP |
While it is possible to win a trophy after buying multiple tickets with the same numbers as described above, the odds of doing so are incredibly low. On top of this, since the jackpot is shared by all winning tickets, you would actually decrease the likelihood of receiving the higher-tier trophies. If you were the sole winner of a 500,000 NP jackpot, split between two tickets, each ticket would only award 250,000 NP, thus giving you the bronze trophy rather than silver.
Neopian Lottery / Guide
Win the Neopian Lottery, and then visit the page showing past winners to claim your avatar.
Released: November 12, 2014
Help us improve!
Did you find what you were looking for on this page?
This game guide was written by: Chesu