Your jnAccount:
Log In
or
Register
| New to Jellyneo?
Click here!
The Neolodge
The Neolodge, often simply called "the lodge", is a system of hotels that will accommodate your pets for one to twenty-eight days at many price ranges; there are ten hotels available, ranging from the one-star economy hotel Cockroach Towers at five Neopoints per night all the way to the five-star AstroVilla at five hundred Neopoints per night! There is also a variety of extra luxuries for an additional five Neopoints per night.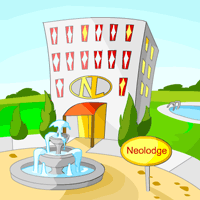 The lodge's staff will care for your pet and feed them until they are "bloated" during their stay. Yes, even your Grarrl. Somehow, while he's on his vacation, he will magically no longer think that battle ducks are light snacks, or accidentally hinder your attempts at the rubbish avatar by eating all of your items from dailies.
Sound good? Let's check in.
Booking Your Stay
"Okay, self," you say, "I want my pets to have the best I can afford, and I'm going away for two weeks, so I'll spend that seven thousand Neopoints per pet. They'll be thrilled at the AstroVilla, right?"
Right.
But they'll be just as happy at Cockroach Towers. Without any of the extras.
One can only surmise that Neopets don't discriminate, or that Cockroach Towers is nicer than it sounds and should consider a name change. Either way, you win in every conceivable way: your bank manager doesn't wonder how you manage to afford all of this, and your pets are happy and fed.
Because of the low cost of the Cockroach Towers, many players put their pets in the lodge to keep them fed even while they're active. It's cheap and maintenance-free, and it's especially useful for species with voracious appetites.
To reserve a room for your pet, simply follow the four-step directions on the main Neolodge page. When you click "complete booking", your pet will begin checking in!
It is important to note that even if you do not supply a plan to keep your pets cared-for and fed (absolutely do not under any circumstances give your account to someone else for this purpose, or any purpose at all for that matter) they will not run away or die or hate you forever.
To check out of the lodge early, you can do so via Quick Reference. Just click on "check out early?" under the notices section!
Help us improve!
Did you find what you were looking for on this page?
This article was written by: Riley