Your jnAccount:
Log In
or
Register
| New to Jellyneo?
Click here!
The Neocola Machine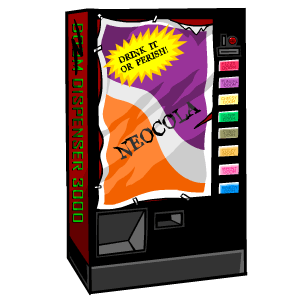 Location
The Neocola Machine is located on scenic Kreludor, and if you're wondering how it works, you've come to the right place!
Obtaining Tokens
In order to use the Neocola Machine, you need to obtain one of three Neocola Tokens:
You can find these tokens in the following places:
Prior to November 2013, Neocola Tokens were also available from Space Faerie Scratchcards before the prize pool was updated.
Using the Tokens
When you approach the machine, you'll be given a few options to choose from, namely: which token you would like to use, which flavor of Neocola you would like, and how many times you would like to press the red button.
The following flavour options are available:
Dr Slother
Diet Doom
Na'cho Cola
Smite
Alt-Tab
Minion Maid
Mountain Poo
Dehydrated H2O
You can also choose from 6 numbers for pressing the red button. Those numbers are 0, 1, 2, 3, 10, and 42.
Although full, rigorous research has not been completed at Jellyneo, there is likely no specific combination of options that will give better results. The rarer prizes remain rare in many of the different combinations that Neopians have tried repeatedly in the past.
Once you've made your selections, you'll be given your prizes.
Prizes
For each token used, you will receive an item and a random number of Neopoints (usually between 40-850 NP). While you typically will win less than 1,000 NP, people have reported wins of up to 16,000 NP.
Exclusive Item Prizes
These prizes are exclusive to the Neocola Machine and can only be won here (with the exception of the Baby Space Fungus which can now also be obtained by beating Giant Space Fungus at Battledome):
Exclusive Prizes

Baby Space Fungus

Dastardly Evil Fuzzle

Dented Can of Neocola

Fake Neocola Token on a String

Fake Sloth Tattoo


(wearable)


Gummy Baby Space Fungus

I Club Sloth Grundo T-Shirt


(wearable)


Kreludan Grundo Slippers


(wearable)


Lint-Covered Peanut

Non-Sticky Sticky Hand

Plastic Ring of Sloth

Shaken-up Can of Neocola

Sloth Gummies

Sponge Grundo Sponge

Super Energy Blast Drink

Virtupets Brand Doomsday Device

Wind Up Dr. Sloth Toy


(wearable)
Transmogrification Potions
It is extremely rare to do so, but you can also win a Transmogrification Potion, or any item containing "Transmogrification Potion" in its name:
Transmogrification Potions
Other Prizes
You also have a chance at winning a Robot Petpet:
Help us improve!
Did you find what you were looking for on this page?
This article was written by: Terry