Your jnAccount:
Login
or
Register
| New to Jellyneo?
Click here!
MAGAX: Destroyer II
MAGAX: Destroyer II Information
World:

Trophies:

Neopoint Ratio:

0.25 Points =
1 NP

Our Difficulty Rating:

30%

[Send in a Game Tip] - [Return to the Game Guide Index]
MAGAX... the unmistakable, improperly-/oddly-capitalized, ever-so-cool-looking Wocky known for his extreme hatred of the mighty Hubrid Nox. Ergo, this game being about him fighting Nox's hordes of evil ghosts that were raised from the dead to do battle with and conquer the whole of Neopia, but are doomed to fail by MAGAX's paws. Got all that? Good, glad somebody did.
Anyway, this game is a revamp of the original MAGAX: Destroyer; a rather old game best known for having an avatar to go with it, if you get enough points. In most people's opinions, including my own, it's much, much easier than its predecessor and now the avatar it offers is a possibilty for many more people.


FEAR: Me, for I HAVE an Oddly CAPITALIZED: Name!
Controls
In MDII you control MAGAX, the blue Wocky with a scar over his eye and a blood lust of everything Hubrid Nox. Throughout the course of the game you fly around a graveyard, where Hubrid has had hundreds of evil ghosts raised from the dead to do his bidding (in other words, take over the world), shooting the ghosts and sending them back into eternal rest. To shoot MAGAX's laser, just press the space bar. Unfortunately, you can't keep shooting it forever; at the middle of the top of the game screen are two bars you'll probably be glancing at throughout the game, the power and health bars. The power bar lets you know whether or not you'll have to wait a few seconds to fire another laser, because if you've been continuously firing it for a while then you'll have to let it recharge. It doesn't have to be full for you to be able to fire, though.
The health bar simply lets you know if you're about to die or not; you have five hit points in the game and every time you get hurt one of those points will be taken away from the bar, bringing you closer and closer to a game over. However, you'll be seeing skulls surrounded by a weird, green glow, and every one of them will give you back a hit point if you collect it. To do that, simply fly through it.
Actually, the mention of flying brings me to another point: MAGAX's movement. In MDII, MAGAX is always moving, flying left or right at every moment of the game. Maneuvering him is still easy enough since the left, right, up and down arrow keys on your keyboard will, as in virtually every other game on Neopets, make him go up, down, turn left or turn right, depending on which key you pressed. But, if you hold down the left arrow key while he's flying left then he'll speed up. However, if you just tap the left arrow key while he's going left, nothing will happen. Tapping a key: nothing. Holding a key down: flies faster. Right? Right.
Evil Baddies
In this game, you'll be encountering four types of enemies: evil, flying zombie/ghost Cybunnies; evil, flying, fire-breathing zombie/ghost Scorchios; not-so-evil, microscopic, ghost Jubjubs; and Hubrid Nox himself. So generally lots of evil undead stuff then.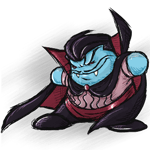 I'll get you, my pretties!
Let's start with the Scorchios, which give ten points each. First of all, they could be considered the most vital aspect of the game, because they're the only enemy that you need to destroy to proceed to the next level. Every level the number you need to kill to advance increases by four, but don't sweat it. The little flames that come out of their noses are just part of their animation, but in later levels as you get closer to them them will breathe fire at you. This fire is more of a defense mechanism rather than an attempt to attack you; if you shoot your laser at them while they are breathing fire then their fire will deflect the hit and shield them. This can lead to infuriating moments where you spend ages maneuvering into position to fire at them, only to have them absorb the hit. Just try to be patient and keep your distance from them though and you should be fine. In earlier levels they only take one hit to kill; in level 8 this increases to 2 hits, then 3 hits in level 9, and by level 10 you'll need to hit them 5 times to kill them. You may want to leave one or two of these guys at the beginning of your game to make sure that you don't accidentally complete the level without killing all of the Cybunnies and Jubjubs first. (Thanks to pomtreez for the tip).
Next, the Cybunnies; perhaps the most confusing of the enemies. It takes four shots to take them down, and they give a nice twenty points each. Asides for that and a few other details, they're no different from the Scorchios. Except that, well... THEY'RE ALL HUBRID NOX SWITCHER-THINGIES! Ahem. What I mean is that, quite frequently, they suddenly turn into Hubrid Nox (detailed below). Don't worry, they'll change back pretty quickly! But seriously, they're bad. Don't get close to them. They'll steal your pocket money.


Now you see me...
Then we have the tiny little Jubjubs that give only one point each. At first thought, that stinks, but hold that thought a moment. In the first week or two of MDII's release these guys didn't exist and the maximum score anyone could get was 4,280. With their introduction, that all changed; they randomly appear throughout the game giving you up to dozens more points than you could originally get, making the game more interesting and variable. As far as I know there's no actual limit as to how many can appear in one game, and they are the only thing separating the top scorers on the high scores list. Still think they stink? Didn't think you would...
Finally, there's the ultimate baddy, Hubrid Nox. As mentioned above, he morphs from the Cybunnies found abundantly throughout the game and nowhere else. No Cybunnies, no Hubrid. He doesn't even give you any points if you shoot him, and to make it even worse, he shoots fireballs at you! Then again, unlike in the older version of the game, if the fireball touches you then you'll still burst into flame but the fire won't actually harm you. At all. The only thing it does is stop you from shooting your laser and make you go slower for approximately ten seconds. After that time has elapsed you'll be normal again, then you'll be free to shoot the Cybunny he once was. Go get 'em! The fireball's effects can accumulate though and if you get hit with a second one whilst already aflame then a further ten seconds will be added on to your inactivity. If Hubrid Nox is currently throwing fire, try to get to the top of the screen where it is harder to be hit.
Cheat
Type in 'xagam' at any point during the game to restore your health meter to full. You can only do this once per game though, so use it wisely.
The SUPER List!
Once you know all of that, the rest of the game can be summed up in this convenient list for you to learn how many points you should have at the end of each level, how many of which baddies there are in it and what levels go with what other things. All of the various scores listed tell you the minimum score you should have at the end of each level, meaning that if you have any less than you missed some Cybunnies somewhere in the game. If you have more than the score listed, that means you got some Jubjubs. Good for you!
Baddies
| | | | |
| --- | --- | --- | --- |
| Level | Scorchios | Cybunnies | Score |
| One | 8 | 5 | 180 |
| Two | 10 | 6 | 400 |
| Three | 12 | 7 | 660 |
| Four | 14 | 8 | 960 |
| Five | 16 | 9 | 1,300 |
| Six | 20 | 11 | 1,720 |
| Seven | 24 | 13 | 2,220 |
| Eight | 28 | 15 | 2,800 |
| Nine | 32 | 17 | 3,460 |
| Ten | 40 | 21 | 4,280 |
So, now you know just about everything there is to know about MAGAX: Destroyer II. I would wish you luck in getting the avatar, but you probably won't need it, so instead I'll just wish you luck in being speedy enough to get a trophy on the first day of the month. Bye-bye!
MAGAX: Destroyer II Avatar
Help us improve!

Did you find what you were looking for on this page?
This game guide was written by: Daniel