Your jnAccount:
Log In
or
Register
| New to Jellyneo?
Click here!
The Lost Desert Plot
Jellyneo's Lost Desert Plot Coverage
Scroll Repository
UPDATE: This part of the plot is no longer active. If you have not already moved sand, moved blocks, or placed furniture, then you do not have to do it. Go right to the Chefs & Crystals Page.
Digging Out the Repository
The next major installment of the LD plot was to help dig out the scroll repository! To do so, you'd need to take a stroll in the desert until you come across two angry guards...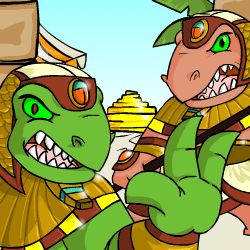 Two hefty guards block you at the access gate to the Scroll Repository. "Only licensed contractors are allowed into the Repository site!" one of them bellows. "What's your business here?"

Maybe you should say something...
You are given a list of things to say. Certain sayings correspond to the symbol that was on your Nuria statue. However, before you can say anything, you need to visit the Temple again and visit a library and read the scroll of the symbol on your statue. This is very important.
Here's what each library will contain: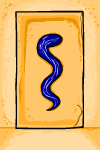 Djo, Fer, Kar, & Tep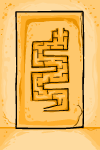 Ben, Lat, Nem, & Saf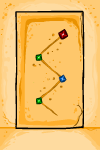 Ahn, Kha, Ra, & Set
Suppose my statue's symbol was Ben (the little birdie). I would have to visit the maze library, read the scroll with the bird symbol, and then (and only then) could I visit the repository.
Now, if you're wondering what to say, here is what you need to choose based off of what symbol your Nuria statue was:
Ahn: I'm here with extra charcoal for the caterers.
Ben: I'm here to prepare food for your Elephante workers.
Djo: Did that Anubis get its 15-minute break yet?
Fer: You guys should drink more water before you get heat stroke.
Kar: I'm the food specialist for your herbivore workers.
Kha: I don't have sand that color yet! Don't you know who I am?
Lat: This sand contains traces of faeryllium. To the laboratory!
Nem: Have you thought about triple-glazing your windows?? It's fun and functional!
Ra: That tent over there has insufficient ventilation. I'll have to write you a citation.
Saf: I'm here with the royal census. You're not a Ruki! Get out of my way!
Set: I know I'm late, but I'm here to deliver an important royal message.
Tep: I'm here to chronicle the construction of this repository.
When you've pleaded your case and the guards have allowed you to pass, you'll meet up with an angry foreman. He demands that you get to work, and you do! You take a handful of sand back to civilization with you and you then need to wait awhile more until you can take another handful.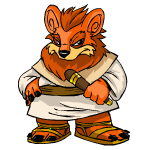 Whilst digging, you may also come up with some items. The below are items you can receive from digging:
Items Received From Digging
As time went on, the pyramid eventually became less and less covered. It seemed to be a group effort, or the image change was just based on time. Below are the different images that were shown throughout the weekend that the dig occured: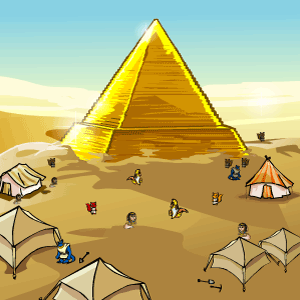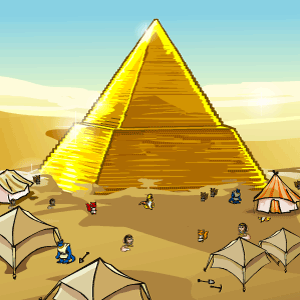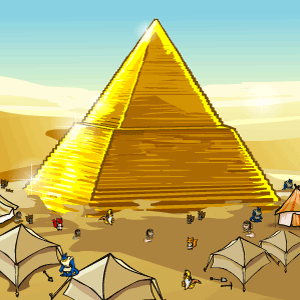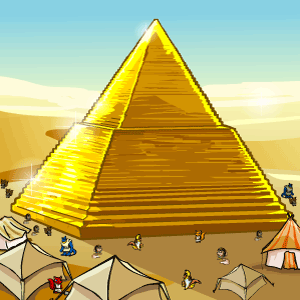 After Digging...
After a weekend of digging, this message was displayed...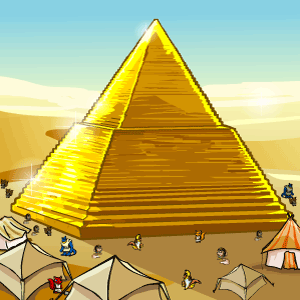 The scroll repository has been completely uncovered. It stands gleaming in the sun. But... there doesn't seem to be any way inside. It looks like the engineers forgot to leave empty space for the scrolls!
Wow! The repository was buried under 104,034 handfuls of sand!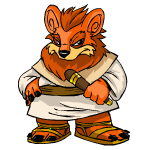 You! Take a 15 minute break!
The foreman actually grins for once. "Looks like we got the thing uncovered!" But the grin quickly turns to a scowl. "Too bad them stupid engineers didn't build the thing right in the first place. There ain't no space inside for scrolls! What kinda scroll repository do ya call that?!"
Hauling Blocks
The next step to the Repository was to haul out many large blocks. Entering the repository, you'd find many many blocks. Most are structural, but some you can help to haul out. However, each block has a symbol on it. And, you guessed it, you need to haul blocks ONLY with your faerie symbol on it!
To do so, you'll need to find a block with your symbol on it. (Read the instructions above the repository map for how to walk around and such.) Once there, if there are less than five pets helping to haul, you can help in the hauling.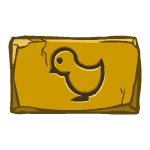 empty spot
Once you found a page like above, with your statue's symbol on it, click on the block to help haul!
Let's move this thing!
You've joined this block! Once all its spots are full, it can be moved.
Once five pets come to help move the block, you will "haul it". If you're lucky, an item will fall out from behind the block. Items included desert stamps, pottery, desert scrolls/books, desert petpets, desert foods, and the occasional LD paint brush.
You also had to "roll" a 100-sided die to see which of the five pets received the item. The closer to 100, the better the chance of you winning it.
On occasion, though, an item didn't come out from behind the block. Instead, you were showered with scarabs... You were then kicked out of the pyramid and made fun of for being afraid of a few scarabs.
Unfortunately, after hauling a block, you need to wait a certain amount of time to get back into the repository. Also, the above is all we currently have on the repository and hauling blocks. There is also the possibility that you find a bunch of scarabs behind the block, and you are then locked out without moving the block. You might also *win* the item too :P