Your jnAccount:
Log In
or
Register
| New to Jellyneo?
Click here!
The Lost Desert Plot
Jellyneo's Lost Desert Plot Coverage
Getting Your Second Crystal
After reading all of your scrolls, you'll need to find the sharp eye that holds the next step! To do so, fall into a Spike Trap in the Temple of 1,000 Tombs. Then, click on the left eye of the skull facing you.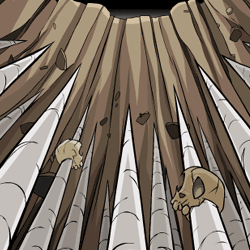 If you do not find the crystal, you can click here: http://www.neopets.com/desert/ldp/temple.phtml?ucmc=1
Now that you have the second crystal, you need to make your way back up to the mini Sakhmet model room in the repository. Again, you'll need your lights to get your second set of lights to map out which scrolls you'll need to read.
This time, you need to eliminate some more symbols. There will be the 4 blanks to eliminate like last time, and now, any symbols that have the same color as last time should be gotten rid of! (they'll be primary colors) Here's an example below:
-->

Before eliminating same colored symbols -> Final colored symbols
Next, return to your catalogue. You'll need to go back because it has been "repainted" and all new categories are by the symbols.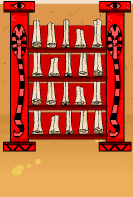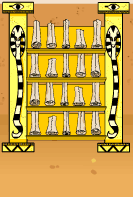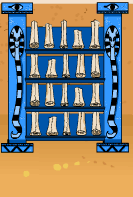 Starting at the bottom of your Tablet, find the symbols on your catalogue. Oh, what's that you say? No orange, green or purple catalogues? Well, this is where the fun begins! You'll be reading 24 scrolls, three for each symbol.
Now, break down each color to it's primary colors:

Purple = Blue + Red
Orange = Red + Yellow
Green = Yellow + Blue
For the order of scrolls you'll have to read, you need to start at the bottom, going right to left (see diagram below), and for each color, read the two basic color scrolls. You also need to read them in the order of which your colored catalogues appear. (Ex. If my catalogues were Red-Yellow-Blue, I would read red THEN blue for purple.) For example, if my symbol #1 was purple, I would look up on my catalogue where the blue symbol and red symbol are, then I would go read them. Then, I'd go on to symbol 2 and find out where the two colored scrolls are. However, before reading them, be sure to look at the location of all the symbols! You need not revisit your catalogue every time. Also! If you crossed out some symbols, then you need to skip them! If #2 were crossed out, then I'd go from 1 to 3.
Once you've read 2 scrolls for that location, you will be given a location. Go to that location and read the original colored scroll for the symbol you are on. For example, if I read a blue symbol and a red symbol, I would go to my given location and read the purple symbol.
Also, if you mess up, you only need to re-read the symbol colors you're on. You don't need to start all the way from the beginning.
Once you've completed reading all 24 scrolls, you'll get your next clue "This clue does not exist."