Your jnAccount:
Log In
or
Register
| New to Jellyneo?
Click here!
Petpet Lab Ray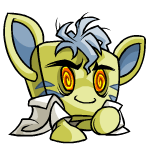 In addition to being able to zap your Neopets, you can now zap your petpets at the Petpet Lab Ray! Will your petpet turn into a hideous Meepit, or will it turn into a cute and fluffy Feepit!?
Accessing the Petpet Lab Ray
Unfortunately, you need to complete the Secret Laboratory Map set before you can get to the Petpet Lab. After you do that, you can bring the Petpet Laboratory Map set in your inventory to this page.









Zapping Your Petpet
Once you have access to the Petpet Lab Ray, you may zap any petpet currently attached to any of your Neopets. You cannot zap a petpet in your inventory. If you ever choose to remove your petpet from your Neopet, the petpet will revert back to its original form.
The Petpet Lab Ray can:
Change your petpet's colour
Change your petpet's species
Increase your petpet's level
Decrease your petpet's level
Change your petpet's name
Turn your petpet into a Pile of Soot
Make your petpet disappear permanently
Do nothing at all

You are limited to only one zap per account per day. Some people choose to complete the Petpet Lab map on their side accounts. You can zap whatever petpet of yours you like with your daily zap, and you can zap the same petpet as many times as you wish, even if it is a Pile of Soot!
Exclusive Colours and Species
There are several petpet colours that can only be accessed through the Petpet Lab Ray:
There are also several exclusive species that can only be obtained through the Petpet Lab Ray:
Petpet Lab Ray Exclusive Species
Finally, there are a handful of species/colour combinations that are exclusive to the Petpet Lab Ray:
Petpet Lab Ray Exclusive Species/Colour Combos
Because a petpet reverts to its original form once it is removed from your pet, these exclusive colours and species cannot be bought, sold, or transferred from one pet to another.
There are no known excluded species or colours, but there are so many petpets and colours that it'd be difficult to tell if there were. For example, it's confirmed that the ray can zap your petpet Birthday, although Birthday is not exclusive to the Petpet Lab Ray. Given that zapped petpets revert to its original form, we're thinking that the ray can do any colour and species.
Disappeared Petpets
When the ray causes your petpet to disappear, it is gone forever, and if it had a petpetpet then it is gone forever too. There is no way to get it back. You'll have to get a new petpet and start over.
Ray-Given Names
If your language is set to something other than English, you may end up with translated versions of the names listed below.
1337
Bhudda of Geraptiku
Dirigibles
Dragona's Socks
El Champion
Fritter
Fritz
Frankie
Goober
Greg
Grrrrrr
Help me eat

Hilarioso
Humbug
Kadoatie-wannabe
Lazpip
Lemondrop
Lollygag
Lunch
McFritter
Mercutio
Montage
OMGROFL

Oopsy
Pants McGee
Petpet of DOOM
Phil
Pooky
Pooky McDroolish
Pooper
Poppler
Puppup
Rover
Schnukums

Sir Bob of Geraptiku
Skeeter
Snarkie
So-and-So
Spiffy
Times New Roman
Toast
Todd
Tumbles
Type Mismatch Error
Woojit
Your Ad Here
If the lab has renamed your petpet with a name not listed here, please let us know.
If you aren't happy with your petpet's new name, you can easily change it at its interaction page, accessed through your Quick Ref page.
Consequences of Zapping
Any zapped petpet is publicly marked as zapped on your pet's lookup with this indicator:

.
Zapped petpets are no longer eligible for the Petpet Protection League award.
Zapped petpets cannot be painted by a Petpet Paint Brush.
A petpet that is zapped into a Krawk petpet is not able to be converted into a Krawk pet at the Fungus Cave.
One potential positive consequence of zapping your petpet is avatars. For example, consider the Meowclops avatar shown below. If your petpet is zapped into a Meowclops, you can get this avatar. If the avatar has an age requirement, you still need to meet that requirement to be eligible.
This does not work both ways, however. For example, consider the Whee! avatar shown below. If you give a Snowbunny to your pet and it zaps into another species, you will not be able to use that petpet to get the avatar when it is old enough.
Whee! / Guide
Have a Snowbunny attached to your pet for 364+ days and then view your pet's lookup.
Released: December 3, 2003
Non-Consequences of Zapping
None of the below activities are affected in any way by zapping your petpet:
Removing Zapped Petpets
Like any other petpet, zapped petpets can be removed from your Neopet by visiting it through the Quick Ref page.
When a zapped petpet is removed, it will revert back to its original form. You can see what its original form was on the same page.
Avatar
Petpet Laboratory / Guide
Have your petpet zapped into a Pile of Soot by the Petpet Lab Ray.
Released: August 3, 2005
Help us improve!
Did you find what you were looking for on this page?
This article was written by: Dave and Kenny