Your jnAccount:
Login
or
Register
| New to Jellyneo?
Click here!
Mystery Island Kitchen Quests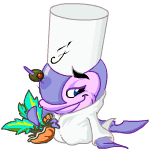 "Bon appetit!"
The Story
Before a pirate's curse destroyed Maraqua, the Flotsam Chef served the Royal Family. With the arrival of New Maraqua came Kelp Restaurant, so this poor guy had to settle for a job in the Mystery Island Kitchen cooking food for Mumbo Pango! And unless he meets the demands of the pagan demigod, he'll be turned into soup! (Or at least... it's implied...) You're not going to leave the Flotsam to such a cruel fate, are you? ARE YOU?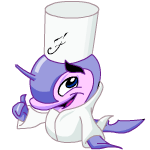 "Naturally, working in a kitchen means I need lots of food for ingredients."
The Quests
Unlike faerie quests, the Flotsam Chef waits for you to come to him for a quest. You may complete up to 10 quests a day (including Edna and Taelia Quests). He gives you a time limit (he does have a schedule, after all) and asks for 3 or 4 items, but he'll let you use the Shop Wizard. Once you've finished, he'll reward you with some Neopoints or an item, or increase the Battledome stats for your Neopet. Note: the pet receiving the stats is selected randomly.
Note: You cannot start one a Kitchen Quest if you have 60 or more items in your inventory.
Is It Worth It?
Whether the quests are worth it or not can vary from person to person. If you have only one Neopet, and it costs a lot to train them, you'll likely have a much higher price threshold than someone with several pets and reasonable training costs. As one of the latter, larger group, I've generally found around 3k for all items to be a good price cut-off.





Above is a list of some exclusive items that can only be obtained from his quests. If you're really lucky, you might receive one as a reward.
Help us improve!

Did you find what you were looking for on this page?
This article was written by: DragonBeak & Suzuka