Your jnAccount:
Login
or
Register
| New to Jellyneo?
Click here!
The Kadoatery
The Kadoatery is Neopia's first and only Petpet boarding house. Here Kadoaties receive only the best care, but as you may have noticed they are demanding creatures, and the Kadoatery staff are not always able to provide the many different items they request, so they are always in need of kind hearted Neopians to donate these food items.
In this article we are going to teach you the three most commonly used methods of Kad feeding, as well as various other pieces of knowledge which will hopefully help you on your Kadoatie feeding adventure.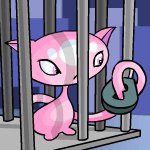 Naturally, Kadoaties like their own space,
and do not appreciate being locked up without their favourite snacks...
The Basics
Kadoaties will only request items up to R95 - this excludes Blue Draik Eggs, which have been removed from the Kadoatery as previously they would clog the requests up as no one ever fed them. For a full list of possible items, see our Item Database.
Kadoaties "restock" every 28 minutes, anywhere from 0 to 90 seconds past the minute. Therefore a restock scheduled for 11:07 may happen anywhere between 11:07:00 to 11:08:30. The next restock will be scheduled for 28 minutes after the previous actually occurred, not when it was scheduled. For example, if the first restock happened at 11:07 the next would be scheduled for 11:35. Despite being scheduled for every 28 minutes, restocks can be pushed back, each time this happens the scheduled time is prevented for an additional 7 minutes, after the original time was supposed to be.
Within those 28 minutes there can be more than one restock. The main Kadoatie restock is known as a "Main" because it's the largest. Other, smaller restocks are known as "Minis" since they usually contain 1 to 3 Kads. These restock times are recorded by other players; if you head to the Games Chat board and click on the Kadoatery thread, you should see a number of times for both Main and Mini restocks.
There is no limit to the number of Kadoaties you can feed each day, but you can only use one account to feed Kadoaties at any one time. TNT specifically stated in an editorial that "you may switch between accounts for minis and mains...just don't use two accounts simultaneously during the same feeding."



Kadoatie Feeding Techniques
As said above, there are three different methods you can use to feed a Kadoatie. These are - Shop Wizard Feeding (also known as Wiz Feeding), Safety Deposit Box Feeding (also knows as SDB Feeding) and Inventory Feeding.
Wiz Feeding
Wiz feeding requires the use of the Shop Wizard as well as the Kadoatery. This is best achieved with two separate tabs open, one with the Kadoatery and the other with the Wizard, this means you can quickly buy/feed the Kads. In the Shop Wizard window you should copy and paste the full name of the item into the search bar. Then select the first shop which is given, as it is unlikely you will have the time to look for a cheaper option. Once you have brought the item you need, just switch tabs and select the correct cage image.
SDB Feeding
SDB Feeding requires you to paste the item name into the SDB search bar. Although simple, it requires you to disable your PIN (or have your PIN already entered.) When you find your item, you need to click on "Remove One" and then quickly switch back to your Kadoatery tab and click on the cage image. Users who use this option often have large quantities of possible items already stored, if you are a fairly new player, or don't have too many items, you may need to choose another option.
Inventory Feeding
The idea of inventory feeding is that you keep up to 50 of one category's items in you inventory while feeding, this is in the hope that one of those items will be requested and you can simply click on the cage. Players who use this method will often keep a few spaces clear in their inventory so they still have a chance to Wiz feed the Kads too.
You may choose to use items with a similarity between them (e.g pizzas, hot dogs, potatoes), you could also choose from the categories listed below. Click on each category to be brought to the appropriate page in our Item Database. Remember, as mentioned above, Kadoaties will only ask for items up to R95.
Normal Food Items | Altadorian Foods | Brightvale Fruits | Health Foods | Hot Dog | Pizzas Desert Foods | Exotic Foods | Faerie Foods | Kiko Lake Foods| Kreludan Foods | Medieval Foods Qasalan Food | Snow Foods | Space Foods | Spooky Foods | Tropical Foods | Tyrannian Foods
For a full list of all possible items, see this page of our Item Database .
Rewards
Prize Table
| | | |
| --- | --- | --- |
| 1 Kadoatie Fed | 10 Kadoaties Fed | 25 Kadoaties Fed |
There's also an avatar available for the Kadoatery.
Kadoatery - Mew!
Feed 75 Kadoaties at the Kadoatery, then view your userlookup.
Trivia
It would appear that Kadoaties are afraid of the dark; every day at 11:00 p.m. NST, all Kads, regardless of if they have been fed or not, will be seen crying. It would seem that once it gets dark and the staff go home, no one ever remembers to turn on a small night light for these poor Kadoaties, so they cry all night long. At 3:00 a.m. NST they stop crying and return to their usual hungry selves.



Kadoatie Names
If you're having trouble coming up with a name for your own Kadoatie, or want to bring the Kadoatery experience home with you, why not choose from one of the many Kadoatery Kadoatie names.
1101011
1337
Aaargh
Aerephoroth
Amalthea
Angharad
Anthro
Artemis
Badger
Beast
Bender
Bigglesworth
Binary
Bobbob
Bobby
Book
Bookworm
Boris
Bouncy
Bunny
Burlap
BuyMe
Cash
CaptianMeow
Chani
Chester
Chloe
Chunk
Cindy
Coco
Crabby
Creature
Crybaby
Curry
Data
Dawg
Didi
Dirigibles
Draco
DR_SLOTH
Don Carnage
DURP
Eitaodak
Emoticon
Estebon
E = mc2
Farnsworth
Fatdoatie
feedmebacon
Feedmelots
Fireball
Firefly
Fishsticks
Fistandantoatie
Fizzgig

Fleabitten
Floaty
Fluffet
Freddie
Frozen
Fuzznugget
Givemecookies
Goldie
Gozer
Grawr
Greg
Groovy
GX4_KADOATIEBOT
Happydaiz
Her Highness
Hotdog
h4x0r
Illusen
Inara
Ioz
It
Jake
Jane
Jimmi
Joey
Jumbilee
Jump
Kaddybums
Kadoatinator
Kadopy
Kakashi
Kaylee
KewtiePie
Kikkkiiyyoooo!!
Killer
Kit
Kunai
Lala
LaFou
Lawyerbot
Leonardo
Lestat
Lester
Little Timmy
Loafy
LOLLERZ
LOLÉ
Luigi
Lumberg
Mal
Mario
Mars
MarYssa
Matey

Max
Megabyte
Mellish
Meowmeow
Mercury
Mew
Mewsy
Michaelangelo
Midnight
MJ
Mikey
Mikev
Mooki
Mowmow
Mr. Insane
Mr. Snugglekins
Mr. Winkykins
Ms. Snufflebums
Muffy
Mutant
Nibby
Niddler
Ninja
Notameepit
Number .5
Pam
Panda
Patch
Patricia
Pen2
Pete
Phlegm
Piddles
Pizza
Pluto
Pong
Poofybums
Pookie
Pretty Kitty
Princess
Q
Rabid
Ramen
Raphael
Rasmus
Ray
Reaver
Remy
Ren
Rex
RightBehindYou!
Riker
ROFL
Roland
Rovers

Sam
Sarah
Serenity
Seymour
Sheera
Shinji
Shoe
SiggyPet
Simon
Sir Purrsalot
Siyana
Slimer
Sloth
Slurrrgg
Snarkie
Sneaker
Snookiepoo
Soccerkadoat45995
Sockeater
Socks
Spitz
Splode
Splunge
Spongy
Stormy
Sugarkins
Suiko
Taffy
The D
Thomas
Tim
Tiny
Topher
Tuba
Tuesday
Twitchy
Unknown Entity
Van Cleef
Vash
Venkman
Vera
Viola
Wash
Whiskers
Willard
Winona
Yancy
Yappy
Yowler
Zapp
Zoe
Zoidberg
ZORZ
ZUUL
Help us improve!

Did you find what you were looking for on this page?
This article was written by: Fae