Your jnAccount:
Login
or
Register
| New to Jellyneo?
Click here!
The Kadoatery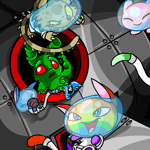 What I would do to get a Kadoatery up here...
Introduction | The Basics | Kadoatie Feeding Techniques | Kad Food List | Rewards
Welcome to the Kadoatery! This is where you get to feed the Kadoaties that are left behind while their owners are on their break. You're probably here because you want to learn to Kad feed, right? It's pretty easy. You just need to know what the Kads want, and at what time.
The Basics
Here are some basics you need to know:
Kadoaties "restock" every twenty-eight minutes, at anywhere from zero to 90 seconds past the minute. This means that a restock scheduled for 11:07 NST may happen anywhere from 11:07:00 to 11:08:30 NST. The next restock will be scheduled for 28 minutes after this restock actually occurs, not when it's scheduled. This means if the first restock occurs at 11:07:12, the next is scheduled for 11:35 NST, versus if the first happened to occur at 11:08:12, the next is scheduled for 11:36 NST.

However, they might be pushed back to as much as over an hour after the time they're supposed to restock. So for example, if the Kadoaties were supposed to go at 11:07 NST, they could be pushed back (in 7-minute intervals) to possibly 12:10, or even later. It's all part of the game!


Restocks can happen more than once. The main Kadoatie restock is known as a "Main" because it's the largest restock. Other smaller restocks (since they were fed later than the main Kads) are known as "Minis" since they usually contain one to three Kads.


To get the next restock time for the Kads, you should go to the Games Chat and then click on the Kadoatery thread. The fonts there usually state the restock times for the Main and Mini (if there is a Mini.)


There are three ways to Kad-stock. Those three are Wiz Feeding, SDB Feeding and Inventory Feeding. More on that later.


The way you can tell if a Kadoatie is able to be fed or not is pretty easy. If it has a white background, you can feed it.


There is no limit to the number of Kadoaties you can feed each day, but you can only use one account to feed Kadoaties at any given time. TNT specifically stated in an editorial that "you may switch between accounts for minis and mains...just don't use two accounts simultaneously during the same feeding."


Kadoaties will only ask for items up to r95. This means that items r96+ will not be requested. The rarity limits were changed so that the Kadoatery wasn't going to be full of Blue Draik Eggs! See the full Kadoatery Foods List here.





Kadoatie Feeding Techniques
When I SAID that we were going to discuss the Kadoatie Feeding Techniques, I meant that we were going to talk about it in about ten to twenty seconds. Anyways.
Like I said above, there are three different ways you can feed a Kadoatie - Shop Wizard Feeding (also known as Wiz Feeding), Safety Deposit Box Feeding (also knows as SDB Feeding) and Inventory Feeding. Now, let's get into detail.



Wiz feeding requires you to use the Shop Wizard as well as the Kadoatery. This is a total of two windows/tabs.


In your Shop Wizard window, you should have the "Search Items" drop-down set to "Identical to my phrase" which searches for the item with that exact name. When using this, you have to copy and paste the full item, or the search won't go through.


While attempting to buy the item, remember to SCROLL down to where the item is. ;)


Now all you need to do is switch back to your Kadoatie window/tab and then click on the Kadoatie cage image!






SDB Feeding requires you to paste in the item name into the search bar. Although simple, it requires you to disable your PIN Number (or have your PIN already entered.)


When you find your item, you need to click on "Remove One" and then quickly switch back to your Kadoatery window/tab and click on the cage image.





The basic thing to this: Choose a type of item with a similar name/trait. (e.g. Pizzas, Hotdogs, Potatoes, Coffee) and stick to feeding those. You can choose from items in the categories listed below. Click on each category to be brought to the appropriate page in our Item Database! As mentioned above, Kadoaties will only ask for items up to r95.





Now all you need to do is select the correct Kadoatie Cage image!
Rewards
Prize Table
| | | |
| --- | --- | --- |
| 1 Kadoatie Fed | 10 Kadoaties Fed | 25 Kadoaties Fed |
There's also an avatar available for the Kadoatery.

Kadoatery - Mew!
Feed 75 Kadoaties at the Kadoatery, then view your userlookup.
Help us improve!

Did you find what you were looking for on this page?
This article was written by: Terry