Your jnAccount:
Login
or
Register
| New to Jellyneo?
Click here!
A JN Christmas
Main
.
Presents
.
Clues
.
Submit Your Answers
.
Answers
.
Winners
.
Prizes
On the 20th, a few of the JN staff members all went shopping together to buy the rest of their Christmas presents for each other. They all headed to different stores to each get a plushie, keyring, T-shirt, book and a different kind of item; the last place to go on their lists was the Plushie Palace, and they all split up in there to buy their presents. After they bought their presents, they met up again very quickly; too quickly! Apparently not looking where they were going, all of the staff members crashed into each other as they were leaving the store, dropping and mixing up all of their presents.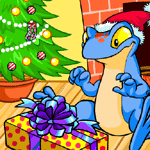 Every staffer bought a plushie, keyring, book, T-shirt and a completely random item. You need to sort out which staffers bought which items so that can get their presents organized and be ready to give them out on Christmas morning. Every day until the 23rd new clues will be given; when all of them are released, you'll be able to solve the puzzle. On the 24th, answer submissions will be closed and on New Years Eve, the answers will be revealed.
To get started check out the presents and current clues!