Your jnAccount:
Login
or
Register
| New to Jellyneo?
Click here!
Origin of the Ice Bori
The Ice Bori is one of the few Neopets that increases in value every passing day. There is only one way to get an Ice Bori: the toolbar Bori special (you can still pick yours up). That doesn't make it too rare for say but it does mean that if you want an Ice Bori and you don't already have one then you're most likely not going to get one.

Just how is that possible?
Well for starters, the Ice Bori cannot be obtained through paintbrushes, the lab ray, fountain faerie quests or even morphing potions. And when an Ice Bori is abandoned in the pound, it's instantly transformed into blue.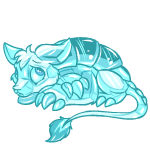 Obviously, you can't create an Ice Bori with the pet creator either.
That's just not cool...
Although, when Ice Bori just came out, that was how you created one, through the Pet Creator! So why could you create an Ice Bori back then and not now?
| | |
| --- | --- |
| Back in the fall of 2004 two things happened in neopets. The first was the release of the Hannah and the Ice Caves Plot, the second was the creation of the Neopets/Yahoo toolbar. Now the bori actually took a huge part in the HATIC Plot (which took place in Terror Mountain), in fact the whole explanation for their existence was that they had been frozen in ice for a millennium until Hannah finally broke the curse to release them. Thus a whole new pet species was discovered on Neopia. And then simultaneously you have the discovery of a nifty Yahoo toolbar... hm ... how do you convince people to download nifty toolbars? | |
Offer them a new pet of course!
And so, anyone who downloaded the toolbar got a chance to create an
Ice Bori
through the pet creator. It was just another color option like blue, red, yellow or green. Evidently, only one
Ice Bori
could be made per user and after the Yahoo toolbar was discontinued
Ice Bori
were discontinued as well.
Help us improve!

Did you find what you were looking for on this page?
This article was written by: DragonBeak