Your jnAccount:
Login
or
Register
| New to Jellyneo?
Click here!
The Hidden Tower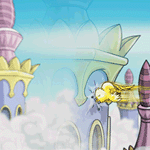 The Hidden Tower?
You can't miss it.
The Hidden Tower is a shop of enchanted artifacts and powerful weapons, run by the Faerie Queen herself. It stocks the most expensive merchandise in Neopia, which only the richest Neopians can afford.
Gaining Access to the Tower
The Hidden Tower has several features that make it so exclusive. In addition to having the requisite millions of Neopoints to make a purchase, you may only visit the Tower if the shop is open, if your account is old enough, and if you know where to find Neopia's most famous invisible landmark.
Location
The Hidden Tower is not labeled on any map (it is hidden, after all). You may find it by clicking in the spot highlighted below, in the top center of the Faerie City map:
Availability
Hours of Operation
The tower closes three times per day for stock taking, during which time you cannot make a purchase:
1:00am - 2:00am NST
7:00am - 8:00am NST
10:00pm - 11:00pm NST
Account Age
You may only purchase items from the Hidden Tower if your account is at least four months old.
Shop Ban
You may only purchase one item every 24 hours. If you try to buy another item within 24 hours of your last purchase, you will receive this message: "Error: Sorry, I will only sell one item to you every 24 hours, I don't want to run out of stock!"
Discounts
Unlike other shops, clicking on an item means you agree to pay the listed price. Although you can't haggle, there are two opportunities to receive a discount in the Hidden Tower. You may not use both discounts at the same time.
Every Third Wednesday 3% Discount
If your account is over 60 months old, you can visit the tower on the third Wednesday of each month to receive a 3% discount on any item. Jellyneo posts a banner every third of the month to alert you.
Random Event 10% Discount
If you receive the Hidden Tower random event, you will receive a 10% discount on any one item. This discount is good for the next item you purchase and does not expire until you use it. The original prices will be struck through, with the discounted prices in red and a special notice from Fyora, as shown below:
Discounted Price App
Below, you can view the discounted prices for each item:
Hidden Tower Discount Viewer
View Discount For:


Hidden Tower Price Viewer 3000™

Showing Neopia Hidden Tower prices since 2010!
Wares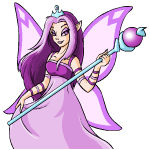 You could never afford any of these.
Supply
The Hidden Tower differs from other Neopian shops in that there is an unlimited quantity of each item available. There is no haggling; the price listed is fixed.
Occasionally Fyora stocks new items, and retires others. Once an item is retired from the Hidden Tower, no more will ever enter the Neopian economy, making them limited and rare. You can find a complete list of Hidden Tower items, past and present, in our Item Database.
Quality
There is no inspecting the merchandise. Accordingly, unlike in other shops, there is no hovertext showing the description of each item. If you click on an item, you will immediately purchase it (assuming you have enough Neopoints on hand).
However, like many expensive things in real life, some Hidden Tower items aren't worth their million-Neopoint price tag. For example, the 800,000-NP Ilere Faerie Doll will make your pet no more happy than a 1-NP Diseased Mechafish will. Similarly, the quality of Battledome weapons sold in the Hidden Tower range from exceptional to merely adequate to questionable at best.
| | |
| --- | --- |
| | |
| Golden Geraptiku Talisman | Sunshine Shield |
| found in the Deserted Tomb | found in the Hidden Tower |
| 3 attack icons, 6 defence icons | 3 attack icons, 6 defence icons |
| cost in Shop Wizard: ~70 NP | cost in Hidden Tower: 800,000 NP |