Your jnAccount:
Login
or
Register
| New to Jellyneo?
Click here!
The Hidden Tower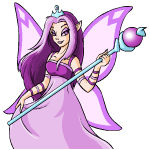 You could never afford any of these.
The Hidden Tower is a shop of enchanted artifacts and powerful weapons, run by the Faerie Queen herself. It is by far the most expensive shop in Neopia, where only the richest Neopians can afford to buy. Over the years, various faerie artifacts have been taken off the shelves and replaced with new ones, but what is it that makes the Hidden Tower so special anyway? Well, quite a few things, actually.
Note: Your account must be four months old or more if you want to buy in the Hidden Tower.
Quirks of the Tower
Unlike most of the other shops in Neopia, the Hidden Tower never needs to restock! It never runs out of items; the full range will always be there whenever you choose to visit. However, Fyora does close down the Tower for stock taking. The Hidden Tower is closed from 1-2am, 7-8am, and 10-11pm NST.
You are also only permitted to purchase one item per day. If you try to buy another item within 24 hours of your last purchase, you will receive this message: "Error: Sorry, I will only sell one item to you every 24 hours, I don't want to run out of stock!"
Discounts
Ordinarily, Fyora is quite firm about her prices and won't let you barter with her; nor does she pay attention to the tradition of Half Price Day (a huge sale on the third of each month during which Neopian shops--not user shops--halves their prices).
If, however, your account is more than 60 months old, you can visit her on the third Wednesday of each month to receive a 3% discount on your purchase for the day. (Thanks to Lorraine for helping us gather information about this.) We've whipped up a nifty little price calculator to show you exactly how much you'll save!
Hidden Tower Discount Viewer
Select an item to see its price info!


Hidden Tower Price Viewer 3000™

Showing Neopia Hidden Tower prices since 2010!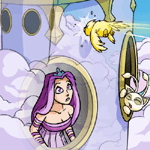 Looks like the seventeenth one this week...
Finding the Tower
Of course, if you plan on ever visiting the Hidden Tower, you need to know where it is! Luckily, Faerieland is full of friendly residents and one of them made you a beautiful image (see above).
What to Buy
It is important to mention that like many expensive things in real life, a lot of the items in the Hidden Tower aren't worth their million-Neopoint price tag. For example, the Hannah Action Figure will make your pet just as happy as a Blue Fuzzle would. In addition, there are many Battledome items that are not only cheaper, but also more effective than the ones found here.
There are a few items in the Tower that serve special purposes; here are the few that do.
Faerie Queen Doll
The Faerie Queen Doll is essential in acquiring the Queen Fyora avatar, which is awarded when you let your pet play with one of these expensive dolls. You won't get the avatar by playing with the Supreme Deluxe Faerie Queen Doll, which is twice the price. You can buy or borrow the doll from other players on the site, but you'll usually need to exchange Neopoints or items as collateral.

Haha, I'm actually useful!
Paint Brushes
Four paint brushes for your Neopet are currently available in the Hidden Tower: Royal, Baby, Darigan, and Maractite. Paint brushes are magical items that can be used to paint your pet a different colour. For example, here's how the Usul looks when painted these colours.
Since this is the only place you can buy these paint brushes, their prices will be fairly consistent even if you find them in the Trading Post.
Also keep in mind that you cannot paint your Neopet Royal via the Lab Ray or Fountain Faerie Quests. There are some Royal Morphing Potions, but it may be cheaper just to buy the brush.
Petpets can also get the Royal treatment with the Royal Petpet Paint Brush. You can see which petpets are available in the Royal colour by visiting the Petpet Colours Page.


You should've figured out by now that, unless you're really into spending lots of Neopoints for gallery items and such, most of the Hidden Tower items aren't worth what Fyora says they are. However, if you're still interested in all the items that were ever sold in the Tower, you can check out the list here.
Avatars
Another reason to spend your Neopoints at the Hidden Tower (as if you needed any more) is because it offers several avatars for your collecting pleasure.
Hidden Tower Avatars
Fyora - Faerie Queen
Buy anything from the Hidden Tower to get this avatar.
Faerie Queen Doll
Have your pet play with a Faerie Queen Doll.
I Taunt the Pant Devil
Not Hidden Tower exactly, but this avatar requires you to have an item with an estimated value of 5 million Neopoints or more in your inventory. Refresh until you receive the avatar. Obviously, the Hidden Tower is full of items that meet this requirement. Note that you can also get the avatar with multiple items in your inventory whose estimated values add up to 5 million NP or more.
HT - Rich
Purchase a Grimoire of the First Order from the Hidden Tower and read it to your pet.
HT - Richer
Purchase a Grimoire of Prosperity from the Hidden Tower and read it to your pet.
HT - Richest
Purchase a Grimoire of Affluence from the Hidden Tower and read it to your pet.
Help us improve!

Did you find what you were looking for on this page?
This article was written by: DragonBeak