Your jnAccount:
Log In
or
Register
| New to Jellyneo?
Click here!
The Hidden Tower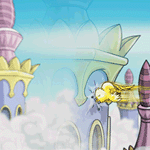 The Hidden Tower?
You can't miss it.
The Hidden Tower is a shop of enchanted artifacts and powerful weapons, run by the Faerie Queen herself. It stocks the most expensive merchandise in Neopia, which only the richest Neopians can afford.
Gaining Access to the Tower
The Hidden Tower has several features that make it so exclusive. In addition to having the requisite millions of Neopoints to make a purchase, you may only visit the Tower if the shop is open, if your account is old enough, and if you know where to find Neopia's most famous invisible landmark.
Location
The Hidden Tower is not labeled on any map (it is hidden, after all). You may find it by clicking in the spot highlighted below, in the top center of the Faerie City map:
Availability
The Hidden Tower is open for purchases 21 hours a day.
Closed for Stock Taking
The tower closes three times per day for stock taking, during which time you cannot make a purchase:
1:00am - 2:00am NST
7:00am - 8:00am NST
10:00pm - 11:00pm NST
Account Age
You may only purchase items from the Hidden Tower if your account is at least four months old.
Shop Ban
You may only purchase one item every 24 hours. If you try to buy another item within 24 hours of your last purchase, you will receive this message: "Error: Sorry, I will only sell one item to you every 24 hours, I don't want to run out of stock!"
Discounts
Unlike other shops, clicking on an item means you agree to pay the listed price. Although you can't haggle, there are two opportunities to receive a discount in the Hidden Tower. You may not use both discounts at the same time.
Every Third Wednesday of the Month: 3% Discount
If your account is over 60 months old, you can visit the tower on the third Wednesday of each month to receive a 3% discount on any item. Jellyneo posts a banner on our homepage every third Wednesday of the month to alert you.
Random Event: 10% Discount
If you receive the Hidden Tower random event, you will receive a 10% discount on any one item. This discount is good for the next item you purchase and does not expire until you use it.
If you have the 10% discount available, the monthly 3% discount will not be available to you until you make a purchase using the 10% discount. (In other words, you can't buy something on the Third Wednesday of the month, use the 3% discount, and save your 10% discount for another day.)
When you have the 10% discount available, the original prices will be struck through, with the discounted prices in red and a special notice from Fyora, as shown below:
Price Guide
Sometimes the discounted prices are not the best prices out there—and sometimes they are! For a full rundown of all the Hidden Tower items currently for sale and their market prices, see our Hidden Tower Price Guide in the Item Database.
Wares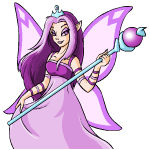 You could never afford any of these.
Supply
The Hidden Tower differs from other Neopian shops in that there is an unlimited quantity of each item available. There is no haggling; the price listed is fixed.
Occasionally Fyora stocks new items, and retires others. Once an item is retired from the Hidden Tower, no more will ever enter the Neopian economy, making them limited and rare. You can find a complete list of Hidden Tower items, past and present, in our Item Database.
Quality
There is no inspecting the merchandise. Accordingly, unlike in other shops, there is no hovertext showing the description of each item. If you click on an item, you will immediately purchase it (assuming you have enough Neopoints on hand).
However, like many expensive things in real life, some Hidden Tower items aren't worth their million-Neopoint price tag. For example, the 800,000-NP Ilere Faerie Doll will make your pet no more happy than a 1-NP Diseased Mechafish will. Similarly, the quality of Battledome weapons sold in the Hidden Tower range from exceptional to merely adequate to questionable at best.
| | |
| --- | --- |
| | |
| Golden Geraptiku Talisman | Sunshine Shield |
| found in the Deserted Tomb | found in the Hidden Tower |
| 3 attack icons, 6 defence icons | 3 attack icons, 6 defence icons |
| cost in Shop Wizard: ~70 NP | cost in Hidden Tower: 800,000 NP |
There are several items in the Tower that serve special purposes; here are just a few.
Avatar-Related Items
Purchasing any item from the Hidden Tower will earn you the Fyora - Faerie Queen avatar.
To acquire the Queen Fyora avatar, you must allow your pet to play with the Faerie Queen Doll. Please note: you won't get the avatar by playing with the Supreme Deluxe Faerie Queen Doll, which is twice the price. You can buy or borrow the doll from other players on the site, but you'll usually need to exchange Neopoints or items as collateral.
The HT - Rich, HT Richer, and HT Richest avatars are only available by having your pet read the Grimoire of the First Order, Grimoire of Prosperity, and Grimoire of Affluence respectively. These items are no-trade and cannot be purchased from or sold to any player.
Finally, the I Taunt the Pant Devil avatar requires refreshing your inventory while you have items with a combined estimated value ("Est. value") of over 5,000,000 NP. Although Hidden Tower items are not required for this avatar, the Hidden Tower does contain a number of items whose individual estimated value exceeds five million. For example, the Hubrid Nox Memorial Shield alone has an estimated value of 8,200,000. A single such item allows you to stuff your inventory with 49 Pant Devil Attractors, a wise defence when attempting to earn this avatar.






For the true avatar collector, we're well worth the price!
Paint Brushes
Four paint brushes for your Neopet are currently available in the Hidden Tower: Royal, Baby, Darigan, and Maractite. Paint brushes are magical items that can be used to paint your pet a different colour. For example, here's how the Hissi looks when painted these colours.
For other species, click on the paintbrush or visit Jellyneo's Rainbow Pool.
Because the Hidden Tower is the only place you can buy these paint brushes, their prices will be fairly consistent even if you find them in the Trading Post. The Baby Paint Brush in particular, because it is considered in demand and easily sold, has become a de facto scrip on the Trading Post.
Also keep in mind that you cannot paint your Neopet Royal via the Lab Ray or Fountain Faerie Quests. There are some Royal Morphing Potions, but it may be cheaper just to buy the brush.
Petpets can also get the Royal treatment with the Royal Petpet Paint Brush. You can see which petpets are available in the Royal colour by visiting the Petpet Colours Page.
Battledome Items
Battledome items available from the Hidden Tower range widely in quality, but they do include some of the best weapons readily available. While many Hidden Tower weapons in the past were less than spectacular, especially given their high price tag, the current stock includes some exceptional items.
Of particular note are
along with several other powerful weapons.
Visit Jellyneo's in-Depth Battlepedia for a complete list of Hidden Tower Battledome items, including descriptions and ratings for each item.
Our iDB staff have also compiled a list of the Hidden Tower's most recommended items for battling.
Wearables
Finally, special mention must be made of a truly unique wearable item, the Super Pea Chia Cape, exclusively for Pea Chias, and currently the only piece of clothing ever designed for any fruit or vegetable Chia.
History and Lore
Discovery
The existence of the Hidden Tower was first announced on January 16, 2001 (Y3), and officially opened the following day, January 17.
Appearance
The Hidden Tower is usually portrayed as invisible, or at least highly magically camouflaged, from the outside, but a classic stone tower from the inside.
Following are some of the artistic interpretations of the Tower over the years: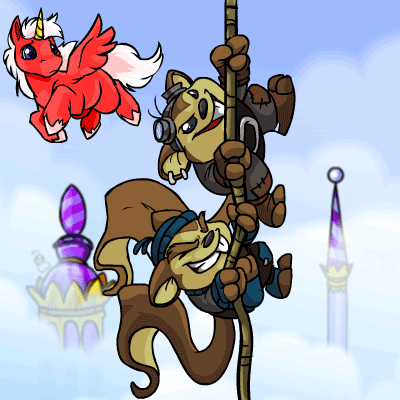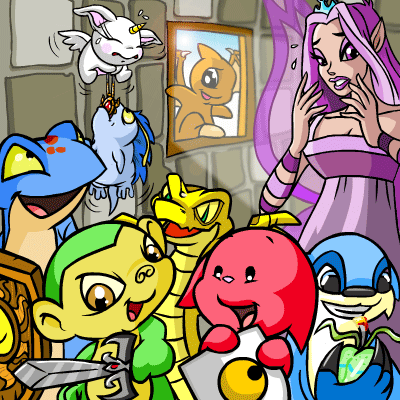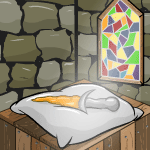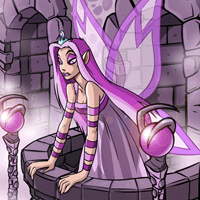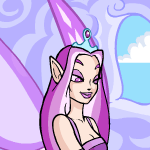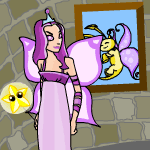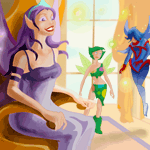 Xelqued and the Aisha Myriad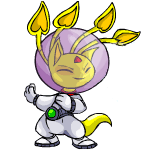 The shape-changing Aisha Myriad, now retired from the Hidden Tower, was created by Captain Xelqued, an Alien Aisha, stealing Queen Fyora's most valuable secrets from the Hidden Tower right under her nose.
This bold incident of industrial espionage earned an entry in the Neopedia.
Running Gag
The inherent danger of an invisible tower in a busy city, especially in a world where many of the residents fly, has led to a common trope in which unsuspecting Neopets careen headlong into the tower's stone walls.
For example, enjoy this comic from Y7 and this comic from Y15, as well as these two Caption Contest images: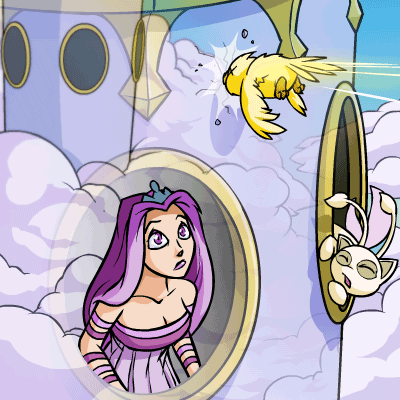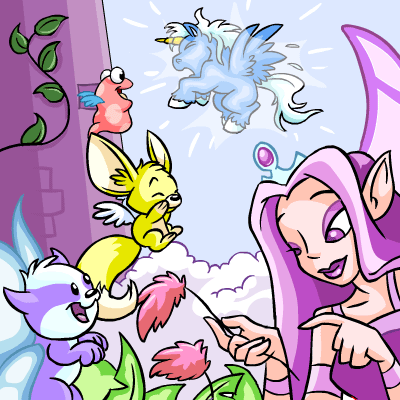 Baelia as Shopkeeper
During the Wraith Resurgence plot, Fyora fell ill and Baelia took over as shopkeeper at the Hidden Tower beginning February 5, 2018. Once the plot concluded and Fyora healed, Fyora returned as shopkeeper.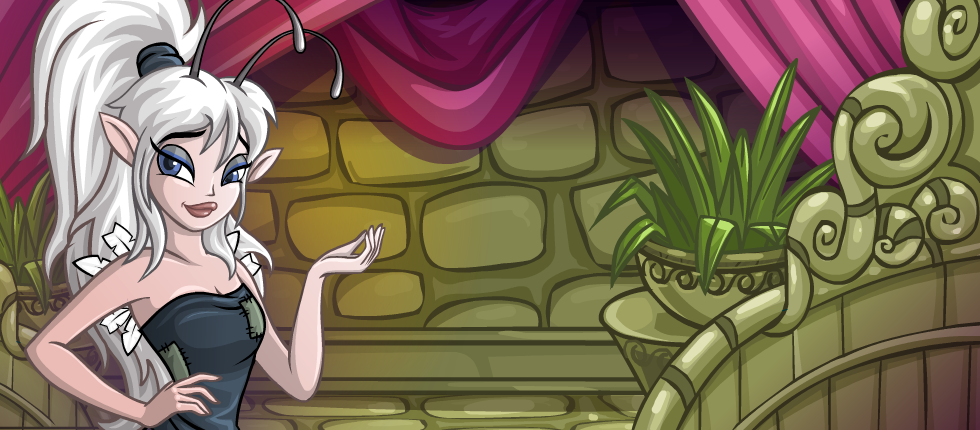 Avatars
There are various avatars tied to the Hidden Tower and the items for sale:
Fyora - Faerie Queen / Guide
Buy anything from the Hidden Tower.
Released: August 14, 2003
I Taunt the Pant Devil
Have any single item with a listed estimated value (the value you can find by clicking an item in your inventory, not the actual Shop Wizard/Trading Post price) of 1 million Neopoints or more, or multiple items with a combined estimated value of 5 million Neopoints or more in your inventory and refresh there. The event will show up at the top of the page. Some examples that would add up to the required amount are:

54 x Hasee
58 x Ice Conker
125 x Sand Snowball
31 x Blibble
9 x Baby Paint Brush
1 x Air Faerie Crown
78 x Bone Sceptre
81 x Obsidian Dagger
Released: October 23, 2003
Help us improve!
Did you find what you were looking for on this page?
This article was written by: Perry